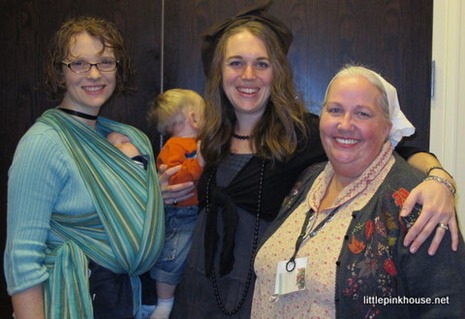 I had the best of roommates at Relevant.  They put up with a lot—most especially a little guy who never wanted to leave his Mommy's arms, overstimulated and exhausted as he was.
I'd already warned them about the 10 things they should know about me.  But now they know all the things I forgot to tell them.  So here's to the best roomies ever—Trina and Diane—and to many more conferences where we can live and laugh and cry "life unmasked" together.
10 Things Gretchen's Relevant Roomies Know About Her Now:
Gretchen holds to the Girl Scout motto of being always prepared.  Which means she will over-pack.  And she won't think she needs anything at Target—at least not the first time she goes.
Just because she has every single possible outfit combination for hot, cold, or spit-up-upon, doesn't mean she won't still be easily convinced to wear Trina's shirt instead of her own for the opening night.  (She relies on the fashion advice of her Tiny-Twig-following roomie since she herself is fashion-challenged.)
Thanks to trying to pack actual outfit combinations in her carry-on (lest the checked bag should be lost), her clothes will be a disorganized mess and she will spend at least five minutes digging in her bags to find the things that go together each time she or her son want to change.  (Remind her to try Trina's entire-outfit-in-a-Ziploc-bag idea next time, please.)
Her son gets overstimulated quite quickly.  He'd like nothing better than to relax in a quiet room on a quiet bed with Mom nearby.  He'd like nothing worse than for you to hold him while Mom showers.
Yes, she really, truly can drink (almost) an entire half gallon of Dark Chocolate Almond Milkduring the weekend. (That would have been what she got the second time she went to Target.)
She is a country hick and forgets that hotels like to charge extra for things like water bottles.  Please point out to her the very fine print on said water bottles before she's drunk nearly every single one that housekeeping has placed in the rooms each day.
With an over-tired baby in hand, she finds it hard to take notes very often, let alone sit through any session in its entirety.  She will be very glad for your near-transcript notes of her favorite speakers.  (She's also glad that you help her remember that she's not the only one in the world without a smart phone or an iPad—since, in fact, you have matching rugged phones, and may very well be the only ones at the conference with such backwards phones, except for Ann Voskamp who doesn't even have a cell phone.)
Remind her to drink water (but not from those hotel water bottles).  She should also be reminded to take her vitamins more often than once on the entire trip.  (She quickly dehydrates, and combined with a complete lack of sleep might be inclined to not only get sick but share her cold with you.)
She's used to snow. She's just beginning to get paranoid that it always snows when she's on the east coast any time after October 1. (Last time, she was stranded for three days.)
She's not really as much of an extrovert as she thinks she is.  She'll rely on all the data you gathered in your handy-dandy business card notebook to fill in the gaps in the one she finally decides to compile once she gets home.  (Containing approximately a third of the business cards her networking extraordinaire roommate compiled, naturally.)
Now you know.  In case we meet up at a blogging conference again any time soon.
P.S. I finally looked it up (something you should do before you go to a blogging conference). I've been blogging here at the Little Pink House since January 17, 2008, almost the conference average of four years.  Though YLCF went online in 1998, I didn't begin blogging until March 20, 2003—which is 8 1/2 years, about on par with some of the longtime bloggers at Relevant, as I recall.