"Food does not have any real power over us. Food cannot actually control us. We give food that power. We give it freely, and grossly underestimate the strength we have to take it back."
-Jessica Heights in 100 Pound Loser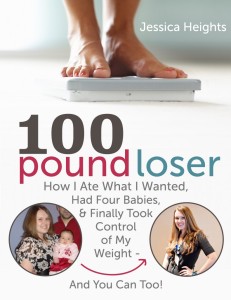 It was the morning after ugly tears about my weight and my wardrobe's ability to cover it that I saw the post.  Jessica Heights was writing an eBook about that time she lost 100 pounds.
Just being reminded that other women have been there brought hope to the puffy-eyed Monday morning (because we all know Sundays are the most difficult day of the week when it comes to a mom and her closet).  But actually reading Jessica's eBook 100 Pound Loser took such a weight off my heart that I feel like I've already lost at least 5 pounds.
100 Pound Loser is cheaper than any month's gym membership and can be read in less time than it takes to do an exercise routine.  Jessica's style is positive, upbeat, and oh so very real.
"You have to make time. If you wait to exercise until you have time, it may never happen."
-Jessica Heights in 100 Pound Loser
Jessica Heights is not only a busy mother of four, blogger, speaker, and wife of a small business owner; Jessica also deals with fibromyalgia on a daily basis.  When Jessica talks about exercise, she knows how hard it is.  And when Jessica talks about weight loss, she's been there, done that.
After the birth of her first child, Jessica found herself standing in front of her closet weighing 100 pounds more than she had when she'd walked down the aisle.  And that was when she knew things had to change.
Jessica doesn't try to give you a one-size-fits-all prescription for weight loss.  But she does tell you how she did it, and points you to the tools she used. But more importantly, 100 Pound Loser gets to the heart of the matter: it doesn't matter how I look, but it is important, and only I can change it.
"I know God isn't paying attention to what I see in the mirror . . . but He is paying attention to my heart."
-Jessica Heights in 100 Pound Loser
Small steps, little goals—Jessica is practical about ways to actually make weight loss happen as a busy mom who doesn't go to the gym. Portion control, intake and output—Jessica explains why math may be necessary and the dreaded "e" word (exercise) can't be escaped entirely.  100 Pound Loser is written from the heart of one woman to another. It feels like a big hug and a "you can do it" high five all wrapped up in one little eBook.
Disclaimer: I received a free review copy of 100 Pound Loser.