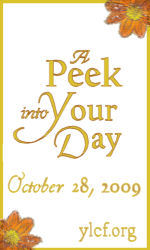 I know, I already told you about a Thursday at the Little Pink House.  But that was before my Mommy Dayze got doubly busy!  And when life was a little less "normal."  So I decided to join the YLCF "A Peek Into Your Day" Blog Carnival, just for the fun of it.  I'm not even eligible for the drawing, being that it's happening on my own website and all that.  But all y'all should write about your day and enter.  Because there's this adorable blue and brown day planner…and like Ash, everything blue and brown catches my eye…so much so that it's the only reason I found a nursing shawl the other day—'twas the blue and brown fabric that caught my eye!  But I digress.  I'm joining the carnival.  If for no other reason that to finally try out making a link on a Mr. Linky!
Where does a mother start the tale of her day?  At midnight when she's exhausted but still awake due to drinking both glasses of the mocha smoothie she'd made herself in order to get through the previous day in a semi-alert state?  At four o'clock in the morning when her baby girl cries but then puts herself back to sleep, forgetting that Mommy doesn't go back to sleep quite as easily?  At five o'clock when the baby girl wakes up again, deciding she is really truly indeed hungry and ready for a meal?  Or at 7:39 a.m. when that same little girl once again rouses, deciding it's time to eat again, since she was too tired to eat much earlier?
Well, at 7:40 a.m. on Thursday, October 22, I whisked the pink swaddled bundle out of her play pen and we glanced out the windows for any deer who might just be hanging about, then made our way to the radio, turning it on in time to catch the last part of the Huckabee Report.  While I fed Mary, her daddy read to us from Isaiah.  Big sister was still sleeping, due to a late night at Aunt Katie's last night.  Merritt prayed for our day, then we snuggled back under the covers to listen to the local morning news.  It's been a while since we've had lazy mornings we could spend under the covers waiting for Ruth to wake up.  This morning, we laughed at Mary, who kept falling back asleep, obviously dreaming happy dreams of food, from the smiles and smacking.  It was just too much work to stay awake to eat real food—when she was awake, she just stretched and yawned and stretched again.
Ru finally awakened, and with Merritt trying to burp and rouse Mary for me, I got Ru up (a special occurrence these days, since it seems I'm always nursing Mary when Ru rouses).  A few more snuggles, then Ru decided it was breakfast time.  She liked her daddy's suggestion of hot cereal so much that she nearly went off our bed head first in anticipation of it!
After breakfast, Merritt hung a bit of sheetrock in our new bedroom while I straightened up the kitchen.  Then my sister-in-law called, wondering if I could do a few label designs for their new Alaska Maid bath salts in time for a craft show this weekend.  I assured her that I had leftovers in the fridge and nothing else that had to be done this particular Thursday.  After all, thank you notes can always be put off another day!  (But, for the record, they all got done the next day.  Every single one of them—even to the thank you for the gift that was brought by an hour before.  Which is rather momentous, considering I've been trying to catch up on thank you notes since my birthday.)
Merritt found two more eggs in the chicken house, so I washed up one of them to complete the dozen.  Then we kissed him goodbye and sent the eggs with him to work.  Reassuring myself I would have lots of time for baking since I didn't have to do anything in preparation for either meal, I chose a recipe and got out a cube of butter in anticipation of making cookies with my Ru girl.  (I've been craving ginger molasses cookies ever since reading all about them in Debi Pearl's new book The Vision. But since my morning also included sit-ups—the number of which is much too small to report, even in this bog post where we're supposed to be real and honest—I decided it was better to bake some cookies that weren't quite such favorites of mine.  Thus, it Like Grandma Used to Make that lay open on the counter, with the page for Icebox Peanut Butter Cookies staring at me through the day.)  Then I threw all the dirty laundry in the washing machine and turned it on.  Why some days I carefully sort out four different loads based on color and water temperature, and others I throw it all together and put it on the warm/cold cycle, I don't know.  Just don't tell my mother!
Then, both girls in bed, I settled down at the kitchen table with my Bible, a cup of lukewarm coffee and the remainder of last night's Mother's Milk tea (assuming the one would make up for me drinking the other!).  I love the Psalms!  They always meet this mom right where she's at.  (And speaking of which, here is a must-read post by my friend Ashleigh on that topic.)
But as for me, I shall sing of Your strength;
Yes, I shall joyfully sing of Your lovingkindness in the morning,
For You have been my stronghold
And a refuge in the day of my distress.
O my strength, I will sing praises to You;
For God is my stronghold, the God who shows me lovingkindness.
-Psalm 59:16-17
Then I delved into making the labels for Melanie, sorting through a few emails, and making a to-do list for when I was on the internet later.  But before I'd gotten very far, someone made it very clear she actually wasn't going to take a nap, and the other little someone woke up hungry.  So the morning was spent multi-tasking: doing design work between feeding Mary, putting her to bed, calming her when she would not fall asleep, then keeping Ruth quiet when Mary finally fell asleep.  By the time Merritt got home for leftover enchiladas (with a tad bit of beans and chile relleno casserole), I finally did have the labels done, but not much else other than dishes!
And right at that time, Mary woke up too early but very emphatically hungry.  I raced through my lunch, leaving Merritt to deal with someone who was refusing to eat her enchiladas.  He got lots of odds and ends done and picked up in our "remodel zone" while we both encouraged our tired daughters to finish their lunch.  Then I set out to our next-door internet hot spot (aka our friend and neighbor's house) to email my sister-in-law the drafts.  It took the entire life of my laptop's battery, but I finally got the PDFs on their way to her, after giving up on an email server and using FTP instead!  Both girls had long ago fallen asleep in their carseats.  One was easily transferred to her crib with Pooh bear for company to complete the rest of her nap.  The other woke up and needed swaddled and cuddled until her next mealtime.  Thanks to this mommy being experienced at both typing and snuggling, this "peek into your day" post made it this far on the actual day!
While nursing my little girl, I made a conscious effort to stop stressing out about the day and what wasn't getting done.  Being stressed never has helped my day go better!  I'm not sure why I forget that and give way to the feeling so often.  But knowing that my husband is seeing the stress in my eyes is a good incentive for replacing the stress with a peaceful, contented look.  Or at least as peaceful as one can manage with a crying daughter and another daughter who won't eat her lunch.
For full disclosure I must tell you that it was the kind of day that when my husband came home late afternoon to get ready to go hunting with a friend from church, I had just finished clearing the lunch dishes off the table.  In fact, I was typing a blog post with lunch dishes still on the table!  But also with a sleeping girl in my arms.  And oh yes, there were a couple potty accidents in there somewhere that required Mommy cleaning up the floor and some clothes.  (Those are quite rare around here, though, honestly.)  Plus, my new hair cut was having a bad hair day.  Anyway, yes, those are the real facts of the day.
With Merritt and Lionel off to go hunting, wearing their near glow-in-the-dark blaze orange, and both my daughters actually asleep in their own beds, I grabbed the clothes out of the dryer and mulled over an upcoming post while I folded the clothes.  Ru woke up as I was folding the last of the clothes.  And since I already had resigned myself to getting nothing much "accomplished" today, I put myself wholeheartedly into making cookies (read: a mess) with my little girl.
The "Icebox Cookies" recipe was put back on the shelf, considering that it needed to chill anywhere from 4 to 48 hours.  We found a peanut butter cookie recipe right in the modern day Better Homes and Gardens Cook Book and filled up the camera card twice taking pictures and videos of our endeavor (don't worry, it's only a 256MB camera card!).  Making memories is fun.  But sometimes, being able to relive them when showing Daddy the pictures is even better.  In addition to the fun of trying to set up just the right shot with the self-timer, balancing the camera on the back pack on the kitchen table!
By the time the cookies were in the oven, there was flour and egg white on the floor, not to mention the counter.  And there were little pieces of dough everywhere, since Ruth had been rolling out the cookies herself.  I let her pour the measuring cups of flour and sugar in.  She even measured out the baking powder and soda by herself (it was approximately half a teaspoon).  She was positively delighted to be such a big girl.  She even got to wear her apron and chef's hat from her second cousin Aleah.  (I put on my apron so she'd realize what hers was—I am much better about remembering to wear an apron when I have a Very Pregnant Belly which gets covered with everything I'm baking with!)
The pictures and the little girl were way too cute.  And when her daddy and Lionel (two of her biggest fans!) got home, they were greeted by a little girl wearing apron and hat, carrying a plate of peanut butter cookies (tilted precariously, then set down right in front of the cat and quickly rescued!).  I think it almost made up for not seeing any deer!
Mary had awakened when she smelled the cookies, so the kitchen that met Merritt's eyes was still a disaster, and no dinner was on the table.  But it didn't take long to warm up the leftover rice and Japanese Chicken Stew (recipe courtesy of my sister-in-law's boyfriend, who is both Asian and a cook, making him a fabulous source of recipes…and of my sister-in-law's smiles).  Mary wasn't too happy about me eating dinner instead of feeding her (hadn't I just fed her? alas, our "schedule" goes downhill come eventide!), but I cuddled her while Merritt did the dishes and I put together the final drafts of the labels for my sister-in-law.  Then Ruth helped her daddy apply another coat of plaster to the wall where he'd had to patch some sheetrock (remodeling is like opening a can of worms, and we have several cans open at the moment!) while Mary and I went to upload the files.  With Mary screaming and a typically slow evening internet connection, I decided there was no way I could upload them all that night.
Back home, it was bath time for both girls.  Even though Ruth has been taking a shower ever since she grew too big for the kitchen sink, she has only recently learned the joy of standing under the water instead of just sitting on the floor of the shower, away from the water and getting cold!  Mary still fits in the baby bathtub that folds up when it's not in use (a Very Handy Item my mom found for my younger siblings!).  And both girls adore their bathtime.  Always have.  Probably always will.  (I can see us having to set limits on shower time in the very near future, especially if Mommy and Daddy want any hot water!)
I nursed Mary while Merritt and Ru went on toy pick-up patrol.  The reward for all the toys being picked up was bedtime stories!  First In a People House then And to Think That I Saw it on Mulberry Street. (Ru is on a Dr. Seuss kick these days.  And her daddy is only too happy to oblige, as he has always been a Seuss fan, and still can't believe that his grandpa never even asked for an autograph when he built bookshelves for Dr. Seuss himself!)
After prayer time we put two very tired girls to bed.  One, wrapped snugly in her pink SwaddleMe, was out immediately.  Someone else, exhausted though she was, stayed awake long after Daddy and Mommy were in bed.  I snuck into the bathroom with a bowl, a knife, a spoon, and a grapefruit—don't ask me why, but it sounded good, even at the much-too-late hour of 9:30 p.m.—but she heard the clang of the spoon on the bowl and knew Mommy was eating something good!
A shower, snuggles, discussions with my wise hubby about some topics I'm writing on, and we were sound asleep…  Another Thursday lived happily ever after at the Little Pink House…