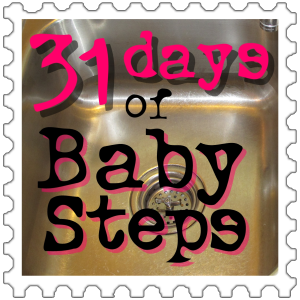 I called a friend Saturday morning to ask her to keep me accountable.  I gushed about wanting to get up early and read my Bible and do something to clean my house every day for the next 31 days.
"You might not want to try to do it all in one month," she cautioned.
And I laughed.  "I'm afraid I'm an all or nothing kind of person."
But I knew she was right.  So I promised that it would be about baby steps instead of about having a perfectly clean house and thoroughly organized routine come November 1.
31 days of "baby steps", in the style of The FlyLady.  Baby steps that will include lots of reading, lots of planning, lots of praying.  Lots of conversations with my husband about how we want it all to work, what we want our home to look like, what's priority for me.  And lots of writing it all out—I think I "own" something more when I put it into words on paper or screen.
Meanwhile, I'd like to report that in addition to shining my sink yesterday, I scrubbed down my kitchen table (it's a 50's diner-style yellow Formica table), and got all the gunk (read: food) out of all the little ledges around the edge and between the leaves.  I also wiped up the really bad spots on the kitchen floor and swept.  (And no, of course, my daughters did not ask, "What are you doing?"  Like they'd never seen me sweep before or something.  I declare.)
click here for links to all of my
"31 Days of Baby Steps" posts
find links to all the 746 bloggers' 31 Days series here