I like to call Pinterest my "cheap therapy."  Of course, that would necessitate that I'm usually visiting Pinterest when I'm tired, discouraged, lonely, hungry, or all of the above.  Rarely do I hop on Pinterest just because I'm feeling so happy and content with my life.  And when I'm not, I somehow think that I will feel better by looking pictures of pretty things I don't have and ideas for crafty things I will never create.
I've always had the highest respect for my friend Everly's commitment to not having a wedding board on Pinterest, since she's not yet planning a wedding.  But then it hit me: why is this discipline limited to singles and wedding boards?  What about my dream home organization ideas?  What about those ridiculously intricate crafts I will never create?  Am I curating contentment or covetousness by pinning those ideas?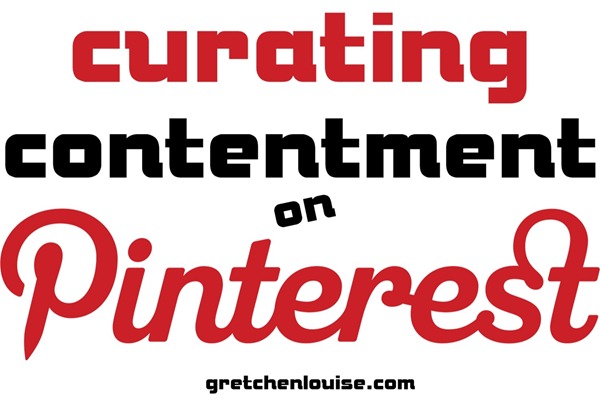 Your Pinterest boards say a lot about you, according to the fun new eBook Pin-terpretation.  But what if my Pinterest boards are displaying more than just my random personality and my love of bright colors?  What if my Pinterest boards are reflecting the state of my heart? Are my boards showing contentment in my circumstances or a desire for more of this, less of that?
My crafty friends have boards called "Completed Pins", where they repin all the Pinterest ideas they've actually completed.  But I know I'll never be completing any of those creative ideas I find on Pinterest, unless you count completing a recipe.  So I decided instead to create a "Contented Pins" board, where I repin the things that remind me to be content, whatever my circumstances.