When you're running on coffee and behind on laundry, when you're stepping over toys and sorting through piles, when you're in desperate need of simplicity but everything you touch seems to open another can of worms…  I just look back and count the gifts.
These are the days I'll miss, the days I'll look back upon with fondness.  So I pause and look back now, trying to see these moments, these days, these weeks through the lens of the future.  Because from that perspective, it's all a gift.
---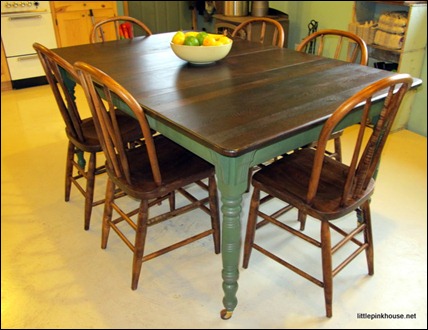 516. Our first dinner guests at our new kitchen table.
517. Always one more subject, carrying us late into the night, regardless of bedtimes, in conversations with friends.
518. A full fruit bowl, and room for it in the middle of our new kitchen table.
519. Our new kitchen table—an antique from the church I grew up in—lovingly redone, and leaves enough for company added, by my talented husband.
520. Ru "reading" (memorized) the entire story of Cinderella to her Aunt Jessica and Uncle Cake over Skype and then showing them her complete "work-a-day-rags" costume.
521. A sincere compliment.
522. Trying out new scone recipes.
523. Making it home despite the snowy weather on the east coast.
524. Getting back home to my bestest friend and husband.
525. Being missed.
526. Hearing that, whenever my girls missed me, Nanna told them I was being Cinderella and having fun at the ball.
527. The Relevant Conference.  Just, all of it.
528. A new friend, full of encouragement and exhortation straight from our Father.
529. A stack of new books to read.
530. A Circle of Quiet and the quiet it brings to my mind and heart.
531. Hugging that other farmer's wife, Ann Voskamp.
532. My bags making it back in one piece, despite zippers tearing away from canvas.
533. Finding out I really can sleep in an airport while holding a baby and luggage.
534. The best of roomies.
535. Hugging old friends, meeting longtime acquaintances, and connecting with other bloggers.
536. Company and cousins.
537. Our first flakes of snow.