I don't know anyone who wants to deal with another social media site. But Google+ is becoming more of a must for bloggers. Setting up your blog and your Google+ profile properly will associate the two in Google's databases: it's called Google Authorship.  Once Google knows you are the author of your blog posts, it will give you Author Rank.  So that blogger that scraped or plagiarized your site's content? Google will put them below you in the search results, or not at all—because you have Author Rank.
And, when people search for something and find a post by you, they'll have the option to see more from you, which will include your guest posts (and perhaps someday social media posts), as well!
It's kind of confusing if you read all the technical stuff about Google Authorship. So I put together 4 easy steps that will hopefully help you setup your Google Authorship without the headache!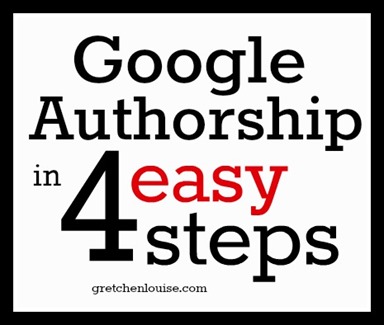 1. Choose and use the Google account you'll be using forever.
This was my first mistake. I started using the Google+ account associated with our family email address. And for some reason, I didn't switch that over when I changed my domain name and other social media usernames. But I just made the switch to using the Google+ account associated with my personal email address. And thanks to this handy tool from Google, I can keep my followers and they can keep my new profile in the same circles they had my old one in. (Be sure to hide your old profiles from search results if you do this or if you have more than one Google account like I do.)
If you already have [email protected] or [email protected] associated with your Google+ account, you're probably fine. But if you're still using a family Gmail address or something random or unprofessional you won't want to be known by in 10 years, consider starting fresh with a  new and professional Gmail address for your Google+ account. Take everything you know about consistent personal branding and apply it to the email address you choose to associate with your Google+ account, because that will be the email address you want to use everywhere you blog.
Once you've decided that you are indeed logged into Google with the email address you'll be using in your blogging career for the foreseeable and not so foreseeable future, go to https://plus.google.com/ and sign up if necessary.
Use the name you use wherever you write, your personal "brand"—for me, that's Gretchen Louise.
Be sure to upload your headshot, preferably the same one you use on Twitter, Facebook, and other social media outlets.
Edit your profile so that it looks and sounds like you!
2. Add the sites you write for to your Google+ profile.
The most important part of your Google+ profile for Google Authorship is the "Contributor to" section of the "Links".  Google Authorship requires a two-way verification — your G+ profile link within the site you contribute to, and a link to the site within your G+ profile.  So don't miss this step!
Add the links to your other social media profiles in "Other Profiles" (even if you don't use them very much).
Add any sites you've ever written a blog post for (including your own!) to the "Contributor To" section.
3. Add your Google+ information to the sites you write for.
The method for adding your Google+ information will depend on your site's platform, theme, and plugins. You only need to use one method per site; as long as your G+ profile is linked once within the source code of each post/page, authorship can be established.
The "works-everywhere" method
(for WordPress.com blogs):
1. Link your name to your ?rel=author Google+ profile URL somewhere within your blog that will appear on every post/page:
in your "about" profile or Gravatar "About Me" if it is displayed at the bottom of each post
in a sidebar or footer widget (for single-author blogs only)
All you need is the link to your Google+ profile with ?rel=author on the end.  Here's mine (just replace my number and name with yours and you're good to go):
<a href="https://plus.google.com/101619472458166383406?rel=author">Gretchen Louise</a>
The "badge or button" method (for single-author sites):
Add a widget to your Blogger or WordPress.org site with the official Google+ "badge" so that people can add you to their Google+ circles without ever leaving their site!
Add a Google+ button to the social media icons in your sidebar or header, making sure that it links to your ?rel=author URL: https://plus.google.com/101619472458166383406?rel=author (replacing my G+ ID with your own, of course!).
The domain email method:
If you have an email address that is at your domain, you can establish authorship easily by going to Google's official Authorship page, entering your email address, and clicking the verifying link. This will only work if each post includes a byline that matches your Google+ profile name (for me, it's "by Gretchen Louise").
The self-hosted WordPress.org method:
(currently requires a Genesis theme, Yoast's SEO Plugin, JetPack, or a similar plugin):
Go to http://yoursite.com/wp-admin/profile.php and paste your entire Google+ URL into the appropriate box: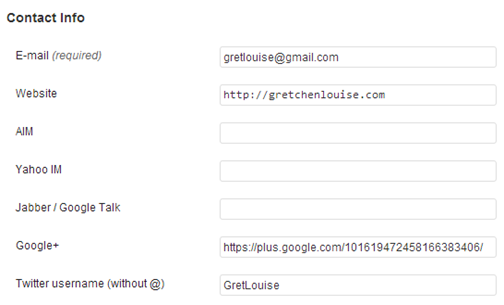 For Guest Posts:
If the site you're guest posting for doesn't set up an individual profile for you, simply include your ?rel=author link (see above) in your bio to be included with your post, and the authorship should be properly established. (If they did set up a separate login for you on a WordPress site powered by Genesis, just put your Google+ URL in the correct spot within that profile.)
If you've guest posted in the past, try emailing the blog owner and ask if they would be willing to link the first mention of your name within the post (where they say "a guest post by…") to your ?rel=author link:
Hi there! Thank you for featuring my guest post awhile back. I'm in the process of verifying Google Authorship for the guest posts I've written (see this post for an explanation: http://gretchenlouise.com/?p=9130). When you have a moment, would you mind editing my guest post so that my name is linked to this URL? https://plus.google.com/101619472458166383406?rel=author Thank you so much!
4. Verify that the authorship is working.
Enter an individual post link from each site in Google's Structured Data Testing Tool to see if you show up as the author:
If not, double check your settings, and try again!

The Structured Data Testing Tool usually will point out to you specific errors so you can identify and correct them.
If your site uses a caching plugin, it could interfere with Google seeing the updated code that includes your Authorship information. Try clearing the cache for the post you're using to check, or wait a few days and try again.
Is your "favorite icon" missing next to your site in your Google+ profile?  Mine was for one site. But I fixed it by copying the favorite icon file from my theme folder and placing it in my root directory (via FTP). Google+ apparently looks for favorite icons at the location of yoursite.com/favicon.ico
More information: