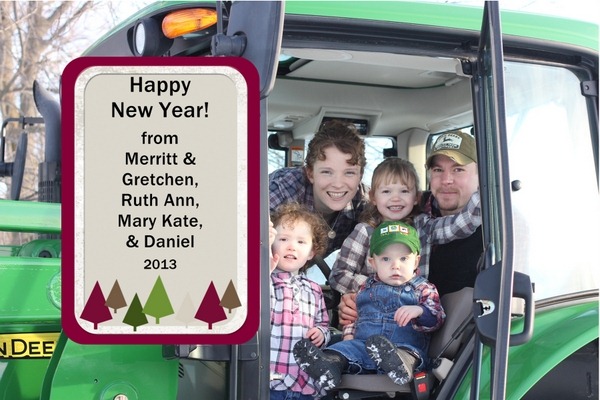 Dear Everybody,
My name is Daniel. Since I am Mommy's best little helper, I thought I'd write our annual letter for her. Our year was much too busy to give you a blow by blow account of each month, but I'll do my best to fill you in on the highlights. Like my first birthday last April (I am 20 months now). And all the teeth I have (16 at last count). That sort of thing.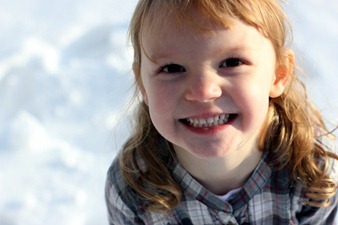 Ruth Ann is my biggest sister. In November she turned 5, which is very big. Ruth likes to be Cinderella and loves everything pink. She's very dramatic and plays dress-up all day long, making blankets into skirts and scarves into belts. When she's not dressing like a princess or mothering her dolls, Ruth likes to color. She can write all her letters and knows the sign language alphabet, too.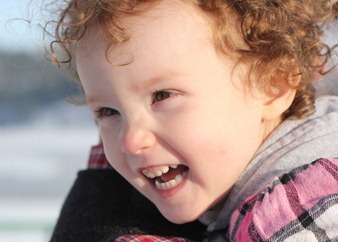 Mary Kate celebrated her third birthday in August. She likes to do everything Ruth does, except Mary is usually Snow White and her favorite color is purple. Mary is more quiet and serious than Ruth. They let me cook in their play kitchen with them as long as I don't steal their tea cups. Ruth and Mary like to listen to stories—whether the Little House books that Daddy's been reading us or audio versions of Narnia or Anne of Green Gables.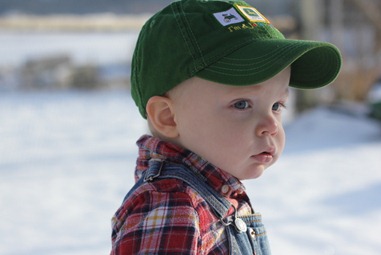 I like tractors. And cars. Basically anything with wheels or painted John Deere green. I'm a good uncle to my sisters' dollies when I'm not working. And I have been known to pull up a chair and stir mom's meals for her when she's not looking. I even take all the clothes in and out of the washing machine for my mommy. But my favorite entertainment is watching John Deere movies on YouTube. I don't say much yet, but I nod and shake my head vigorously whenever necessary. I am pretty laid back and awfully cute (or so I hear).
My mommy likes to write things. She got to go to the Allume blogging conference in Pennsylvania again this year, but she didn't take me this time. I didn't mind because I played with my grandma—she's great about visiting when we run out of babysitters. Mommy does a lot of work for our farm. She also helps code websites for other people when she has time.
My daddy is my hero. I live for the moment he gets home each day. He's had quite the busy year, but I'm glad to have him around when he's not changing irrigation pipe, building things, planting things, or harvesting things. I got my first tractor ride this fall, and I can't wait until I can work with Daddy all the time. My sisters are very excited about the "bonk beds" Daddy's making for them (Daddy says they are really "bunk" beds).
Aunt Jessica spent the summer with us, so she babysat my sisters and me when Mommy was at farmer's market or working. I'm going to miss her next summer! Speaking of missing aunties, our Auntie Mouse (also known as Marlys) got married this spring to a guy named Uncle David. My sisters got to wear pretty dresses and carry flowers, and I wore a suit. Everyone said I was the most handsome guy at the wedding. But I must not have been because Aunt Mouse still moved far away from me and lives with David now.
Thankfully, our farming schedule gives us time to travel once in a while to see special people like Auntie Mouse and my grandparents and other aunts and uncles. I like travelling because there is so much to see out of the car window. Kind of like being in a tractor.
We hope you all had a good year. And if you ever want a tractor ride, please come visit me.
With love from my family,
Daniel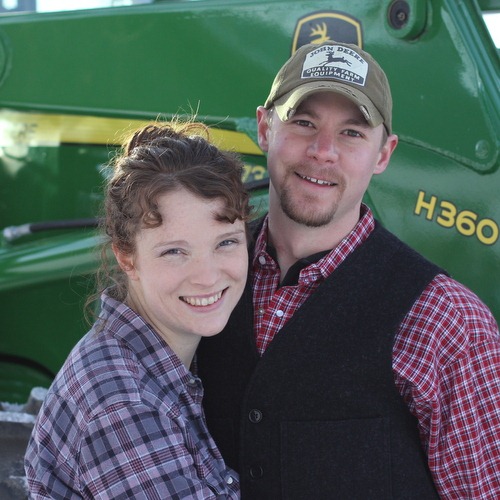 Photos by Farmgirl in Flipflops