a guest post by Erin L.
A "minimalist wardrobe". The concept is fairly simple—pick several "key colors" for your wardrobe, figure out what you like to wear and what fits with your lifestyle—and pare your wardrobe down to include those elements!
Several months ago, I decided to drastically change my wardrobe. I had lots of clothes that I liked, but nothing seemed to go together and it took me too much thinking to put together simple outfits. I had lots of clothes that just "worked", were "tolerable" or "sufficed". I wanted a smaller wardrobe, but with every piece being an absolute favorite.
Lest I come across as being superficial, I do not think that clothes/outward appearance are extra important or of eternal value. But that being said, I want my husband (and children) to know that he is extra-special to me—and one way I can let him know this, is by putting effort into looking nice for him. It is a way I think that I can honor and show him respect.
So to start off, I picked a couple of neutral colors and two "fun" colors (colors that look good on me and I could enjoy wearing over and over). For me, the neutrals are black, gray and denim. The fun colors are aqua/turquoise/teal, and lavender. I also included white/cream.
I went through all my clothes and pulled out everything that did not fit me or fit into this color scheme. (I did keep a couple pieces that I just loved that were not in the new set of colors—I did not want to be too drastic.

)
I also figured out what types and styles of clothing I felt most comfortable in and that my husband likes to see me wear. I love layering sweaters and tank tops, ruffles, feminine scarves, and jeans. I am also a mama of 2, I live in the cold north, and I spend a lot of time at home. My style is a mix of classic and romantic. So based on that, I looked for trouser or boot cut jeans, pretty scarves, nice plain t-shirts, fake pearls, skirts that transition from snow to 80 degrees, and nice sweaters. A lot of that was already in my closet.
Having a set palette has saved me time in the thrift stores and other shopping! I focus on the sections that have "my" colors—and ignore the rest. I can pull any top and any bottom out of my closet, and it should theoreticallycoordinate and look nice on me. It has also helped me limit how many pieces of clothing I have—I am not tempted to have a sweater in each of my favorite colors; instead I just limit it to "my best colors".
If you decide you want to change your wardrobe around, please don't be discouraged thinking that it takes lots of money! First of all, it does not all have to be done "right now". (That is a hard one for me! I want all new ideas implemented yesterday…) I shopped at a lot of thrift stores over time, and I kept my eyes open at retail stores and on eBay for good deals on brands I knew I liked.
Make a list of how you would like your wardrobe to look, and then start crossing off what you already have. Pray about the rest of it, and keep your eyes open!
I don't have any qualifications for writing this, other than the fact that I have made a lot of changes to my wardrobe due to pregnancy, nursing, and weight gain/loss. The concept of a "minimalist wardrobe" is not originally mine. I've picked it up through various blogs and fashion/wardrobe books that I've read over the years. One website that has really inspired me is The Small Notebook, especially these posts:
Here is a Polyvore "Example of a Minimalist Wardrobe" based on black, gray, denim, aqua, lavender and white/cream: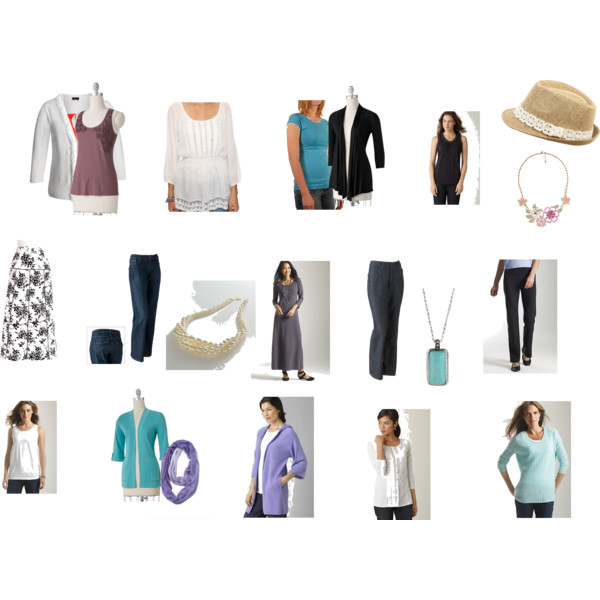 Erin L. is a wife and mother of three in Michigan. She enjoys coffee, thrift store/garage sale shopping (especially when she can do it with friends!), chocolate, reading and spending time with her family (not in that order

). Right now, her favorite verse as a mother, is Galatians 6:9: "And let us not grow weary in doing good, for in due season we will reap, if we do not give up."