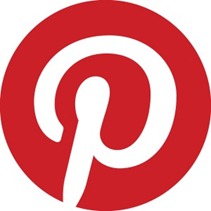 I've finally figured out how to describe Pinterest. It's like all the pretty pictures we used to cut out of magazines when we were little. Except, instead of pasting them on construction paper or putting them in magnetic photo albums, we pin them to our online Pinterest boards. And, of course, instead of finding the pictures in catalogs and magazines, we find them in blogs and webzines. And thanks to the world wide web, we can show our friends all the fun things we've collected pictures of without ever leaving our computers.
When I was little, I liked cats. So much that I started a girls' club called the "Purry Kittens" along with my cousin Melissa. All of us girls in the PK's fed our love of cats and kittens by collecting pictures of cats. Greeting cards, calendars, magazines, rubber stamps—if it had cats on it, we cut it out and put it in our cat albums. There was even a section of our original "PK News" newsletter dedicated to sharing cat picturess.
The club grew up and became YLCF. I grew up and don't actually have the dozens and dozens of kitties I planned on. But I realized, the other day, that I still have that little girl penchant for collecting pictures of pretty things. It just happens on Pinterest instead of in the pages of magnetic photo albums these days. And, oh yes, I'm pinning pictures of more than just cats. (In fact, my PK friends would be scandalized—I don't think I've yet pinned a kitty picture! I'd better remedy this post-haste.

)
So here's a very basic explanation of Pinterest from a relative newbie—for my mom who's learning Twitter this week and doesn't want one more online thing to have to manage, and for my aunt who says it's not a good idea to follow her on Pinterest because she's lost.

Get Started with Pinterest:
1. Ask a friend with Pinterest for an invite and sign up. (Comment and I'll send you one!)
2. Find your friends who are on Pinterest via Facebook, etc. and follow them.
3. Install the "Pin It" button by dragging it to your browser's bookmark bar.

Pin:
Say you're browsing one of your favorite websites that's peppered with pretty pictures—like, for instance, Lanier's Books. You see that pretty breakfast place setting and want to remember it when you're planning a brunch. Or perhaps you're "window shopping" at the website of one of your favorite retailers—say Eddie Bauer. You see a dress that has your name written all over it, but you want to see what your friends think before you buy it.
1. Click the "Pin It" button you installed in your browser's bookmarks:

It will show a list of all the images on the page you were viewing: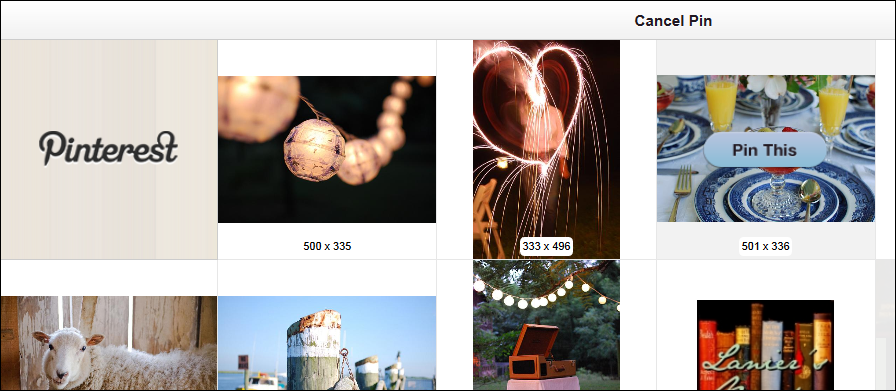 2. Move your mouse over the picture you like and click the "Pin This" button.
3. A new window will pop up, allowing you to describe your pin and choose the proper pin board to put it in: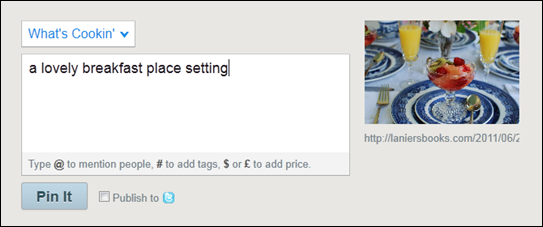 4. Click "Pin It"!
5. Success! Your pin was posted to your "What's Cookin'" board. Anyone can view your pin, click back through to Lanier's post with the original photo of the place setting, comment on your pin, like it, or repin it!
Repin:
When you're logged in, Pinterest.com displays the latest pins from the boards/people you're following. (If you'd rather not see someone's pins of a certain type, you can unfollow individual boards.)
You can comment on a pin (a comment that will be displayed publicly) or like it (similar to the Facebook "like" button). But if you really, really like a pin, you can repin it to share with your followers.
Perhaps you've joined in pinning pictures of truly beautiful, wise women onto your Pinterest board (an idea that originated with "Emerging Mummy" Sarah Bessey). You're on YLCF's "Beauty & Femininity" Board and see the picture of Elisabeth Elliot I pinned (taken by my mom when we met Elisabeth—I was sitting right next to her!), and want to re-pin it onto your own "wise women" board.
1. Move your mouse over the picture on the board—or click on it to view the pin page.
2. Click the "Repin" button.

3. Here you can edit the pin's description or leave it as it is. Be sure to choose the right board you want it pinned to—or create a new board (like a "wise women" board!).
4. Click the "Repin" button.
5. Success! The pin will be shared with your board's followers.
Need more help? Check out Pinterest's Help!
Is Pinterest more than a time-waster?
It all depends on how you use it! A few things I've learned:
Stay organized. Keep your board titles simple and descriptive so your followers know what's in them and you remember what to pin in them.

Only pin and repin things with ideas you really want to reference or look at again—otherwise your boards won't really be of future use!
Limit your Pinterest time—it's easily done one-handed, and makes a great nursing activity, but it can become an addictive time-waster, as well!
What do you use Pinterest for?
Comment and tell me how you use Pinterest, and what your favorite boards are!
Follow Little Pink House Pins: