reach is a little book with a big vision: spreading the gospel of Jesus Christ online.
Laura and Angi share powerful stories about using social media in campus ministry and worldwide missions.  Just the story of the way they met and came to be writing a book together is a testimony to how God can use Facebook to bring people into His kingdom!
The first part of the book shows the huge opportunity we have; the second half gives practical suggestions for ministering on everything from Facebook to Instagram.  Then come the appendixes with conversation starter questions for every personality.  I really appreciated the honesty and clarity with which Angi and Laura discussed the potential pitfalls and the recommended safeguards of online ministry.
No matter your comfort level with the internet, reach will give you a glimpse of the potential we have to use the world wide web to fulfill the Great Commission.  The authors' passion is contagious.  Maybe you won't feel comfortable searching Facebook for random conversations to join, but perhaps you will consider filling your Pinterest boards with Scripture.  Maybe you aren't the type to ask provoking questions, but you might post a Bible verse to your Facebook wall a bit more often when you are reminded that God's Word does not return void.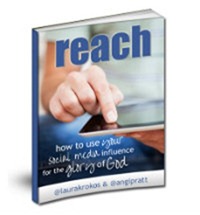 reach is the Conversational Evangelism for the internet.  reach shows believers that they don't have to get on a plane to be a missionary—they have only to go online.
Angi and Laura are giving away copy of reach to one of you! 
Enter below via Rafflecopter.  (Prize is a .mobi eReader copy.)

P.S. If you're interested in using the social media of blogging for God's glory, you'll want to check out The No Brainer Blog – a fabulous book to help you make the most of your blog!
Disclaimer: I purchased my own copy of reach but the authors provided the giveaway copy.