Google Plus is very streamlined and intuitive–once you get started. But just configuring your profile can be overwhelming if you don't like learning new things (especially when it comes to social media!). Don't worry, though–I'm going to break it down into six simple steps. You can complete one step per day or jump in with both feet and do it all at once.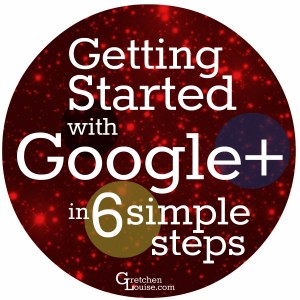 Before You Start
A. Decide which Google Profile you're going to use.
Having more than one personal Google Plus profile is complicated for you, and confusing for those who follow you. If you have more than one Gmail address or Google profile, consider these questions:
Which will always be my primary Google account?

What Gmail address appears the most professional?

Which name will I always be willing to use online?

If I brand personally, does my Gmail address match my brand name and domain name?
Once you've identified which Gmail address you will "always" use–or registered a new one that matches your personally branded domain name–you can start setting up your G+ profile. (Go to https://plus.google.com/downgrade to "downgrade" your other accounts from Google+ Profiles to basic Google accounts.)
B. Understand the difference between Google+ Profiles and Pages.
You as a person, whether a business owner, a blogger, or simply a user of social media, will always need a Profile on Google+. That Profile will be associated with everything from your Gmail address to your authorship wherever you blog. But Google+ Profiles are designed for people, not businesses. First and last names are required on Google+ Profiles.
If you want to create a Google+ presence for a brand, organization, or company, you'll need to create a Google+ Page (which will be owned by your Google+ Profile). Google+ Pages can Circle, +1 and interact with other Profiles and Pages on Google+ in many of the same ways Profiles can. But depending on the type of Page you create, you'll have options and requirements for creating different information. The ownership of Pages can be transferred, and Pages can have multiple managers.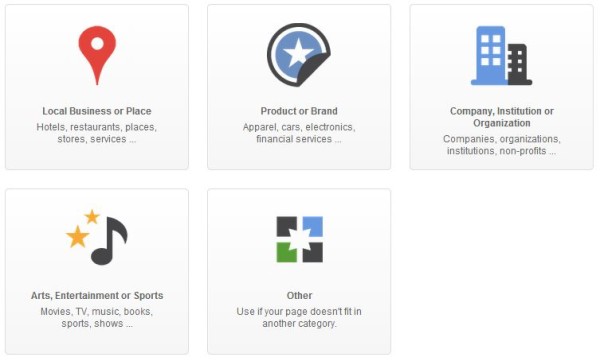 +Learn more about Google+ Pages
C. If you don't already have a G+ account…
If you have a Gmail address, you've probably managed to sign up for G+ without even knowing it. Go to https://plus.google.com to check. If you don't see something like "Share what's new", then you don't have a G+ account, and you'll be invited to create a profile or upgrade your account.
Step 1 is where you fill out your basic information (don't worry, you can control who sees what later on).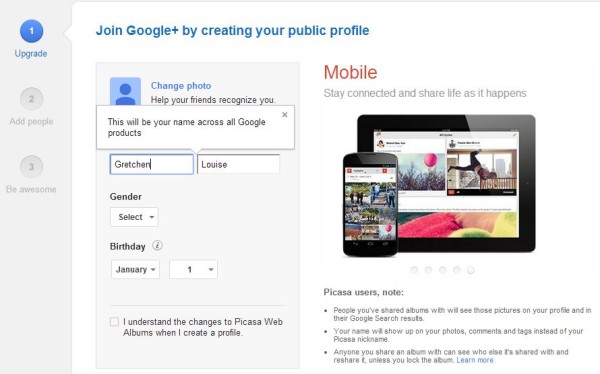 Step 2 will invite you to add people (Profiles) to your Circles and follow things (Pages) you love, but you can click "Continue" to skip that for now.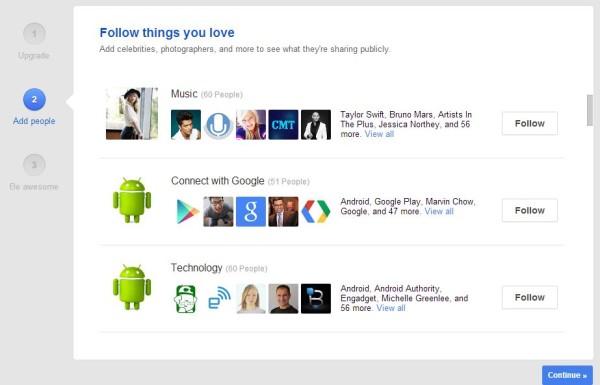 Step 3 is where you get a head start on filling out your profile. Fill in the blanks and add a headshot or hit "Continue" to do it later.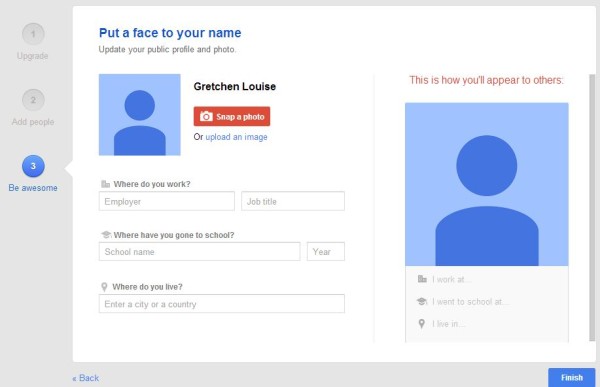 6 Steps to Get Started on Google Plus
Now that we know you have a Google+ profile and which one you're going to use, let's get started!
1. Fill out your Profile.
https://plus.google.com/u/0/me/about/
Go to your G+ Profile, choose "About", and start clicking "Edit" under each section. Fill out as much info as you desire, then select what audience you want to see it. ("Extended Circles" is equivalent to "Friends of Friends" on Facebook.)
People: This section controls who can see who you have added to circles and who has added you to their circles. (Circle names will never be visible to anyone.)
Work: This is your public resume. Think of it like a LinkedIn profile and add the jobs you're proud of, the type of work you'd like to be hired to do more of.
Places: Where have you lived? Where do you live now? Share it with the world–but only if you want to.
Contact Information: Provide your work and home contact information to the public, to your circles, or not at all. (If you want to be available for job inquiries, be sure to leave some contact information public.)
Apps with Google+ Sign-in: This shows you where you've allowed G+ to be your method of sign-in, but as far as I'm concerned, no one else needs to see it. Don't show it on your G+ profile.
Story – Tagline: This should be your own tagline, one-line bio, or brief personal mission statement. Your tagline will show when people hover over your name in Gmail and other locations.
Story – Introduction: This should be like a blog's About page–richly descriptive and full of keywords. You can use links and formatting within this section–and please do! For bloggers, it's the perfect place to link to a few of your most popular posts.
Story – Bragging Rights: You can have fun here, or be professional–or just skip filling it out.
Education: In case you're proud of your Alma Mater (or graduated from The School of Hard Knocks).
Links – Other profiles: Link to your other social media profiles around the web.
Links – Contributor to: This is where you'll add links to any site you've ever written for (as long as you're proud of your work and want to claim "authorship").
Links: This is where you add any links to sites you just love and want to share with the world.
Profile Photo:
Be sure to add a great headshot–it's what your Gmail contacts will see when they're replying to you in Gmail, as well as when they visit your G+ profile. Hover over your photo–or the blank spot where it should be–and click the Camera to take a picture or upload one.
Cover Image:
Nothing says "G+ newbie" like a default cover image. Upload something pleasing that reflects you and your brand–it can even be another picture of you. Take note that your cover image will appear in a different arrangement depending on screen size–sometimes below instead of beside your profile picture.
+Choose how you share information on your Profile.
2. Share something.
Say something. Anything. "I'm new to G+…what's your best tip?!" is a great way to start. Share it with "Public" so that anyone can see it, or "Your Circles" so only the people you circle will see it.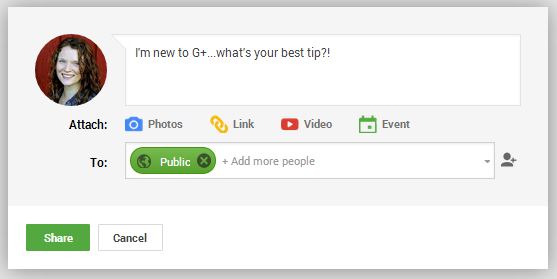 If your G+ account is associated with a Gmail address (and it probably is, unless you login with another email address), your latest G+ post will show when someone is viewing your message in Gmail. (They will only be able to see a post that is shared with a circle you have added them to, a community you are in together, or a public post. If you do not have any posts publicly viewable, they will see only your G+ profile.)
Basic font formatting is allowed in G+ posts.  Use asterisks to make something *bold*, underscores to make something _italic_, dashes to make something -strikethrough-.
Use + or @ to mention someone in a post.
3. Set up your Circles.
Think of circles in terms of groups of people you'll want to share with or follow. Keep in mind that you can eliminate entire circles from your home feed, show more or less of a circle in your home feed, or get notifications every time someone in a specific circle posts. You can also share specifically to a circle, via notifications or email (do this sparingly, as this can quickly be viewed as spam).
Google+ comes with 4 default circles which can be renamed or deleted as you like:

I have circles specifically for my mastermind group, my local writers group, social media influencers, the WordPress community, companies, family, and a general "following" circle (you're following anyone in any circle–you don't have to add them to "following" to be following them).

Go to https://plus.google.com/circles to start setting up yours! It's easy to drag and drop people between Circles or even combine Circles if you change your mind about how to set them up. Click on a Circle to view the people in it or display the options to edit the description, share the Circle (so your friends can follow the same people), or trash the Circle.
From "Your Circles", click on "Find people" to see suggestions (based on email contact and mutual acquaintances) for whom to Circle, "Have you in circles" to see who has already Circled you, and "Discover" for even more suggestions.

While you're at it, I'd be honored if you'd add me to your Circle!

4. Change your Notifications.
One of the most powerful aspects of Google+ is the ability to control your email notifications. It's easy to get annoyed when you start getting notifications in your inbox, but when you start interacting with Google+ conversations from right within Gmail, you'll realize the potential. The key is simply to decide which kinds of notifications you want to get emails about.
I've chosen to turn off all phone notifications, while leaving most email notifications on. But only because I use Gmail's Tabs to separate important messages from social media notifications. My goal is to keep my inbox at "zero" (or as close to it as humanly possible), and having the social notifications in a separate tab allows me to archive them all in one fell swoop if I so choose. If you aren't using Gmail Tabs, you may want to keep your email notifications to a minimum.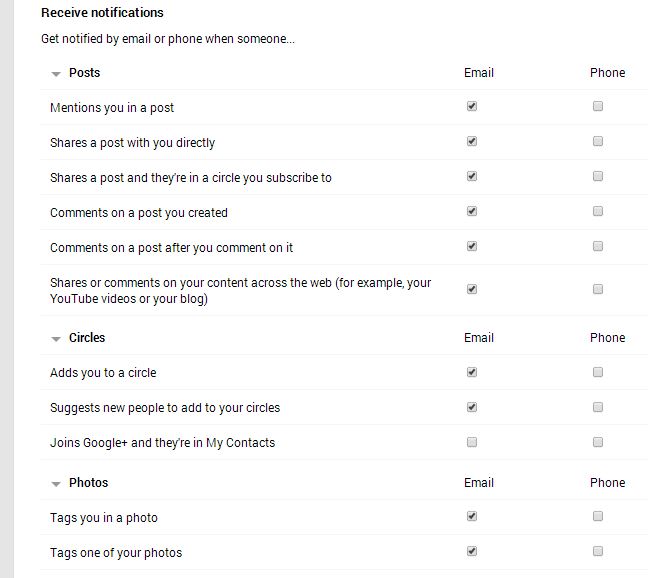 Notifications that you don't get emails about will still appear in the top right hand corner of your Google account. The red box next to the bell shows how many notifications you have. Click the bell to view and reply to notifications right from whatever Google page you're on.

You can mute individual posts by using the drop-down so you receive no more notifications about them: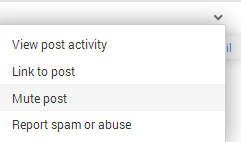 You can also turn on notifications for specific circles (click the gear icon to control how many posts from the circle you see in your Home Stream):

Community notifications are set within each specific community (see below).
+Change your Google+ notifications settings.
5. Join a Community.
Communities are a great place to learn new information and find new connections on G+. Ask your friends for Community invites or search for your own interests. Be sure to turn off notifications on everything but the Communities you're most interested or involved in or it will get overwhelming. You can specify how many of each Community's posts you want to see in your Stream from right within the Community.
6. +1 something in your Stream.
The Stream is what you see when you go straight to your Google+ Home page. It's where "All" the latest information is. But you can click on individual Circles to view only the latest posts from that Circle. Click "Explore" to find new topics from others! (If you're seeing "What's hot" posts in your Home Stream, go to "Explore", then click "What's hot" to select whether "What's hot and recommend" posts appear in the Home Stream.

Find something that interests you and click the +1 button (this gives the post a boost in the Stream of those who have Circled you). Use the arrow to share the post (on your Profile, with someone specific, or in a Community you're part of). And if you're feeling daring, comment and join a conversation. It's what G+ is all about.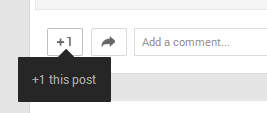 Want to share this post on G+?
Want more tips about how to use Google+ well?
Visit my G+ resource page, follow my G+ Pinterest board, and of course, Circle me on G+!
(Be sure to subscribe so you don't miss the next post on understanding the basics of G+. Let me know what you want to know!)