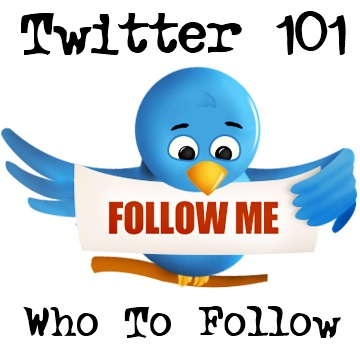 The first thing to do after you've set up your Twitter account is to find some friends to follow.  Twitter makes it easy for you, including the friend-finding in the sign-up process.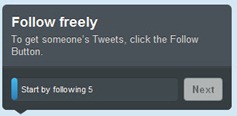 They suggest you start out by adding at least fifteen people—five people you know, five people who Tweet about topics you're interested in, and five more people who are in your email or other social media contacts.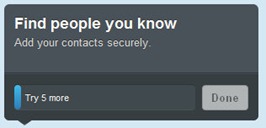 You can use their prompts or skip those steps and find people to follow later.  But the important thing is that you do follow people, because that's what Twitter is all about!
Does your best friend tweet?  She'll be glad to be your first follow!  (Yes, you can tell the order in which you've followed people.)  Family on Twitter?  Follow them if you want to.  (Random fact: I think five of my family members have Twitter now.  And half of them don't Tweet.  So family makes up a very small portion of my followers!)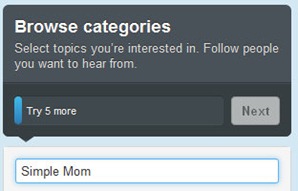 Think of the blogs you read; type in the blog name to find their authors on Twitter.  (If you can't find them readily, you can always go to the blog and look for the Twitter icon in their social icon area, if they have one).  Think of the celebrities and best-selling authors you look up to and want to keep up with; search for and follow them, too.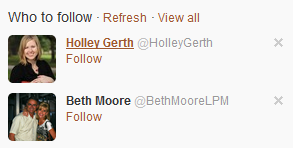 By the time you've followed a few people, Twitter is probably giving you suggestions in the sidebar.  (If you're tired of seeing a person's face there but don't want to follow them, you can click the "x".)  Twitter also finds ways to tell you about Twitter users who are similar to the ones you just followed.  You can click on any person's profile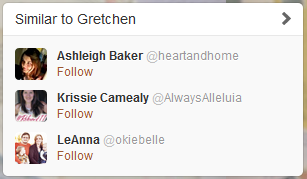 and see who is similar to them.  And if someone has good taste, you might even want to browse through the people they follow and choose to follow some of them, as well.  There's even a "Who To Follow" link in your #Discover tab if you want more suggestions.

Twitter may or may not share your tastes.  You can take their suggestions or leave them.  It's up to you.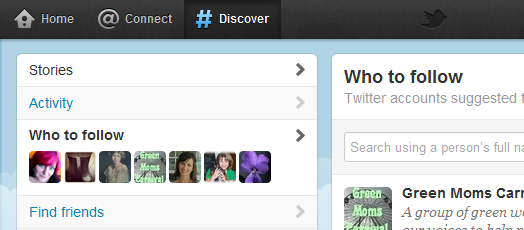 When I first started using Twitter, I followed almost everyone that followed me.  But my feed started to get mucked up with people who bugged me or people who got involved with online drama….so I weeded through them. Now I actually have relationships with a lot of the people I follow. Love it now.
-Kristina, @kjtanner
You'll probably over-follow at first.  That's okay.  That's how you find out who you want to follow, who you don't want to follow, and who else you want to follow.
The key is this: don't be afraid to un-follow people you really don't care to follow any more.  And don't feel like you have to follow people just because they follow you.
I know a lot of the Twitter advice says 'follow everyone!' but that just doesn't work for me. Negative people get deleted no matter WHO they are. If this tool doesn't add value to my life, I'm ditching it — I want to own my Twitter stream, not be owned by it.
-Trina, @TrinaHolden
Maybe you love their blog but don't feel like you need to follow their Tweets.  Maybe you never read their blog except when a Tweet about a post piques your curiosity.  Who and how many you follow is up to you, and may be something that changes with time.  There are always lists, if you follow more people than you can really follow!  (More on those later.)
So check out your "Who To Follow" and find a new friend or five!  And remember what they say, "Facebook is for friends who are now strangers; Twitter is for strangers who should be friends."
While it's social media & you may use it for various reasons, think through why you are following who you are following. I routinely go through my list of who I follow. While I use Twitter to connect with companies and therefore follow liberally, I also follow bloggers & friends (in real life & out), and that is the category I am more cautious with and "weed" through. I want to be able to invest in and know people as best as I can… If I see someone on my list & I can't place who they are or why I follow them, I "unfollow". This way I feel like I connect with the people I follow more than just to "use" them, but to really give and take.
-Mandy, @DailyCupOfGrace
For Further Reading:
Finding & Following People – from Twitter Support
How to Follow Others – from Twitter Support
How to Find Friends & Colleagues on Twitter – from Twitter Support
How to Find People on Twitter: Twitter Search! – from Twitter Support
How to Get More Twitter Followers – from Blogging with Amy
More Twitter 101: