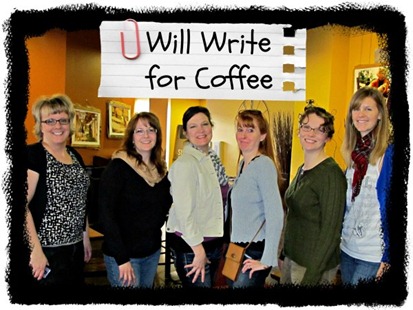 We gathered for coffee Monday morning. Our distances from the rendezvous spot varied, making some of us nurse our coffee cups longer than others.  But by the time the liquid caffeine had cooled, we had warmed up.  Writers might be introverted as a rule, but that percentage was lessened in our group of six.
Some of us fell in love with writing through blogging.  Others write hundreds of words a day but have only dipped their toes into the ocean of blogging.  But we each were eager to learn from the other, because we all shared the love of words, the need to write. 
And nobody thought I was crazy when I said I wrote for my own sanity.
We might joke "will write for coffee," but the truth is that we will write whether we get coffee or anything else in exchange.  We will write no matter whether anyone reads it, because we need to write.  Perhaps even more than we need caffeine.