You've probably mastered texting acronyms like LOL and TTYL, but the blogosphere has its very own language. Blogese is filled with a growing number of acronyms and official sounding words. Here in this dictionary of basic blogging terms I'll stick to simple definitions of the most common words. So if you're new to the blogging world and wondering what all the lingo means, this blogging dictionary is the perfect place to look up the words that have you lost and memorize your vocabulary for the day.
(Don't see a term that should be here? Have a question about a definition? Drop me a line!)
(This page contains affiliate links. Read my full disclosure.)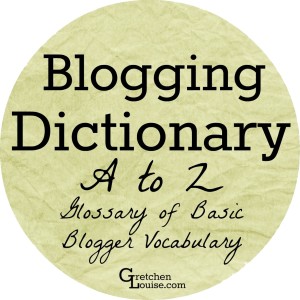 A to Z Glossary of Basic Blogger Vocabulary
To find a definition, open a browser search by
pressing the Ctrl or Cmd key at the same time as the F key on your keyboard.
Above the Fold
adjective
1. The area that is immediately visible before scrolling down the page.
Archives
noun
1. A collection of previous blog posts, usually date-based, category-based, or tag-based.
Autoresponder
See Drip campaign.
Aweber
See Email Service Provider.
Backend
noun
1. The administrative area of your site, also known as the "Dashboard" in WordPress.
Blog
noun
1. A collection of blog posts, usually within a larger website.
verb
2. To post a blog post.
Blogger
noun
1. A person who blogs.
2. The blogging platform owned by Google.
Blogroll
noun
1. A collection of links to other blogs, often displayed in a blog sidebar.
Breadcrumb
noun
1. A display of the parent links leading to the current page or post.
Captcha
noun
1. A spam prevention technique wherein you are required to enter the combination of letters and numbers displayed on the screen in order to post your comment, etc.
Category
noun
1. A broad collection of posts, likened by WPBeginner to the chapters in a book.
CMS (Content Management System)
noun
1. A platform like Blogger, WordPress, SquareSpace, or Tumblr where you can post and manage content.
Comment
noun
1. A method of communicating about a blog post or page on that post or page (pages may also have comments).
verb
2. To post a comment on a blog or page.
Colophon
noun
1. A page on a website outlining and crediting the services, systems, tools, and designs used for the site.
noun
1. An email service with all the features you could ever want: optin forms, landing pages, and so much more, for one monthly fee.
Cornerstone Content
See Evergreen Content and Content Landing Page.
Content Landing Page
noun
1. A web page with a keyword-dense introduction followed by links to relevant, cornerstone content centered upon one specific topic.
Cpanel
noun
1. The administrative backend of a web host.
CSS (Cascading Style Sheet)
noun
1. Often named style.css, this file is written in CSS and controls the style of your site. Each plugin or theme will come with its own style sheets.
Dashboard
noun
1. The main administrative area of your CMS or platform.
noun
1. DKIM stands for DomainKeys Identified Message. DKIM records are TXT DNS records used in conjunction with SPF records for DMARC email authentication purposes.
noun
1. DMARC stands for Domain-based Message Authentication, Reporting and Conformance. It is an authentication protocol used to verify the domain names used to send email in an attempt to prevent fraud and spam.
DNS
noun
1. DNS stands for Domain Name System. It is made up of all sorts of records–from A records to CNAME records to MX records to TXT records–that direct where your domain's email and files are hosted.
Domain Name
noun
1. The address where a website is located. Often preceded by www., always preceded by http:// or https://, rarely case sensitive.
Draft
noun
1. An unpublished blog post.
Drip Campaign
noun
1. An email drip campaign is a message or series of messages sent to specific people based on specific triggers: i.e. signing up for an email list, clicking on a specific link in a past campaign, etc. Also called an autoresponder, it is literally an automatic email response to a specific action, often dripped out over a period of time.
Email Service Provider
noun
1. A service that allows you to build an email list by collecting email addresses through signup forms, landing pages, etc. You can use an email service provider to send email campaigns or broadcasts to your entire list or segments of that list.
See also Aweber, ConvertKit, MailChimp, or Mad Mimi.
Evergreen Content
noun
1. Posts that are as useful and relevant as they are timeless.
Favicon (Favorite Icon)
noun
1. An image displayed next to the bookmark or "favorite" item, as well as the URL in the address bar of a web browser.
Featured Image
noun
1. An image set to represent the blog post or page as a thumbnail in blog archives or on social media likes and shares.
Feed
See RSS.
Feed Burner
noun
1. Any service that takes RSS feeds and makes them humanly readable.
2. The company owned by Google that burns feeds and sends out posts via email.
Footer
noun
1. The bottom portion of a website, where the copyright information resides. May also include a Footer Widget Area.
Frontend
noun
1. The part of a website visible to the public.
FTP (File Transfer Protocol)
noun
1. A method of uploading batches of files to a web host. Login to an FTP server with a program like FileZilla or CuteFTP.
verb
2. To upload files to a web host via FTP.
Gadget
noun
1. Blogger term for Widget.
Header
noun
1. The top of a website. Generally includes a header image and a navigation menu.
noun
1. A company that stores the data for a website on their server.
verb
2. To store data.
3. To host a link-up.
HTML (HyperText Markup Language)
noun
1. The code language used to format web pages, widgets, etc.
Hyperlink (Link, URL)
noun
1. The direct link to a web site or page.
verb
2. To link to a site or page.
Labels
noun
1. The name Google's Blogger uses instead of Categories or Tags.
Landing Page
noun
1. A clutter-free page with a clear call to action. Used in advertising as the page someone will "land" on when they click a specific link.
Link
See Hyperlink.
Link-up (Blog Hop, Synchroblog)
noun
1. An event when a host blog opens up the opportunity for other bloggers to post about the same theme or topic then share the link to their blog post on the host blog.
noun
1. An email service with a personality, this company has fun referring to Mimi as a person who sends out newsletters and blog posts via email.
noun
1. An email service with an attitude, MailChimp's friendly chimp is always there to give tips for creating email newsletters and campaigns to send out the latest blog posts.
noun
1. Usually a horizontal bar with links to the main pages of a website. Often primary and secondary navigation menus are offered.
Navigation
See Menu.
noun
1. A static web page. Newly published pages do not go out to feed or email subscribers.
Permalink
noun
1. Literally a permanent link to a post. In WordPress, a numerical shortlink may be a more permanent link because it will not change if the post name changes.
PHP (Hypertext Preprocessor)
noun
1. The language of code that powers WordPress.
Pingback
noun
1. A pingback is an automatic notification sent by WordPress every time a post is published to any posts linked to within that post.
Platform
See CMS.
Plugin
noun
1. A plugin is something that is installed and activated or deactivated on a self-hosted WordPress website. A plugin adds some sort of feature, enhancement, or security to a WordPress site.
Post
noun
1. A blog post is something that's sent out automatically to RSS and email subscribers. A post is viewed as less static, more time-sensitive.
verb
2. To publish a blog post.
Publish
verb
1. To post a page or blog post publicly on the internet.
Registrar
noun
1. A company that provides registration of domain names.
Responsive
noun
1. A mobile responsive website "responds" in size/format based upon the device it is being viewed on.
RSS (Really Simple Syndication)
noun
1. An RSS feed is the "feed" of a blog's latest content, surrounded by special code that makes it available for "syndication" across the world wide web.
Self-Hosted
noun
1. Self-hosted WordPress requires the purchase of a domain and hosting, installation of WordPress, and routine maintenance and security precautions.
SEO (Search Engine Optimization)
noun
1. The art of using keywords and keyword phrases in a post title and headings to make a post easy for search engine users to find and hopefully rank high in search engines.
Shortcode
noun
1. A WordPress shortcode is a code word or phrase enclosed in square brackets in the backend, which outputs a specific result in the frontend.
Shortlink
noun
1. A shortlink is the shortest version of a permalink. WordPress shortlinks are based on the post's numerical ID which will never change. URL shorteners are often used to create even shorter shortlinks.
Sidebar
noun
1. The area on the side(s) of a site that is filled with widgets or gadgets.
Sitemap
noun
1. Usually an auto-generated XML-based list of the entire contents of a website, used primarily by search engines. Manual sitemap pages are often created for the benefit of site visitors, as well.
Slider
noun
1. A sliding display of images. Usually the featured image of a post or page is displayed and links to the post or page it is associated with.
Slug
noun
1. The slug is the part of the permalink that identifies the name of the post or page. WordPress auto-generates a slug with hyphens between the words of the title. The slug does not have to be the same as the post title.
Spam
noun
1. Comments placed manually or by automatic spammer bots in an attempt to garner links or traffic. Usually filled with random words, promises of traffic boosts, or inappropriate references.
verb
2. Literally to overwhelm with comments or posts. "Don't spam your Facebook friends."
noun
1. SPF stands for "Sender Permitted From". SPF records are TXT DNS records used in conjunction with DKIM records for DMARC email authentication purposes.
Tag
noun
1. Tags are used to tie WordPress posts together by topic or series. WPBeginner likes tags to the index in a book.
verb
2. To apply a tag to a post.
Tag Cloud
noun
1. A tag cloud is a cluster of all the tag words used on a site, with the font size growing larger for the more popular tags and smaller for the less popular tags.
Tagline
noun
1. Entered in WordPress General Settings, the tagline is the subtitle of a site, and should further explain the site title.
noun
1. The theme is what controls the entire look and feel of a WordPress site. Child themes are sub themes activated to change the look of the parent theme. Some themes are based on frameworks.
Template
noun
1. In WordPress, a custom PHP template chosen from a drop-down in the Page Attributes area of the backend of a WordPress page to indicate whether it's a landing page, blog page, etc.
2. In Google's Blogger, the theme or appearance of the blog.
Trackback
noun
1. A trackback is a manual notification that can be sent to another site to notify them of a post wherein they may or may not be linked.
URL
See Hyperlink.
Vlog
noun
1. Short for video blog, this is a blog post recorded as a video.
verb
2. To record a video for a blog post.
Website
noun
1. Pages and/or blog posts on a single domain are referred to as a website or site.
Whois
noun
1. The database that holds the contact information of everyone who has registered a domain name. Whois privacy is offered by most registrars for an additional fee.
Widget
noun
1. A place to put code, images, etc. in your sidebar.
WordPress
noun
1. WordPress.com is a blogging platform that is hosted by the company Automattic.
2. WordPress.org is an open-source self-hosted blogging platform.
Yoast
noun
1. Joost de Valk is the author of the most popular WordPress SEO Plugin.
More Blogging Dictionaries & Glossaries:
Want a more extensive explanation of blogging terms? Looking for the College Dictionary level definitions of WordPress options? Here are links to everything from detailed dictionaries to beginner's glossaries of blogging and WordPress.
For more WordPress Tips, visit Become Savvy Inside WordPress in 5 Minutes a Day!