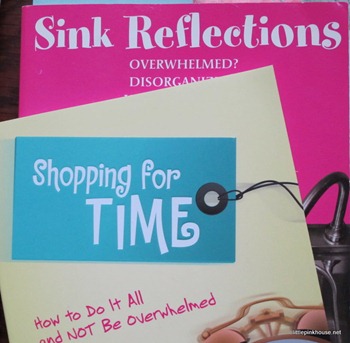 You know how the books sitting on your coffee table, collecting dust on the end table, and laying there next to your bed—not to mention the e-books in your recent downloads folder—all show exactly what's on your mind these days? Yes. That would be the story here at our house.
I hinted at some of the titles a while back, showing snippets of words and pages that were being impressed on my heart. And I'll be reviewing some of them in more depth soon. But here's the whole list; the books I'm reading during these 31 Days of Baby Steps.
Shopping for Time: How to Do It All and NOT Be Overwhelmed by Carolyn Mahaney & daughters
A little book packed with a big dose of inspiration. Don't read it unless you want to get convicted. (By the authors of the GirlTalk blog.)
Disciplines of the Beautiful Woman by Anne Ortlund
Why manage our time and schedule and everything? Anne brings it all back to what this life is really about: loving and serving Jesus. A timeless gem of a book.
PrayerWalk: Becoming a Woman of Prayer, Strength, and Discipline by Janet Holm McHenry
One of those books that will have you waking up early each morning before you've gotten many chapters in. (JanetMcHenry.com)
Maximize Your Mornings: Take Control of Your Day Before it Starts by Kat (free e-book!)
Quick-start inspiration for the why of getting up early. (InspiredtoAction.com)
Sink Reflections by Marla Cilley
Encouraging, helpful, routine-based "baby steps" for anyone and everyone, regardless of what your house looks like. (FlyLady.net)
Organized Simplicity: The Clutter-Free Approach to Intentional Living by Tsh Oxenreider
The first half is easy-to-read inspiration. The second goes through your home in ten days, giving practical, helpful guidance on what to save, how to sort. All with an eye towards going green and living simply. (SimpleMom.net)
Tell Your Time by Amy Lynn Andrews (e-book)
A quick read that makes you realize how much your time is worth—and that if you don't change how you use your time, nothing else can change. (TellYourTime.com)
31 Days to Clean by Sara Mae (e-book)
It's not really a how-to book on cleaning: it's more of the "why" behind keeping your home clean, with daily encouragement and suggestions for 31 days of deep cleaning (that can be spread out over more than just a month). (31DaysToClean.com)
Mission Statements for Moms by Kat (free e-book!)
Workbook for defining and prioritizing your roles, in order to create your personal mission statement. (InspiredtoAction.com)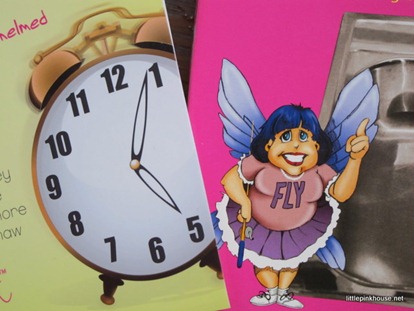 Sidetracked Home Executives: From Pigpen to Paradise by Pam Young and Peggy Jones
This one's on hold at the library—it was the book that inspired "The FlyLady" who wrote Sink Reflections. (SHEsintouch.com)
A Mother's Rule of Life: How to Bring Order to Your Home and Peace to Your Soul by Holly Pierlot
Written by a Catholic homeschool mom, with practical suggestions about the "mother's rule" for all moms. (It's a longer, more biographical read, but the first chapters especially are helpful.) (mothersruleoflife.com)