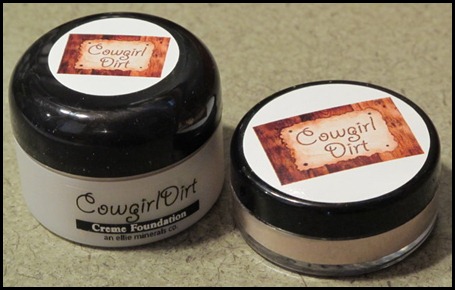 You know how they say there are two types of makeup users—the scoopers and the skimpers?  I'd be the skimper.  I use just a bit, then it seems like too much, and I wipe half of it off so you can hardly tell I have makeup on.  In other words, I'm the type of person that cosmetic companies really don't like, because I don't buy makeup that often!
But it was finally time.  I'd pretty much run out of the foundation I bought right before my wedding.  And this time, I wanted to try something a bit more natural—that hopefully wouldn't break the bank in the process.
My friend Bethany had been talking about mineral makeup for as long as I could remember.  When I finally tracked down the company she used (Everyday Minerals), I liked the prices—but I wondered about the ingredients.  So I asked you, my dear blog readers.  And an Army wife named Heather recommended a company named Cowgirl Dirt.  (Thank you, Heather, not only for the recommendation, but for all you do for this country by supporting your man!)  I ordered some samples, a blog reader shared more samples (thank you, Erin!), and it came down to an Everyday vs. Cowgirl comparison.
Everyday vs. Cowgirl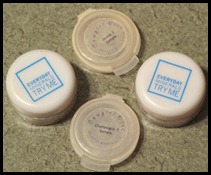 My sister-in-law and I sat down with mirrors and the samples at my kitchen table.  Marlys and I have similar skin tones so we figured we could see which colors looked best on each of us.
We tried the Everyday Minerals first.  It was hard to settle on one of the five color choices.  There didn't seem to be a lot of color to them, so almost any of colors in the Fair sample kit worked on Marlys or me, if we applied enough.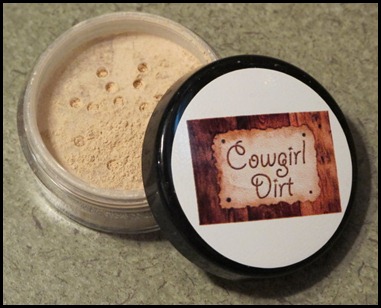 Then I put on the Cowgirl Dirt Foundation Powder in the Champagne Neutral Tone 3.  It was a perfect match.  And it just felt different.  I think it was the Jojoba oil they use in the powder foundation—it truly felt moist!  I'm going to guess that helps it last longer on my face, as well—I know t doesn't "melt" off my face in the heat like cream foundations do!  But the best thing about the Cowgirl Dirt Foundation Powder is how much color there is to it and how little you have to use—especially if you're a "skimper" like me.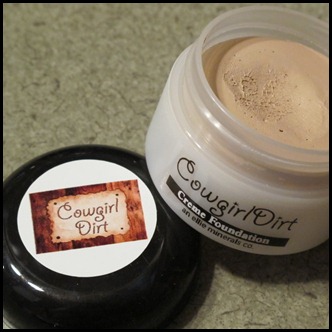 I'd asked Cowgirl Dirt for a sample of their Southern Belle Neutral Crème Foundation, too—I said to just throw in the crème foundation that best matched the powder samples I was ordering.  The Neutral 3 (Light) that they sent was perfect.  And my favorite thing about their crème foundation is that it comes in a tub instead of a tube—that means I can put my finger in and get a little bit, instead of always squeezing out too much!
The crème foundation definitely provides a fuller coverage—I use it for days when I need more blemish cover up or a long-lasting perfectly made up look.
Ingredient Comparison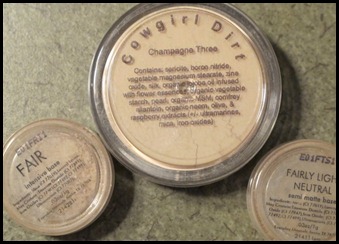 As far as I can tell, nearly every single mineral makeup company around—except for Cowgirl Dirt—includes Titanium Dioxide in their ingredients.  I'm rather cautious about using something when the ingredients lists often mentions it in ways like "may contain"—just the same way they do potential allergens or other undesirable ingredients.
So, I asked my friends.  They were very helpful.  I basically found out that it's probably hazardous in large amounts.  Especially if it's inhaled.  But such a small amount is used in makeup that it's not been banned yet.
That's all fine and good.  I mean, I don't use much makeup—and I do own a microwave and use a cell phone, which I know are also hazardous to my health.  But sometimes I inhale my makeup powder as I'm putting it on.  And what's more, I kiss and snuggle little cheeks—little cheeks who often ask to have some of Mommy's makeup put on.
Cost Comparison
So while I'm not one to always buy organic or all-natural (it can be quite hard on the budget!), I decided it was at least worth comparing the prices.  Neither company states the sizes on their websites, so I emailed to get an accurate price comparison.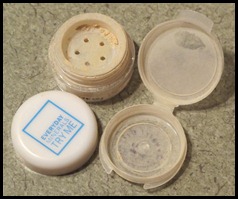 That means that if you buy the large size Cowgirl Dirt, it's only costing $12.69 for 5.5g.  70 cents more isn't much when you're talking about better ingredients!
It's definitely cheaper to sample the Everyday Minerals: there were five little sifter jars of color choices for just $3.08 shipping (the first sample kit is free, you just pay shipping—additional samples are $5). The Cowgirl Dirt samples are definitely smaller, and they cost $1.99 each.
The difference in the shipping charges were quite dependent on how much I ordered.  Everyday Minerals had slightly lower shipping costs, but that's to be expected from a large company.
Small Business Customer Service
My only complaint about Cowgirl Dirt before had been the customer service.  But, since then, the company has changed hands.  And when I found out about this, I was thrilled to pieces to find it's now owned by a young Christian couple!  I also noted that the email response time is much better these days.  (And even if it doesn't happen to be, I'm inclined to give small businesses a break when I know how few people there are to do everything!)
As a small business owner myself, I love to support small businesses.  I also like to support fellow believers.  And when it doesn't break the bank, I prefer to choose products that are better for my health.
Dirt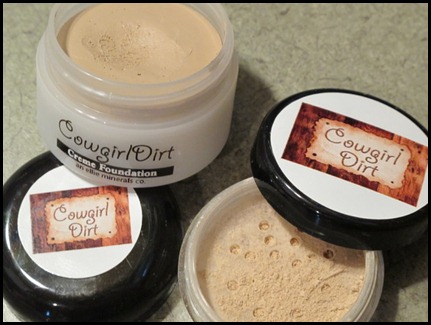 Since I always aim to put on makeup in a way that doesn't make it obvious I'm wearing any makeup, I love how the mineral makeup provides such a light coverage.  (And no, that's not a sentence that makes sense to most men.  Except that most of them know they prefer the natural look.  Which explains the sentence, right?!)
All in all—natural ingredients, family business, great feel, and a totally cool name—Cowgirl Dirt was an easy choice for this farmer's wife.  Especially when they have eye shadow colors like "alfalfa," "hay," and "farmer's daughter."

Giveaway!
I'm thrilled that the new owners of Cowgirl Dirt are offering a giveaway here at the Little Pink House!  One lucky cowgirl will receive:
Drawing ended July 26, 2011. Congratulations to Kristen, commenter #23, for winning the giveaway from Cowgirl Dirt!
Thanks to Cowgirl Dirt for providing the giveaway items!  I reviewed these products of my own volition.  The opinions expressed are my own.