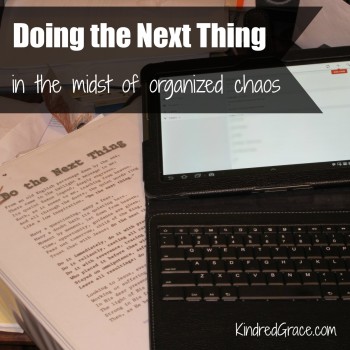 I like to think of myself as organized. But when I picked up the book Organized Simplicity a few years ago, my husband laughingly suggested that in houses with children, it should be called "Organized Chaos." And it's true. Bank statements disappear from my desk to be found as the canvas for the latest Crayola artwork. I have alphabetized, categorized files in my filing cabinet, but I can still never quite put my finger on the piece of information I need at this very moment. And when it comes to remembering routine things like that advertisement I need to send as an email every Monday morning or the once-a-month email newsletter? I remember it when I'm a day late — and, as the saying goes, a dollar short.
Two years ago I created a household notebook. I checked out every printable on Pinterest. I read an eBook or two. I scanned dozens of blog posts on the subject. And I created what I called my "Next Thing Notebook", with a copy of the poem "Do The Next Thing" for the front . I was more organized than I had been in years.
My notebook worked really well. When I remembered to fill out new pages for each day. But usually I was still working on Monday's list when Friday came around, and I'd forgotten all the Friday routines I'd put in place!
I loved my household notebook. But it was so big and bulky I couldn't take it anywhere with me. So each week found it buried deeper on my desk. And I knew I had to find a more mobile solution that was less apt to disappear beneath my piles or become coloring paper.
I didn't want to be the mom with the to-do list that was only to be found on the computer. But the truth was, the offline routines were in place: I knew which days I did laundry, and the sheets and the bathroom each had their day of the week. I didn't need a reminder to do the dishes — their very presence shows me what I need to do!
The things I was always forgetting were the online, deskwork kind of tasks. Pay this bill, send this receipt, and do this every two weeks. So I set out to find the perfect to-do app or program — and I discovered there are as many types of to-do list apps as there are people and jobs in this world. I've reviewed some of my top finds already, but I'll highlight here not just the programs I use –but what I use them for.
You know how you stay awake at night with a dozen to-do's bouncing around in your head and you can't sleep until they're written down somewhere you won't foget them? Todoist has given me a lot more rest at night, because it keeps all those things organized for me — and reminds me when I need to do them!
I use Todoist for the daily/weekly/monthly/yearly reminders. I can create multiple "jobs" , which I define by my roles — Kindred Grace, Work, Desk, Home,etc.
(Similar Apps: Remember the Milk, Wunderlist.)
Evernote: my digital notebook
Evernote is where I put all those notes I will need to remember or reference someday, but aren't time-sensitive or organized by date or recurrence. It's for my ideas, my brain dump, my notes from a conference. I have post topic ideas, half-written articles, quotes from the kids — you name it, there's a note in a notebook in Evernote for it.
(Similar Programs: OneNote, Trello.)
Of course, if you're like me, you've found that different solutions work for different seasons of your life. The household notebook might be the better system for you. Or if you want the best of both worlds, you'll find that Todoist and similar apps print beautiful checklists of your daily or weekly tasks!
What do you use to keep yourself organized? Do you have a solution for keeping the chaos under control?