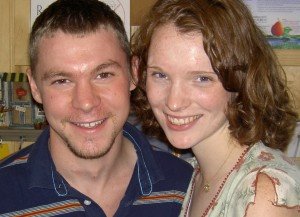 Hello from the the little antique store where Merritt and I spend our working days. In my unbiased opinion, it's the cutest little antique store west of the Mississippi, and we have the bestest home-grown produce you've ever tasted. But as I said, my opinion isn't the least prejudiced. (Have I mentioned I am married to the most handsome man in the world?!) It's my favorite time of year. We have cool evenings, crisp mornings, and bright, sunshiny days. Here on the farm, that means the produce is slowing down, after a frost or two. And one of my favorite veggies is just here—winter squash! It's one of the yummiest wintertime side dishes, along with potatoes—when I'm home to cook, that is. I love working with my husband, but it does make having dinner ready for him when he comes home an impossibility (until I learn to be in two places at once). That's why I'm thankful to be married to a patient man who helps me with the dishes.
Thursday marked eight weeks since Merritt's welding accident. And Lord willing, on Monday the doctor will say Merritt can get rid of the crutches and start putting weight on his left foot. He seems to be more excited about his doctor's appointment than his birthday this year, as I keep having to remind him about the latter. Having been born six days apart, we have fun celebrating our birthdays together. We met in September, too (ten whole years ago!)—which just might be why it's our favorite month of the whole year.
Here's wishing you all a splendiferous weekend…and many happy returns of the day to my beloved husband!