Learning and knowing WHAT you can handle and WHEN is an integral part of becoming a woman of balance and direction.
-September McCarthy in Hula Hoop Girl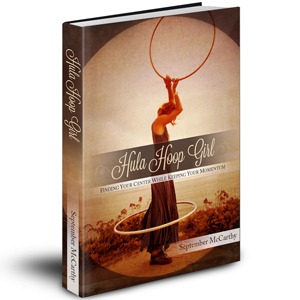 Are you trying to balance too many hula hoops on your hips? Read September McCarthy's new eBook. Hula Hoop Girl does for your heart what Tell Your Time does for your schedule.
September's hula hoop illustration is as unforgettable as it is powerful. I'm the type of girl who thinks I can do it all. I say yes way too easily. And suddenly, I'm balancing more and more hula hoops, each going at a faster rate than I can sustain long-term.
When you lose sight of who you are—what you were created for—you lose your momentum.
-September McCarthy in Hula Hoop Girl
In Hula Hoop Girl: Finding Your Center While Keeping Your Momentum, September lets each of us know we're not alone in trying to do it all. She's a homeschool mom of 10 kids; she's not only been there, she is there right now.
…there were so many days when the daily grind would seep into my pores and everything I saw was monotony. I had confused my identity with my responsibilities…
-September McCarthy in Hula Hoop Girl
But then she walks us through examining our true priorities, and helps identify the hula hoops each of us need to set aside, to pick up later or maybe not at all. And most importantly, September reminds us that we need to find our "center," because without Him, we can't balance any hula hoops for very long, no matter how important they are.
Your dreams and passions are worth pursuing, but with boundaries
you can keep life in perspective… Once your identity is your center, and your hula hoops are in balance—dare to dream.
-September McCarthy in Hula Hoop Girl