If you don't care about following hashtags or lists and have the speediest of internet connections, Twitter.com may be all you need to keep track of Twitter.  But my internet connection is usually slow as molasses—sometimes even slower.  And I want to keep up with my #Allume friends and the growing #WCCBloggers community, as well as peek in on the #SavvyBlogging hashtag once in a while.  So I've learned to love my Twitter client(s).
My first choice was HootSuite.  But now I can usually be found using the TweetDeck app for Chrome.  And of course, I couldn't Tweet without Buffer.
Wait—what's a Twitter client, you ask?  It's a web or software based program or app that pulls multiple Twitter (and Facebook) streams, and even multiple accounts, into columns on the same screen.
HootSuite and TweetDeck have both web based versions as well as apps for your browser or smart phone.  TweetDeck is entirely free, HootSuite has a premium version.  One of the main differences in layout is that HootSuite has tabs (much like your browser—see second screenshot below) and TweetDeck just scrolls over for more columns (see below).  TweetDeck has a much faster refresh time, so it's ideal for Twitter chats—you'd be way behind if you used HootSuite for chats.  HootSuite has a new "auto-schedule" feature, but the customization level makes Buffer far superior for auto-scheduling Tweets.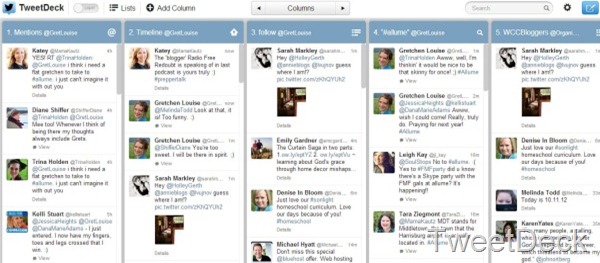 You can use HootSuite for Facebook, while only some versions of TweetDeck integrate with Facebook.  But I can easily access my lists from Facebook.com, and now that it has a scheduling feature, as well, I find it cumbersome to use a client for Facebook.  Plus, there's the fact that Facebook isn't as likely to show posts created anywhere other than Facebook.com—posts by apps or clients are "weighted" lower in the newsfeed.
Buffer is not for reading posts—it's for creating and auto-scheduling them.  With Buffer, I can "Buffer" any quote from any page or RT anything and then click "Buffer" rather than post.  It spreads out my upcoming Tweets according to a predetermined schedule, rather than overwhelming my followers all at once with a bazillion Tweets when I happened to finally visit my Google Reader.  It works for Facebook, too, but again, I've taken to just using Facebook's scheduling features.  (Once Buffer has Facebook tagging capabilities, though, I might use it more.)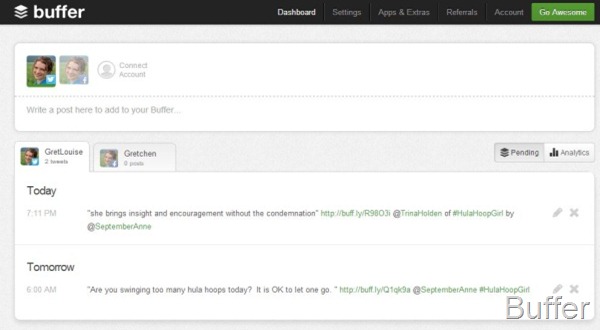 Get set up with your own apps today!
Sign up for your client of choice and install any necessary apps.
Authorize your client to use your Twitter account, then follow the lists you've created, as well as any hashtags or lists you follow.
Right click on this post and click "Share page with TweetDeck" or use a browser bookmarklet to post it via HootSuite.
Sign up for Buffer (use my referral link to get an extra spot!).
Install the Buffer app for your browser.
Highlight a sentence in this post and right click to Buffer it!
Do you use a client for Twitter or Facebook?
Further reading: