There's nothing like chatting with a friend who's in the midst of organizing something to make you want to re-organize it, too.  This time, it was my browser bookmarks.  Trina was talking about getting her bookmarks back to where they actually were visible and helpful, and I realized just how out of hand mine were getting.
Moving to Chrome was the final impetus: now I could organize my bookmarks to correspond to each profile, and I did so, with a great sense of satisfaction at its completion!
My favorite part of my favorites is the bookmarks bar across the top of my browser.
In Chrome and Safari, it's called the "bookmarks bar":


In Firefox, it's the "Bookmarks Toolbar"":

In Internet Explorer, it's the "Favorites Bar":

Whatever you call it in your particular browser, I love to fill it with pretty icons, keeping my bookmarks not only aesthetically pleasing, but within easy reach.  (To display just the icon, I right click the bookmark, click edit, and remove the name — it's that easy.)

I have icons for Facebook, Google+, email, and the online parallel Bible I frequent, folders for everything from homeschool printables to bill paying websites, more icons for Cozi, Twitter, my blogs, Pinterest, and of course, the ever-necessary Pin It button.  I have a folder with technical links/resources, a folder for private blogs, and a folder with quick access to my Twitter lists, @mentions, and Buffer dashboard.  I even have a folder for things I want to read later—which, naturally, I forget to read later.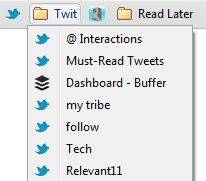 The bookmarks in my ministry's Chrome user profile include a folder for our affiliates' websites, as well as one-click access to each post status in our WordPress dashboard:

My husband's has a folder full of weather forecasts, the all-important Facebook, eBay, Craigslist, and YouTube, and of course, farm and tractor stuff:

And of course, for all the other miscellaneous bookmarks that you for some reason can't just search for in Swagbucks next time you need them, there's the "Other bookmarks" folder on the far right of your browser: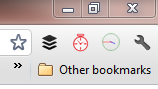 Adding New Folders
Adding a new folder is easy—in most browsers, you just right click the bookmarks bar and click Add/New Folder:
Firefox: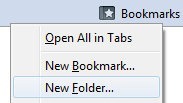 Chrome: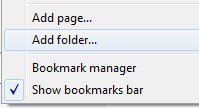 Safari:

Adding Bookmarks
And popping a bookmark in a folder?  There are two easy ways to do it.
Click the little icon by the address and drag it into the proper folder:

Or click the star on the right side of the address bar, choose the folder, and click Done:
Organizing Your Bookmarks in Chrome
If you want to get serious about mass editing and organizing of your bookmarks, just visit the bookmark manager: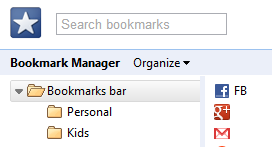 Organizing Your Bookmarks in Firefox
Firefox has a very sophisticated bookmark listing, allowing you to view recently bookmarked pages and lots more as you're viewing all your bookmarks: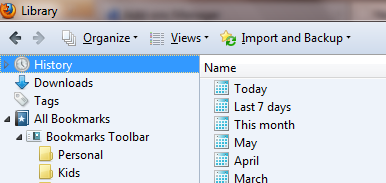 Need to sync your bookmarks across multiple browsers?
Xmarks does just that!  (And of course, if you use Google Chrome profiles, your Chrome bookmarks will be there for you wherever you use Chrome.)
What's in your bookmark bar?  Please share your favorite use of your bookmarks in the comments section!
More on using Chrome: