There are two ways to get your blog posts pinned on Pinterest. One is complicated and requires lots of time (and some talent) dedicated to creating graphics for every single post. The other involves a few simple rules that every blogger should be following, yet it can gain you big results on Pinterest without ever having to put any effort into graphics or Pinterest itself.
1. Make sure there is a pinnable image somewhere in your blog's header, sidebar, or footer.
It can be your headshot, your blog button, whatever — though I prefer to pin a button that is representative of the blog. Just make sure something is pinnable so that even if you never put images in your posts, they can still be pinned — even from a browser Pin It button. There's nothing more frustrating than finding the perfect recipe or best tip and realizing there is not a single pinnable image on the entire page. Preferably, the image source would be big enough to look good on Pinterest (at least 600px is recommended) and include your blog name as well as perhaps your domain name. Whatever you use for your blog button will work — just make sure it's available on every page and post!
Tip: The image doesn't have to be visible to regular visitors to be found by Pinterest. I can put a button in my footer set to width="0″ height="0″ and it's still pinnable! If you use the WordPress Plugin SEO by Yoast, just specify your logo as the images in the "Social" settings, and your logo will be available as a pinnable image on every page of your site that doesn't already have a "Featured Image" (this doesn't always work for mobile browsers, though, I've discovered).
2. Include Pin It buttons with each post.
In WordPress, plugins like Jetpack and Digg Digg make it super easy to include share buttons below each post. Make sure the Pin It button is there! For a frequent reminder about pinning your images, you can install the Pinterest Pin It Button For Images that displays a Pin It button whenever the mouse hovers over an image.
If you use WordPress.com, you can use the same Jetpack style share buttons below each post.
With Blogger, AddToAny makes it simple to place share buttons including Pinterest at the bottom of each post. No special coding a separate button for each image!
Tip: The presence of Pin It buttons is generally understood as giving your readers permission to pin the images from your blog, but if you want to go into further detail, you can create a pinning permissions policy or put a "Permission to Pin" button in your sidebar.
3. Edit the image alternate text when you insert your images.
This is the tip that has as much to do with Search Engine Optimization (SEO) as with pinning ease. If you use a plugin to put share buttons below your post, the Pin It button is usually going to grab your post title for the Pin Description box. But when someone uses the Pin It button in their browser (which is apparently the most common method of pinning), Pinterest is likely going to grab the image title — you know, the one that is something like IMG2567.JPG. And there are no keywords in that. If they don't take the time to retype the description of "Best Book Organization Tip Ever" then no matter how many times people search for "book organization" on Pinterest, they will not find the pin directing them to your post.
For ultimate SEO, rename the image to something like "book-organization.jpg" before you upload it. But if you don't do that, at least fill out your Image Title (this is just that–whatever you would title your image) and Alternate Text (this is what shows if your image hasn't loaded yet).
If no Alternate Text is specified, Pinterest will grab the Image Title for the Pin Description.
If you specify both an Image Title and Alternate Text, Pinterest will use the Alternate Text for the Pin Description.
Tip: You can even get creative and add your Twitter handle in the Alternate Text, assuming they will Tweet their pin also: "The Best Book Organization Tips from @JaneDoe".
WordPress gives you the option to specify your Title and "Alt" Text when you first upload your image or when you update it later: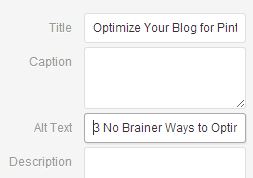 In Blogger, you have to click "Properties" and edit the title text and alt text:

If you are like my friends Natasha and Trina who adore Picmonkey and find creating beautiful, pin-worthy graphics both fun and relaxing, you can utilize these three steps to really optimize your posts for Pinterest. But for the rest of us who would rather be writing than making pin-worthy graphics that are just the right size and have text that's readable when shrunk down to the size of a pin? Learn these best practices for creating Pinterest-friendly blogs and it won't matter if there's a graphic in your post or not. Because if your readers love your content, they will pin it and like it and share it — and you couldn't ask for anything better than reader-generated promotion.
Tweetables:
Would you rather be writing than making pin-worthy graphics? Click here! (Click to Tweet)
Did you know that how you describe your blog post images matters not just for SEO, but on Pinterest? (Click to Tweet)
If your readers love your content, they will share it, and nothing's better than reader-generated promotion. (Click to Tweet)