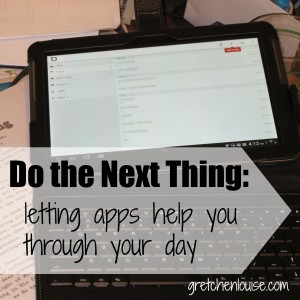 I bought a tablet this spring. And it was then I knew the days of my household management notebook were numbered. I went searching for an app to replace my household notebook, and discovered that there were limitless options. I asked my friends for recommendations and found out that everyone has their own personal favorite. I knew I'd have to sign up for several and see what fit my style best. Since I don't have a smart phone, and my tablet isn't always connected to the internet, I wanted something that was available online or offline, on my Android tablet as well as on my laptop computer. I investigated the most popular recommendations that were available on the web as well as via app, and was especially interested in the ones that integrated right with my email client.
When my mom was ready to get a to-do app this summer, I could tell her right away which one would work for her; but I knew my sister would probably prefer a different one. I think that choosing a to-do app has as much to do with your learning style as with your personality!
Here are the four to-do apps I tried out, along with what I liked and didn't like about them. If you're looking for something to replace that piece of paper that always gets lost, maybe this will help you figure out which to try first. (Though if you like having paper, too, all four print beautiful checklists!) And if you already have a favorite app, comment and tell us what you use–and why you like it!
What I Like: A beautiful app (with personalized color scheme options), everything's drag and drop. You can share lists with others. Unlimited lists and endless notes for each to do item. And it's all available on your desktop, online, or in your favorite app. It's probably the simplest and easiest to use of the apps I tried.
What I Don't Like: Tasks and reminders are date and time-based only. If I want to be reminded to do something every 2 days, I have to set up multiple tasks instead of just one.
Pro Version: $44.00/year or $4.99/month (subtasks, assigned tasks, attached files)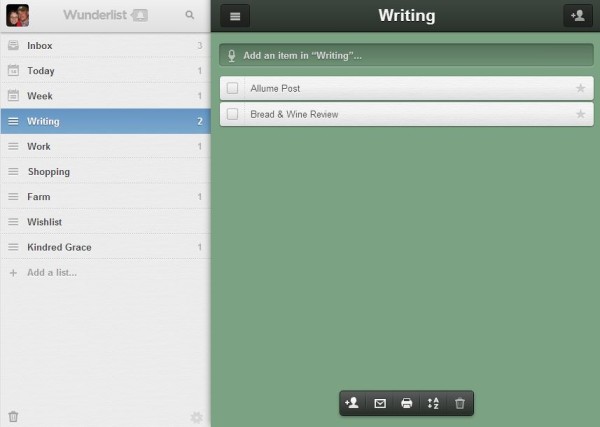 Wunderlist User: Kalyn Brooke
"Wunderlist lets me add notes to each task so I can write in a more detailed description, or break it down into bite-sized chunks. I also love that I can attach web pages to the note, and sync specific lists with my husband's account."
–Kalyn Brooke
What I Like: Clean, straightforward interface–and it even integrates with Thunderbird or Outlook! Unlimited recurring task options: I can add a task that I will do "every 14 starting Oct 1", "every 1", "every 2nd Mon", "every Monday, Wednesday, Friday at 8am", etc. One task, multiple times for me to do it. I can also set up my home page to display however I want–my favorite is overdue, today, no due date, and tomorrow. You can set priority, postpone a task, or mark a task "do it today".
What I Don't Like: No desktop reminders. Not drag and drop. The fact that you have to turn off the "Karma" so that it will just tell you how many tasks you've completed rather than rating your Karma.
Premium Version: $29/year (add tasks via email, reminders via text or email, task search, color coded labels, task notes, file uploads, iCalendar synchronization, backups, and more)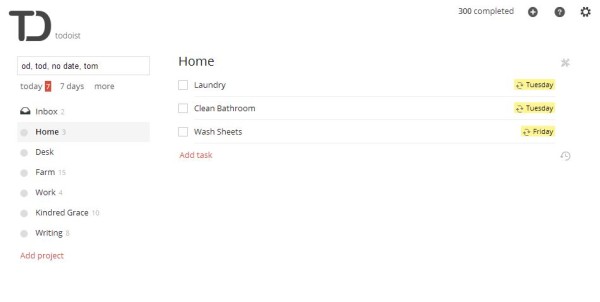 ToDoIst User: Tsh Oxenreider
"I keep a to-do list through Chrome with Todoist… I honestly love, love, love it. So useful there—and I love that [my husband] and I can share our lists via our phones."
–Tsh Oxenreider
What I Like: The Chrome add-on that puts your list right in Gmail is handy! It doesn't have it's own desktop app, but Remember the Milk integrates with so many programs and calendars it's crazy. And, you can add tasks by email or even Twitter. The tag cloud and search features are nice.
What I Don't Like: The interface was a bit complicated for me. Completing a task takes two clicks–check the task then hit the "complete" button. The free version is limited to one sync every 24 hours, which just doesn't work when you're using multiple devices along with your computer.
Pro Version: $25/year (smart phone or tablet reminders, unlimited sync, sync with Microsoft Outlook)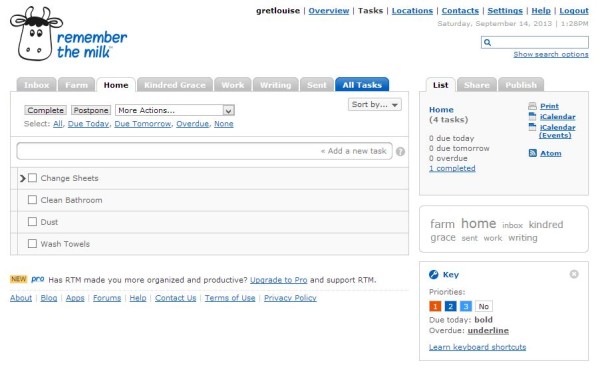 What I Like: The free plan includes 5 projects with unlimited features: tasks, notes, files, and sharing. The fact that you can choose the context in which you'll perform the task (at work, at home, etc.) is a neat option, too. Integrates with Evernote, Dropbox, and Google Calendar. Add tasks by Twitter or Email.
What I Don't Like: Nozbe just asked for more information than I wanted to deal with. It's super detailed (based on the Getting Things Done method), and would be great for extreme team collaboration or the business executive. It just felt too detailed for me. Definitely the most complicated app I tried.
Pro Version: $10/month or $96/year (more than 5 projects)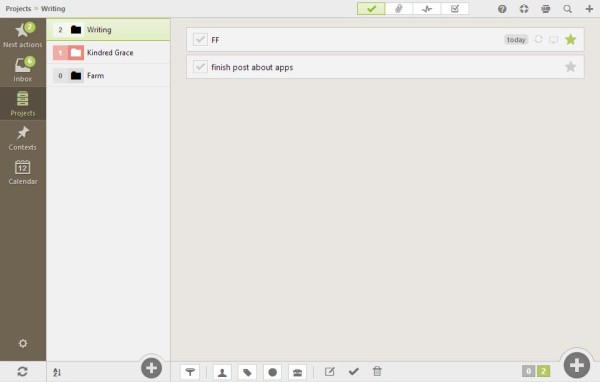 Nozbe User: Michael Hyatt
"Nozbe…is my task management system. I have tried them all (I think), but I keep coming back to Nozbe. It has a bit of a learning curve, but I have not found anything that is more powerful or more flexible. The trick for me is to use labels to group projects together. This keeps my system organized and manageable. Nozbe also integrates with Evernote andDropBox."
–Michael Hyatt (click here for his full review of Nozbe)
In the end, I chose Todoist to keep me on task. It isn't perfect, but it works well with the way my brain operates, the way I get things done.
In addition, I use Evernote as my spot for organizing information and ideas that used to be in my household notebook. Evernote does have a checklist feature, but it's not setup for recurring tasks–it seems complicated and not really what Evernote was designed for. (Michael Hyatt's posts about Evernote give you a peek into what it can do, and believe me, it's a lot.)
More Apps
Microsoft OneNote is a paid alternative to Evernote. OneNote integrates beautifully with Microsoft Office products, but isn't free. To me, OneNote seemed bloated in comparison with Evernote's clean and simple interface. Yet if you used the entire suite of Microsoft Office products, especially Outlook, I can see OneNote being a good choice.
Cozi is great for organizing family schedules. You can add each member of the family and see who is doing what, when! It integrates with most calendar programs, and is a great way to keep track of sports, school, or work schedules. Email reminders are available for free, text reminders with the pro option. There's a place for your grocery list and to-do lists you can share, but no recurring task options.
Any.do might be a family of apps to watch as it releases more options. Toodledo combined Todoist's custom recurrences with a layout more like Remember The Milk. 30/30 sounds great for Apple users (Routinely for Android looks similar), and I've heard good things about Home Routines for Apple and Life Reminders for Android.
My favorite productivity app is 30/30. It's basically a timer app that allows me to make my "to do" list and allocate a specific amount of time to each item.   With 30/30 you can create multiple lists.  For example, I have a housework list I use when I need to give the whole house a quick cleaning.  I also have an "Every Morning" list.  This is the one I use the most. It helps me stay on task by allocating specific times for checking social media, responding to email, etc.  And I added laundry to the list since I need to do a load every morning. 🙂  I've been using this app for about 6 months and I love it! You can set times longer or shorter than 30 minutes as well.  I've found I do best scheduling two 30-minutes tasks followed by a 15-minute task.
–Teri Lynne Underwood

As skeptical as I was about spending $4.99 for an app, Home Routines has been worth it for me. It has kept me on track with all the simple things that are easy to overlook but make a big difference in how my home looks and feels on a daily basis. It's helping me to be more efficient with my morning chore times, and keep on top of the typical problem areas by having a 15 minute focus every day to whip them back into shape! It has a timer built in it. It alarms to remind me to check in and make sure I've followed through with my routines. It lets you customize your weekly target areas. And checking things off the list is kind of fun.
–Chantel Brankshire at Simple Wives
Project Collaboration more your style? Trello fits somewhere in between all the other apps I've tried. It's completely free, but it doesn't have recurring tasks. It operates like a combination of Nozbe and Evernote, but has a bit of a social networking feel as well. I've also heard great things about Wrike, Strikebase, and Basecamp. 
Have you tried any of these apps? How do you think they compare? Comment and tell us about your favorites!
In the meantime, you can find out more about how I use Evernote and Todoist here: Doing the Next Thing In the Midst of Organized Chaos.