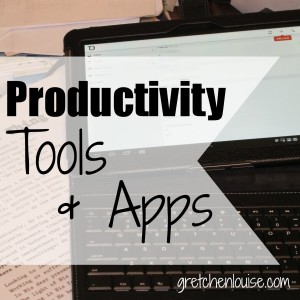 I like to think of myself as an organized person. It fits my personality and gifts. But alas, in practical application, I fall short of being as organized as I think I am. I've come to lean heavily on different tools to keep me organized in different seasons of my life (first it was notebooks, now it's apps). Here are some of my favorite productivity tools, tips, and resources for being productive while keeping my household, my desk, and my to-do list in some semblance of order.
Productivity Apps
Doing the Next Thing in the Midst of Organized Chaos
Life with three kids and two jobs is organized chaos at best. Here I share my search for organization, from a household notebook to a to-do app. I also highlight exactly how I use Todoist and Evernote.
Doing the Next Thing: letting apps help you through your day
I tried out at least a dozen different productivity apps in my search for the one that would do what I needed it to do: keep me on task without making me feel overwhelmed and always behind. Here I review four of the most popular and user-friendly apps that are available for free via computer, phone, or tablet.
My Three Disciplines of Order
Chantel outlines how she keeps on task, bringing a voice of balance to the discussion of time management and household routines.
Books
Free Printables
31 Days of Baby Steps
My first ever 31 Days series was a learn-as-I-go process, both in blogging for 31 Days and in taking baby steps toward a routine and schedule. Here are my top posts on productivity from that series: