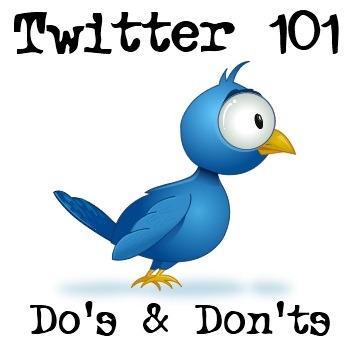 When you go to compose a new Tweet, Twitter asks you, "What's happening?"  But the truth is, not everyone really wants to know what's happening in your life every single second of every day.  Twitter is about what's happening—but not just what's happening to you. <—click to Tweet this

And when it comes to answering that question in 140 characters or less, there are a few easy do's and don'ts to keep in mind—especially if you want more people to actually be interested in what you have to say about what's happening.

1. Be Helpful
Twitter is a real-time information network.  It's a great place to go for information and help, especially within relevant hashtags.  But if you want help from people when you need it, be helpful when they need it.  It's the Golden Rule again.  If you can answer someone's question, if you can help them out by a Retweet, do.  You don't have to answer everyone's questions all the time (unless they @mention you, of course!), but you'll never regret being known as a helpful Tweeter.
The real beauty of Twitter lies in the fact that it is not a one-to-one service, but rather a one-to-many service—allowing you to both follow and learn from all the many individuals who do not personally follow you. When people ask me "What's the first thing I should do when I sign up for Twitter?" I say "Help someone."

–Claire Diaz-Ortiz (@claired) in Twitter for Good: Change the World One Tweet at a Time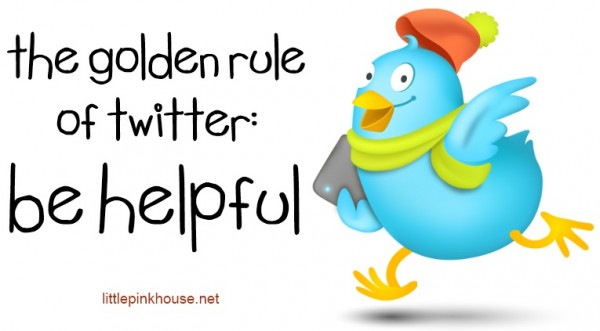 (Don't Be Offended if No One Helps You)
I've asked questions on Twitter and not gotten responses.  It happens; don't be offended.  Remember, Twitter is very much real time.  Few people read back through hashtag threads.  If you don't get an answer the first time, ask again, at a different time of day, in a different way, maybe even in a different hashtag.  Or, if its appropriate and important, @mention a person or two you are sure could help you.  (@wpbeginner is great about answering WordPress questions when I do this!)
2. Engage & Interact
Interact with people.  You don't have to @reply to every Tweet in your Timeline, but make a list of people you want to follow and interact with, and do.  Let them know their Tweets are heard.  Thank them for the great article they linked to.  Tell them they made you laugh.
For every Tweet you compose yourself, try to reply to someone else.  Consider the 20 to 1 ratio, especially when it comes to promoting your own links—do a lot of investing in your followers before you ask anything of them.  Don't just drone on about yourself—interact with and engage others in the conversation.
Be social.  Twitter is about conversation, not monologue.
–Jeff Goins in "20 Essential Tips for Better Twitter Etiquette", @jeffgoins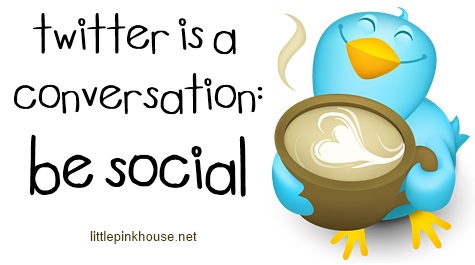 (But Don't Spam)
Just because you follow someone really famous doesn't mean they want you to @reply with a "LOL" every time they say something witty.  Your @replies are more likely to get noticed (and get you a follow) if they are helpful, interesting, or encouraging, rather than too frequent or too spam-like.
"Don't hound influential people… Win their trust and influence by being remarkable and serving them first."
–Jeff Goins in "20 Essential Tips for Better Twitter Etiquette", @jeffgoins
3. Promote Others Before Yourself
Your Twitter stream should be more about other people than about yourself or your blog posts.  Retweet Tweets and links that you think should get noticed.  Add your own comment to promote and reinforce the original Tweet—it's easy using Buffer, HootSuite, or TweetDeck, and if you're using Twitter.com without the Chrome add-on for Buffer, just copy and paste.  (Just be sure to keep spaces between those usernames and the links and your comments so that they get an appropriate @mention and the links actually work!)
Loved hearing my friend on the radio! RT @natashametzler: Check out @TrinaHolden 's radio interview #realfastfood j.mp/IQEQLx

— Gretchen (@GretLouise) May 1, 2012
(Keep Retweetability in mind when composing your own Tweets: "120 is the new 140."  Leave room for "RT", your own @mention, and someone else's comments!)
When it comes to sharing the link love, you don't have to just Retweet.  You can easily create your own curiosity-piquing "why you should click this link" Tweet—be sure to @mention the author of the link, too.
If you want to give some more Twitter "Klout", add Twitter users to Lists.  Promote your favorite users with the Follow Friday hashtag (#FF).  Become known as a good Twitter cheerleader within your tribe.  (@ChristinSlade is a fabulous example of this in the #allume circle.)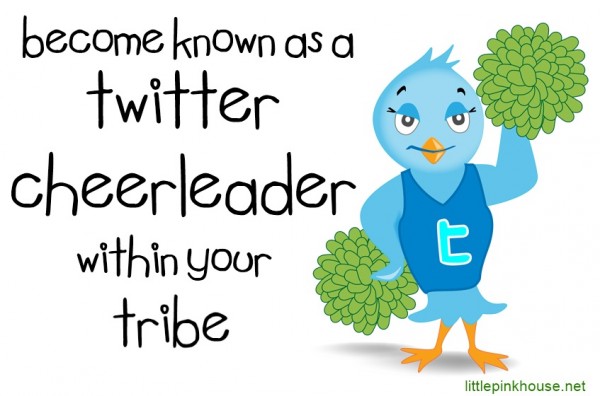 (But Don't Just RT)
A Timeline full of nothing but Retweets might look like you have nothing original to say.  Don't fall into that trap.  Spread out your RT's using something like Buffer.  Be sure to fill the rest of your Tweets with something creative and original.
…people like hearing from you when you really have something to say (and not when you don't).
–Jeff Goins in "Twitter Lessons: After 20,000 Tweets", @jeffgoins
4. Listen Before You Speak
Think before you Tweet. Don't Tweet angry. If you Tweet from multiple accounts, check which account you are in prior to Tweeting.  Be yourself.
-Kristina, @kjtanner
Nothing's worse than Tweeting something really goofy or lighthearted only to realize that your entire Tweet stream is filled with some heartbreaking news.  Listen before you speak; read the latest Tweets in your Timeline before Tweeting for the day.  It's the easiest way to keep from sticking your foot in your virtual mouth.
This is also helpful if you have your latest Tweets in the sidebar of your blog: Tsh (@simplemom) shared at Relevant (now Allume) that she always tries to make sure her last Tweet of the day isn't just a silly @reply to someone, because that's what will show in her sidebar the rest of the night.  It's the reverse of blogging, where you create before you engage—in Twitter itself, engage a bit before you create.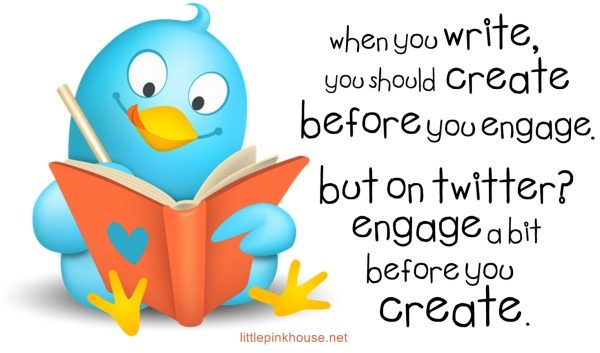 (Don't Say Too Much)
Listening first is the easiest way to keep from saying too much (which could even land you in Twitter jail, if you're not careful!)  But it can also keep you from being original and creative, or even from saying enough.  You'll strike a balance as long as you keep the extremes in mind and use helpful tools like Buffer.

5. Be Original: Be Yourself
The safest way to be original is to be yourself.  If you love others and are passionate about what you do, it will come out in your Tweets.
Don't be afraid to let your personality come through in your choice of content and in the commentary you add to it.

–Simon Blakely in "The Ultimate Guide to Becoming an Amazing Twitter Curator" on the Buffer App Blog (@simonblakely)
(Don't Be Afraid to Have Fun)
The people who are the most fun to follow on Twitter, who have the most engagement from their followers, are the ones who are fun and interesting, the ones who are just themselves.  Have fun on Twitter: be social.
For Further Reading:
The Beginners Guide to Twitter – from Michael Hyatt
20 Essential Tips for Better Twitter Etiquette – from Jeff Goins
Do You Make These 8 Mistakes When You Twitter? – from Michael Hyatt
8 Twitter Tips – from Blogging with Amy