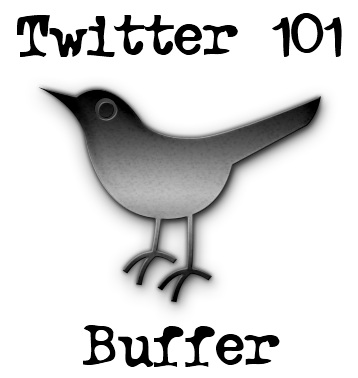 a guest post by
Chantel Brankshire, @cbrankshire
Why I Buffer
I'm not the techiest of techie people, but technology fascinates me. Watching the rise of social media like Facebook and Twitter, I've seen the great potential that they have as tools for growing circles and nurturing ties with people who are seeking information or encouragement. I've watched as some people successfully harnessed that potential and others struggled to get their footing.
Naturally, from my seat at the sidelines, I could only learn so much about the hows and the whys of it all.  But plunging in gave me a taste of why it is so easy to start strong and burn out quickly when you are trying to create a little niche for yourself in the massively overwhelming world of social media. It doesn't matter how great the tools are, if you don't know how to use them effectively to reach your target audience, they aren't worth a whole lot.
Facebook wasn't so bad. By the time pages started popping up, and it occurred to me to create one for my own little corner of the web, I'd been using it long enough to have a feel for the basics. With Twitter, on the other hand, I just didn't think I could ever really fit in. The setup and ideas were simple enough, but I wasn't prepared for the high paced environment or the level of commitment it seemed to require. My initial reaction was to immediately have an information overload and retreat into the shadows for a few months while I tried to recover. Twitter seemed to require at least twice as much commitment as my Facebook page. Combine that with the high speed style of Tweets and Retweets and mentions, and it was a perfect setup for being instantly overwhelmed. Quite honestly it was about all I could do to master good blogging techniques and keep up with the necessities for my personal blogging efforts, as well as my team writing responsibilities.
My time for Tweeting and social media comes in little spurts. I couldn't figure out how to maintain an active online presence on Twitter without being on my computer all day or flooding everyone with a dozen Tweets at once a few times a week or month. Thus began the (very casual) quest to find what I knew must be out there—a way to streamline social media so that I could control it, instead of fighting with it or letting it control me. If one could schedule blog posts, why not Tweets?
My first introduction to scheduling Tweets and attempting to master Twitter came through Hootsuite. It helped a little, but it just wasn't what I was looking for. And then, early this year, I met Buffer.
When our master mind group was discussing the benefits of Twitter and how to use it effectively, Buffer was mentioned somewhere along the way and I signed up —  mostly out of curiosity, partly out of necessity as we decided to try it for YLCF's Tweets. It didn't take long before I realized that this was exactly what I needed to make Tweeting not only fit feasibly into my schedule, but maybe even actually enjoyable! It was a load off of my "social media presence" back in so many ways.
Now that I don't have to worry so much about the functions of Tweeting regularly, I've had more time to dig into what makes Tweeting successful instead of just ordinary. In short, Buffer not only saves valuable time, but it maximizes the efforts I put in to Tweeting.
Before, Tweeting felt like so much work with so little rewards. But thanks to Buffer, our click-through count on YLCF's Tweets is slowly growing. In the span of a week or two, they went from a steady "0" on average and "2" on a good day to 3 or 4 on average and are even hitting 12 or more on great days. It is progress, and I have faith that this is just the beginning.
"I don't want to be a 'Twitter Ninja.' I just want to be a little bird who Tweets a sweet song several times a day. And all that in four minutes a day, please."
–Trina Holden, @TrinaHolden
How I Buffer
The thing I love most of all about Buffer is that it is so very easy to use. There's no need to read pages of FAQs or to spend hours trying to figure out how to make it work. There's not a lot of pages or settings to wade through. It is as simple as it gets when it comes to Social Media Management, and yet it has the qualities of a highly effective tool.  Buffer takes almost all the work out of Tweeting, leaving time to enjoy the benefits and the relationships.
Once you've signed up for an account with Buffer, it only takes a click or two of your mouse to connect it to your Twitter account and then you are good to go. From your dashboard you can write Tweets to your heart's content (at least until you reach the Buffer limit!), hit the "add to Buffer" button and let Buffer automatically add them to the queue to be Tweeted through out the day and week.

While "too much of a good thing" might be a good thing sometimes, I don't think this applies to Twitter: too many great Tweets all at once can be just as bad as too few. In both cases, a lot of great content and good efforts can end up being like whistling at the wind if not spaced properly and regularly.
Buffer has helped me to strike what feels like a suitable balance when it comes to Tweeting. It has given us the regularity we need to get proper notice, but it has spaced our Tweets in such a way that they don't overwhelm. And yet, all I have to do is focus on using my spurts of time to create quality Tweets. There is no more manually scheduling each Tweet. I no longer have to worry about accidentally double-Tweeting something that another team member tried to Tweet, or double scheduling Tweets for the same exact time accidentally. (You don't know how many times my Tweets were frantically deleted or rescheduled!)
With Buffer, I can see at a glance what is in our Buffer and when it is going to Tweet. I can rearrange the order of Buffered Tweets by simply dragging and dropping them where I want them.
Buffer's browser extensions even allow me to easily create and Buffer a Tweet from content on any page on the web. In some browsers, it makes customizing  Retweets from Twitter.com a breeze. In every browser, it is another built in time saver for the busy blogger.

But that's not all that Buffer offers its users.
Buffer enables me to analyze our statistics based on the Tweet and is helping me to unlock the mystery of what works on Twitter and what doesn't. With a simple analysis of each Tweet, I can track how many Retweets, mentions and click-throughs each individual Tweet is getting.  Instead of just guessing at what catches our follower's eyes the most, I now have something solid to go from, and it has been enlightening.
"I've heard that Facebook is all about the image, and Twitter is about the element of surprise. The point was that, if you are sharing a link, your Tweet should pique interest and create curiosity rather than spelling it all out. I've learned a lot from following Sarah Mae — she's the master of this. Rarely can I resist clicking on a link she shares 'cause her Tweets are so intriguing."
–Trina Holden, @TrinaHolden
Curiosity may have killed the cat, but for Twitter it creates the clicks. Using our stats, I have been learning to increase our clicks by using snippets instead of descriptions. A few well chosen words can go a long way in getting clicks. If it hadn't been for Buffer, I may have not seen how effective this was.

Buffer has also joined up with Tweriod to put an end to the struggle to figure out when to Tweet to reach the maximum number of followers. Based on the report I just got for both my personal Twitter and for YLCF, I have some tweaking to do to my Buffer schedule. Once again, they've made it easy enough that you don't have to be technically savvy to figure it out.
Buffer has blown me away with just how simple it makes all the things that I use to dread about Twitter. Now, instead of being overwhelmed when I see "Twitter" on the to-do list, I get excited about the results I'm seeing already, and the potential that this is creating to increase our reach and make our Twitter journey a successful one.  I can't wait to see where Buffer takes us in the months ahead.
If you are finding yourself floundering in the world of social media, I hope this encourages you to take heart. Not everything about creating an online presence has to be hard, and I hope you'll go and sign up for Buffer right away, and see how it can make Tweeting worthwhile.
For more information, check out these articles:
Chantel is an ordinary girl with an ordinary life, sharing the joy that He gives in every ordinary day, filling life with laughter and love and so many little things. She blogs at A Beautiful Song and writes and Tweets for YLCF. Follow her on Twitter at @cbrankshire.
More Twitter 101:
The following two tabs change content below.
Just a simple, country girl who married her best friend ever, and is the "happiest girl in the whole USA"