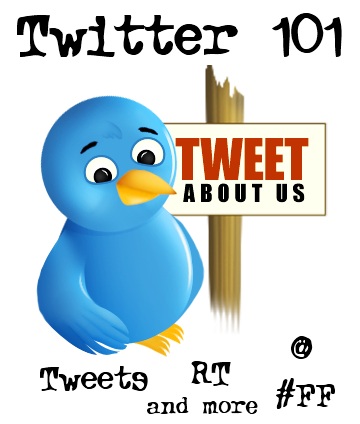 Tweets are composed of 140 characters.  Counting the spaces.  It makes for fairly limited communication.  Thus, Twitter shorthand is used frequently.  As are a lot of other abbreviations—some standard, some created on the spot!  And punctuation might not always be very proper.  (I have an idea my writing professor would go into shock if he saw a Twitter stream.)
Tweet
If you write a simple Tweet like, "Hi, I'm new to Twitter.  Thanks for following me!  Any tips to share for a Twitter newbie?" it will show to everyone who follows you or visits your Twitter profile.
@Mention
Or, you could "mention" your best friend by putting @ in front of her Twitter username: "Hey @bestfriend, I finally joined Twitter—aren't you proud of me?"  This is a mention, and again, it shows to everyone.
@Reply

If, instead of just randomly mentioning your best friend in the middle of a Tweet, you clicked "reply" on one of her recent Tweets or put her username at the beginning of a Tweet, it wouldn't show up in the Twitter stream of all of your followers—just the people who follow both you and your best friend.  (Anyone could see it by going to your Twitter profile, though.)
DM (Direct Message)
You can send completely private messages on Twitter—they're called direct messages.  You can send a direct message to anyone who is following you by choosing "Send a Direct Message" from the drop-down options on their profile page (or by typing in their username when you choose "Direct Messages" and "New Message").  But you can't DM someone unless they are following you.  So @ them if you have to get their attention, and ask if they'll follow you so you can DM them.  (But honestly, it's not a spot I make a habit of having conversations I truly consider private. It's too easy for some Twitter platforms/texts to @ instead of D a reply—just ask some of the celebrities who have accidentally Tweeted instead of DM'ed!)
RT (Retweet)

RT stands for Retweet. Did your favorite author make a cool announcement?  Or maybe your pastor Tweeted a really convicting piece?  Perhaps your favorite blogger has a big giveaway she's just Tweeted about?  Retweet it!   When you Retweet something using Twitter.com, it will show the original author's profile picture by the Tweet in your timeline with a little green Retweet sign in the top corner (see second example below).  But if you use another app or program, you have the option to use Twitter web-style Retweets or to "quote" the Tweet, enabling you to edit the Tweet/add your own comments before you Retweet it.  Sometimes, quoting the Tweet means you have to edit part of it out in order to make it fit in 140 characters with the RT and username:

(Consider keeping your own Tweets under 120 characters, to maximize Retweetability!)
Retweets appear to all your followers (unless they've specifically marked your profile as one they don't want to see Retweets from!).  Be generous about Retweeting (especially when people ask "Pls RT!" at the end of their Tweets), but please don't Retweet everything that everyone says.
"…don't fall into the trap of becoming a lazy Twitter user…it can be very tempting to forget about writing your own Tweets and to simply retweet what others are saying… A timeline full to the brim with retweets just may send the message that you can't come up with anything good enough on your own to say."

–Claire Diaz-Ortiz (@claired) in Twitter for Good: Change the World One Tweet at a Time
#Hashtags
Putting # in front of a word turns it into a hash tag—a searchable, linkable, followable stream of Tweets.  I frequently follow and use hash tags for #savvyblogging, #therelevant and #1000gifts.  When I am Retweeting a great blogging tip, I'll add the hash tag #savvyblogging so that others who are interested in becoming savvy bloggers can also see the tip (even if they aren't following me).  When talking about The Relevant Conference, we use the hash tag #therelevant so our sister bloggers can see all our Tweets about the conference in one place.  And when we're counting our blessings, we use the hashtag #1000gifts.
"The Hashtag will open up a whole new world on Twitter.  Anytime you see a word proceeded by a # in a tweet, just click on it and it will reveal a list of all tweets associated with that hashtag."
-"How To Join a Twitter Party! Do you tweet?"
#FF
One popular hashtag you'll see every Friday is #FF, which stands for "Follow Friday".  You Tweet about some of your favorite people to follow with the hashtag #FF so others can find and follow them.  It's a great way to welcome Twitter newbies, as well as highlight people you think are just fabulous Twitter users that everyone should follow.  You can do one Tweet filled with a bunch of usernames, but it's nicer to individually mention several people and explain why you think everyone should follow them:
#FF: @AnnVoskamp @thegypsymama @LaniersBooks(I want to be like them when I grow up.)

— Gretchen (@GretLouise) April1, 2011
#FF: My #therelevant roomies @TrinaHolden and @ShifferDiane

— Gretchen (@GretLouise) December 10, 2011
You can Tweet about #Christmas or #WordPress or #recipes or #writing.  It doesn't have to be a frequently used hashtag for you to use it.  You can, in fact, make up hashtags like some of my friends do.  #ahem #hashtagsonFacebook #iveseenithappen  They just might not make the trending topics list in the Twitter sidebar!
Just remember not to overuse hashtags — that's a Twitter version of spam.  Not only will your Tweet get lost in the midst of the hashtags, it will be obvious you're trying to gain exposure and people will ignore your Tweet.  Use relevant hashtags when appropriate, just don't overuse them — unless you're #justhavingfunwithhashtags.
Further Reading:
Types of Tweets and Where They Appear – from Twitter Support
Tweets & Messages – from Twitter Support
More Twitter 101: