"Twitter parties are fast-paced conversations between many (sometimes hundreds) of people at once. They are often informative and usually a ton of fun!"
–"How to Successfully Navigate a Twitter Party" from So I Married a Mennonite
A Twitter party is when any number of Twitter users get together at a specific time to Tweet using a specific hashtag.  Usually, there is a designated host or two, who Tweet the main questions or points of discussion.  Sometimes, there are prizes included.

Joining a Twitter Party?
Check to make sure you know which time zone it's in—you don't want to be the only one there when you show up for the party!
Get logged in and set up early in case the first Twitter party site/client you try doesn't work.
Be sure to follow the host(s) so you don't miss important announcements.
If you use a client to follow Twitter parties, create a private Twitter list called "Twitter Party Hosts" and rotate the host(s) of whichever party you're attending through it for an easy way to add the host's Tweets to a column .
Don't forget—if you don't use the hashtag, the other partiers won't see your Tweet!
If you're not using a client that automatically inputs the hashtag each time, copy the hashtag so you can paste it rather than retyping it for each Tweet.
Reply and Retweet—it's a great way to find new followers and promote your favorite Tweets in the party.
Be careful—too many Tweets within the space of an hour (over 100) can land you in Twitter jail!
"A Twitter party is a real-time conversation on Twitter on a certain date, at a certain time, using a specified hashtag. Basically, it is like-minded people tweeting (that is, talking) about the same thing at the same time."
–"How to Participate in a Twitter Party" on thesmartmomma.com
Ways to Follow a Twitter Party
Twitter.com
I use Twitter.com to follow slower-paced Twitter parties, to keep track of a Twitter party I'm not really interested in joining, and to review the top Tweets from ended parties.  To follow a Twitter party on Twitter.com, all you have to do is enter the party hashtag in the search box.  Be aware that you can choose to view the top Tweets in a hashtag, all the Tweets, or just the Tweets you follow—it's great for reviewing a party, but can make it easy to miss Tweets when a party is happening.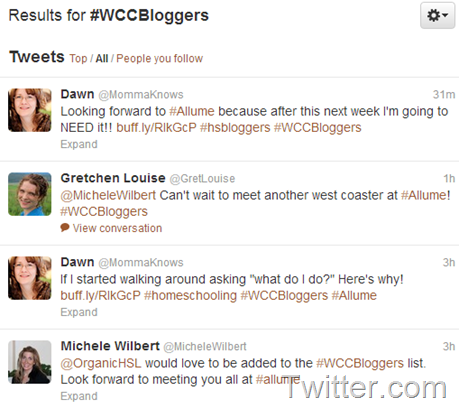 The simplest for the beginner, TweetChat makes it easy for you—it clears out all the distractions, and it automatically adds the hashtag to each and every Tweet you post.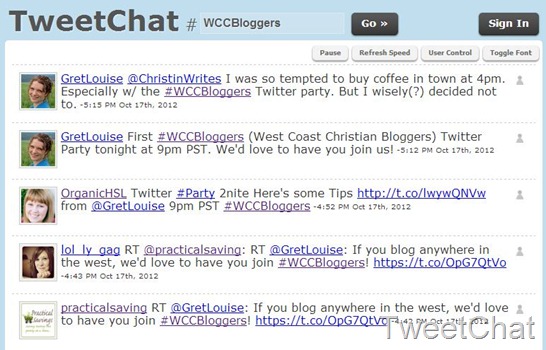 TweetGrid gives you lots of column options—you can put the hosts in one column and your friends in another so you don't miss their posts, then follow all the party Tweets in yet another column.  It's a bit overwhelming to set up, and might be prone to give some people headaches—but for others, it's the only way they'll participate in a Twitter party. (Click here for a TweetGrid how-to post, and some tips on using TweetGrid.)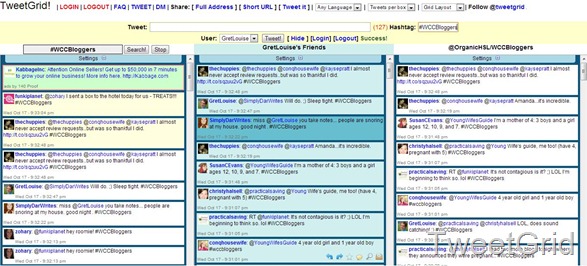 To use a Twitter client like HootSuite or TweetDeck for a Twitter party, you'll want to be familiar with the client and how it works.  To maximize your experience, create one column with only the Tweets of the party hosts and another column with the party hashtag.  TweetDeck's refresh time is much better than HootSuite's, if you're dealing with a party where speed will help you win prizes.  Otherwise, use whichever client you're familiar with.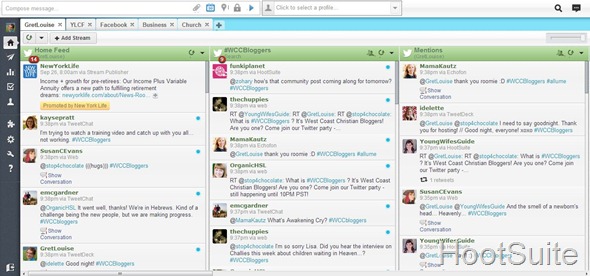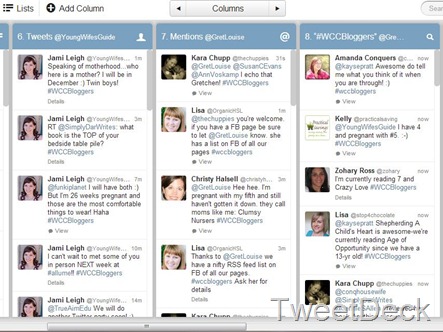 "By searching and using the party hash tag you can see all the conversations that are happening at the party. You can retweet and respond to any of the questions or responses you see in the party. If you like a response or comment retweet it, it's a great compliment and that's how you begin to meet people and be seen by others."
–"Twitter Party 101: How to Have Fun, Make Friends and Win Prizes" on shespeaks.com
Hosting a Twitter Party?
Outline discussion questions ahead of time.
Set a timeline—it's easy to get off track.
Be clear on the rules surrounding the prizes (if any).
For more tips, check out Sarah Mae's post "How to Host a Successful Twitter Party."
"Twitter parties are a wonderful way to ignite conversation around your brand… Twitter parties are an excellent way to introduce new products or services, start a conversation about your niche, or get better acquainted with an enthusiastic group of people."
–"What is a Twitter Party?" on TwitterPartyGuide.com
What are some of your favorite Twitter parties?  Come tell us about them in the comments!

The #WCCBloggers are having their first Twitter party today, so it seemed like an appropriate time to do a post on Twitter parties.  If you're a Christian blogger west of the Rockies, come join us!  (It's at 9 p.m. Pacific time, naturally.

)