I lead many parallel lives online.  Business, Ministry, Personal.  Each with their own Google accounts, not to mention MailChimp, Twitter, and other assorted logins.
For too long, I spent half my time logging in and out.  Then, I thought I was really brilliant: I started using different browsers for different logins.  But I could never remember whether Opera or Safari was for business or for ministry.  Firefox was always personal (even if it did get slower and slooower), and my husband used Chrome for his Facebook account.  But I always ended up back in Chrome for work, too, because, of course, Chrome is fastest, and I'd rather log in and out once or twice than to actually use Internet Explorer for any login.
That was, until I discovered Google Chrome's "Users" feature.  Instantly, I switched everything over to Chrome.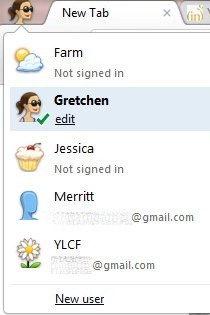 With a simple click to the top left corner of my browser, I can choose to open another user's browser window.  I can find all the open windows in the taskbar and switch back and forth easily as I work.
I'm there, logged in and ready to work, for each and every profile.  No worries about posting to the wrong Twitter account via Buffer—I always know which profiles I'm logged into.  I've even added a my sister as a user on our browser, so she can quickly access her email while she's visiting.

And?  Now that we've set my sister up with a Google Chrome sign in on her own computer?  She can access her bookmarks, logins, and all her browser customizations, whether she's on her laptop, mine, or the family's desktop—as long as she remembers her Google account password (or, for more advanced security, a Google passphrase).

Obviously, you don't want to log in to Chrome on just anyone's computer.  And you'll want to be sure and disconnect and/or delete your Chrome user account on any computers you won't be using again.


(Disconnecting your account leaves your username and browsing history in Chrome on that computer, but signs you out of Google and your other logins. Deleting your username entirely removes your name and data from Chrome on that computer.)

But in case you're worried, the great thing about Chrome's user feature is that you can quickly check what other devices have accessed your account recently, and what they've been doing!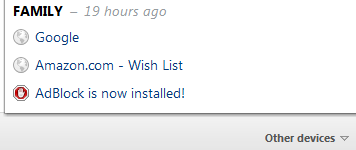 Searching in Chrome
I was used to Firefox's drop-down search box feature, so searching in Chrome had a bit of a learning curve.  As soon as Chrome learns where you like to search, you can just type the search engine keyword, type a space or the tab key, and search that site directly from the address bar or "omnibox".


If you're a Swagbucks fan, you'll want to set Swagbucks as your default search engine so that anything you type in the omnibox without specifying a search keyword will result in a Swagbucks search.

(If you have trouble getting the hang of using the omnibox for different searches, you can always install the "Search Box" extension or that gives you a toolbar button for selecting your search location, or the Fauxbar extension that gives you an overlay of an address bar and search box more reminiscent of Firefox.  Unfortunately, though, you have to customize these extensions' search options separately from Chrome's default search engines.)
And if you still want/need to use multiple browsers? 
You can always use Xmarks to sync your bookmarks between all your browsers.  (I set this up for my mom, since one of the websites she uses frequently for business has features that only work in Internet Explorer.  But there's also the IE Tab extension for Chrome, so that even on IE-only sites you never have to leave your favorite browser!)
How about you?  Do you use Chrome?  What are your favorite features?
(Up next: my favorite browser extensions/addons.)