Too often I make the mistake of avoiding books just because I don't usually read that genre.
I knew James Rubart was a good storyteller. I'd been captivated listening to him describe his writing process two years in a row at the Inland Northwest Christian Writers Conference. It was fascinating to hear how he would take a "what if…?" question and write a book as if that "what if" were true.
But Christian suspense novels aren't usually my type. Especially when they deal with alternate realities and spiritual dimensions.
So I waited two years to discover the depth of James Rubart's novels. And when I finally opened one for the first time, I couldn't put it down. I found the depth of C.S. Lewis combined with the powerful story telling of Randy Alcorn.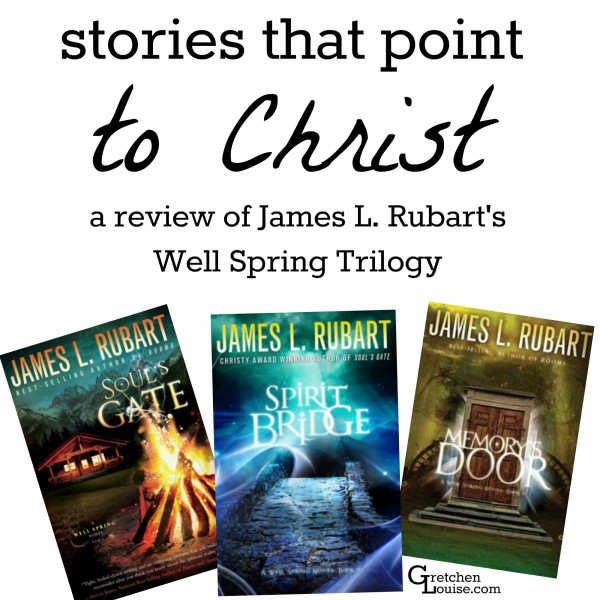 What if the rooms in our houses reflected our souls? Rooms was a riveting tale with which to acquaint myself with James Rubart's work. I couldn't stop reading as I tried to wrap my mind around what was real and what wasn't. The portrayal of the healing depth of God's intimate knowledge of our hearts was beautiful.
What if there was still furniture that had been made by Christ? As an antique dealer myself, I enjoyed that aspect of The Chair. But the powerful tale of reconciliation and forgiveness was what will come back to me whenever I see an antique chair.
What if we could find and read the book in which our entire life story is being recorded? Book of Days was a unique weaving of folklore and visions with spiritual truths. And the aspect which Alzheimer's played in the story brought more than a few tears.
What if we could journey into each other's souls and war for each other there? It is this idea upon which the Well Spring Trilogy is based. James takes ideas from the spiritual dimension and makes them seem reality in his novels. Not in such a way as to argue for their theological existence, but instead to make the reader face the fact that we war not with flesh and blood, but against evil forces.
In the pages of Soul's Gate I was challenged as never before by the responsibility we have to pray for each other. As the four of the Warriors Riding prophecy labored for each other's souls, I was struck anew with the privilege of friendship and the power of prayer.
In Memory's Door, I cried as I read, facing my own fears, dealing with my own regrets along with the Professor. What if we could go back–would we really want to change anything? What good will it do to second guess our every choice? Our times are in His hands.
"Our lives are in God's hands, our hours on this earth are His alone to hold. I'm not going to live my life with regrets because I said yes to my children living life."
–Memory's Door
And finally, in Spirit Bridge, I glimpsed the power of the Armor of God. I was convicted about how little credence I give to the literalness of certain verses. I remembered that the name of Jesus is truly greater than all other names.
"'…darkness cannot ever overcome the light.'"
–The Spirit Bridge
Just stories? Yes. Rather far-fetched situations? Yes. The books read like spiritual science fiction, as the characters travel into alternate realities and spiritual dimensions.
But I believe there's a reason our Lord spoke in parables. Stories bring truths home to our hearts in a way that little else can. And in James L. Rubart's novels, I found stories that continually pointed me to Christ.
"While we must be aware of the enemy's schemes, do not let your full concentration be on him. He is not the goal. He is not our focus. Do not give him more power than he has."
–Memory's Door
Disclosure: I received a NetGalley copy of Memory's Door and Spirit Bridge in exchange for an honest review.