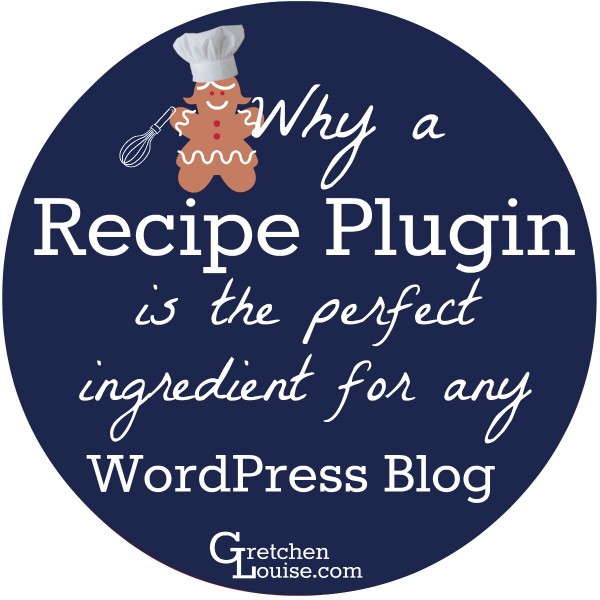 If you have ever shared a recipe on your blog, you need a recipe plugin. Here are five reasons why:
1. Pinterest Rich Pins
Have you seen the recipe pins on Pinterest that list all the ingredients under the pin itself? Not the pins where someone has typed out the directions in a long pin description, but the pins where Pinterest displays the ingredients in an organized manner. That is the power of rich pins combined with a recipe plugin that supplies Pinterest with your recipe data.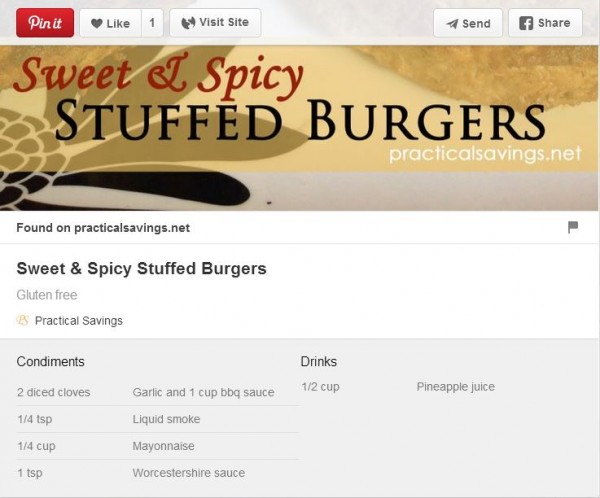 2. Pinterest Search
Searching for recipes on Pinterest used to require also searching for the keywords like gluten free or vegan along with recipe titles. But now, you can narrow your Pinterest search to your specific dietary needs. Be sure your readers can find all your gluten free recipes by using a recipe plugin that tells Pinterest exactly what kind of recipes you have available.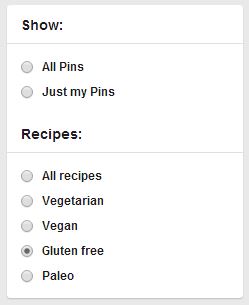 3. Google Recipe View
Pinterest isn't the only place where you can narrow recipe search results: Google has a recipe search view, too. You're no longer limited to just typing "spaghetti with meatballs" into Google: you can check the boxes for each ingredient you have and find recipes accordingly! But no one can find your recipes by ingredient if you don't have a recipe plugin providing that meta data to Google.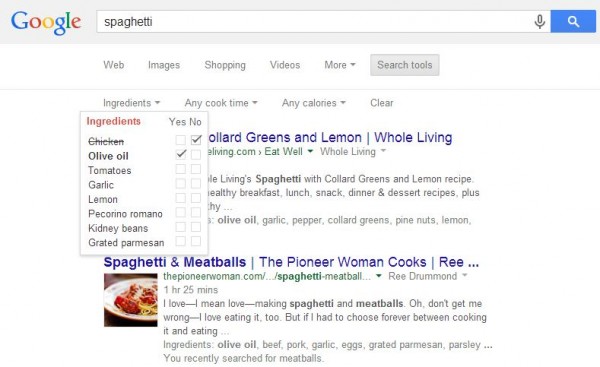 4. Printer Friendly
Print friendly recipes aren't just for The Pioneer Woman's blog! You, too, can make your favorite recipes easy to print straight from your blog without having to select the recipe and avoid all the images. All you need is a recipe plugin.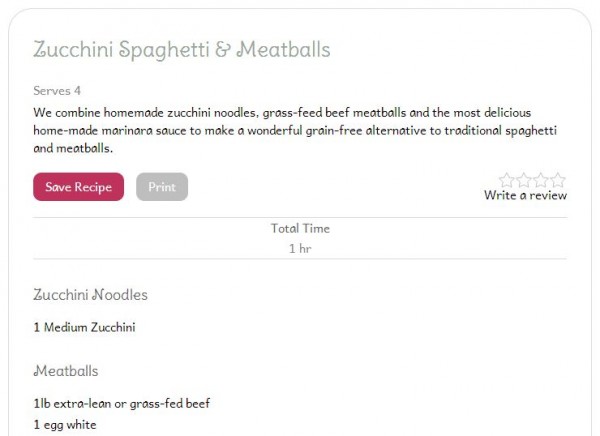 5. Reader Friendly
If your blog has a lot of recipes, you want to make it easy for your readers to not only find the recipe they want, but adapt it to their own use and refer back to it again. Advanced recipe plugins offer all variety of options from saving recipes to your recipe box, to automatically changing ingredient quantity for a different serving size, or searching for recipes by specific ingredient.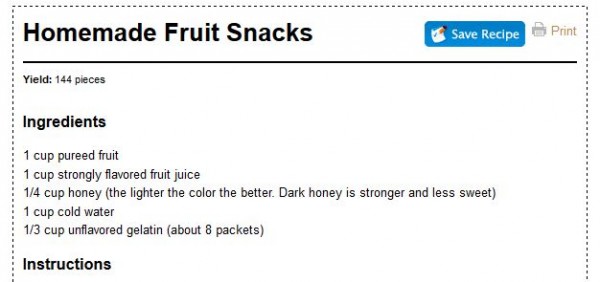 Top 5 Recipe Plugins to Consider Adding to Your WordPress Blog
So, you're convinced. But when you type "recipe" into the WordPress Plugins search box, there are a lot of options. Here are five of the most popular recipe plugins for WordPress. Do your homework, try out the demos, and let me know which one you decide on!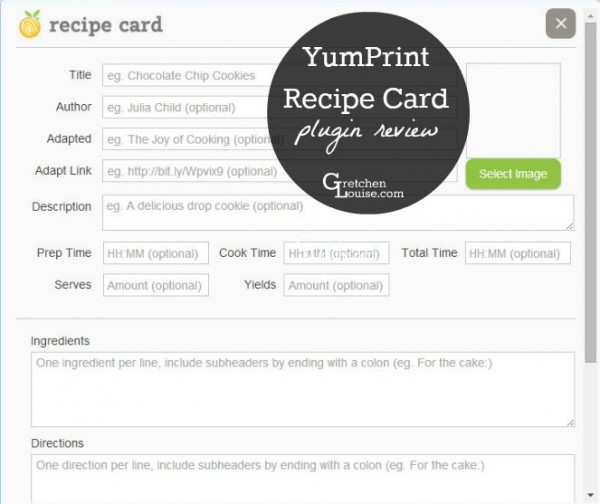 If you are just starting out and are not technically inclined, YumPrint's Recipe Card plugin makes it easy to add beautifully formatted recipe cards to your yummy blog posts. With few settings and straight-forward instructions, Recipe Card is ready "right out of the box". You can use the customizer to change the look and feel of your recipe cards without ever having to know a line of code. And, you and your readers can set up a YumPrint account to save recipes in your own personal collection–there's even a YumPrint app.
You can't add images to your recipes (just one featured image), but the recipe formatting is intuitive. To add headings to the ingredients or instructions section, simply type Topping: and the semi-colon tells the plugin to display Topping as the heading of a list of ingredients or directions for the topping. There's even a box where you can link directly to the recipe that inspired you (it's always better to give credit where credit is due: copyright is tricky when it comes to recipes).
Recipe Card takes the cake for the most user-friendly print options, too–adjust the font size and line spacing for the perfect addition to your recipe notebook:

Example of Recipe Using Recipe Card: Zucchini Spaghetti & Meatballs at Island Girl on a Farm
If you want to allow readers to collect recipes they find on your site and add them to their own virtual recipe box, you'll want to use ZipList (on its own or in conjunction with EasyRecipe Plus). The power of ZipList is in the way it allows your readers to create their own ZipList account where they can save recipes to a virtual recipe box, create shopping lists, sync with an app, and more.
ZipList's plugin settings are straight-forward and easy to understand. There are simple checkboxes to hide images from print display, hide recipe title in post, etc. You can even rename each section of the recipe (i.e. change Instructions to Directions) or change the display from bullets to a numbered list. I really appreciated that the recipe entry window displayed only the basic fields, so I didn't have to scroll back and forth to edit my recipe.
Without an upgrade to ZipList pro, you're limited to special codes for adding links or images into your recipe. Preface any headings with an exclamation point, images with a percentage sign, and enclose links in shortcode brackets with a divider between the link title and URL:
!Topping
%http://www.mysite.com/images/myimage.jpg
[ZipList|http://www.ziplist.com]
And even though there is a box to drop the URL to the recipe's featured image, you'll have to copy and paste the URL which isn't as easy as a button that would take you straight to the media library. You are also limited to the recipe display themes available unless you know how to code your own.
Example Recipes Using ZipList: Homemade Fruit Snacks and Gluten-Free Brownies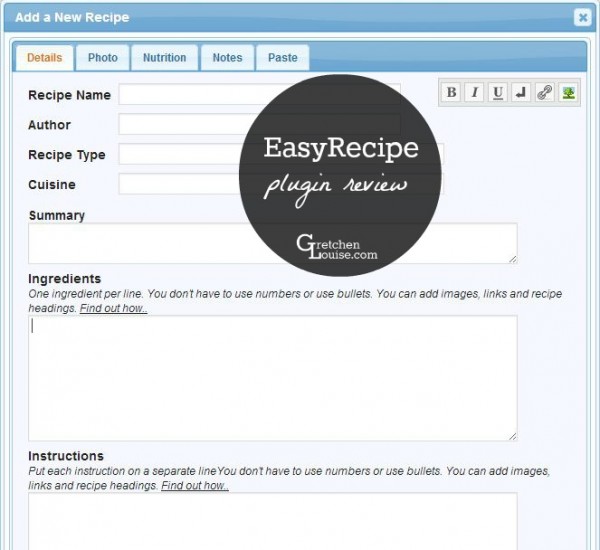 If you have a lot of recipes on your blog that you want to convert to proper formatting, EasyRecipe is the easy choice. The most popular recipe plugin by downloads, EasyRecipe makes it simple as can be to convert any blog post to EasyRecipe display. If your post already uses headings like ingredients or directions, just highlight the recipe and hit the EasyRecipe button. It will bring the text into the appropriate boxes and you can edit as necessary.
If the settings area of EasyRecipe seems to be limited in options, that is because any time you are viewing a recipe on your site you can click to edit the entire recipe display. From font to background color you can customize your recipe display with drop-down options. And if you prefer CSS, you can override any EasyRecipe styles in your own style.css or by pasting your CSS into the custom boxes for the print and regular view (in the "Geeky Stuff" tab).
EasyRecipe automatically selects the featured image of my post as the image to display with the recipe (choosing another image is limited to EasyRecipe Plus). But one thing I dislike about EasyRecipe is the fact that the add recipe area has so many options, meaning I have to scroll up and down to edit my recipe. In addition, unless you upgrade to EasyRecipe Plus, you're limited to shortcodes for using links, adding images, or formatting text (those buttons in the screenshot above just give you an ad for the upgrade rather than turning text to bold or italic):
[img src= "http://www.mysite.com/images/myimage.jpg" width="200" height="200" /]
[i]Recipe Book Name[/i]
But EasyRecipe is the winner when it comes to how your recipes look if the plugin ever fails. Upon deactivation, EasyRecipe recipes still display with all the information right there in the post they were created in. EasyRecipe Plus even allows you to import recipes from other recipe plugins. EasyRecipe Plus also boasts checkboxes claiming to be able to display recipes from ZipList, Get Me Cooking, Recipe Card, and Ultimate Recipe recipes–even once those plugins are deactivated and removed from your site.
Finally, EasyRecipe Plus allows integration with ZipList so you can offer your readers the ability to save recipes to their ZipList collection, offering the best of both worlds.
Example Recipes Using EasyRecipe: Flower Pot Cakes and Cinnamon-Golden Raisin Clif Bars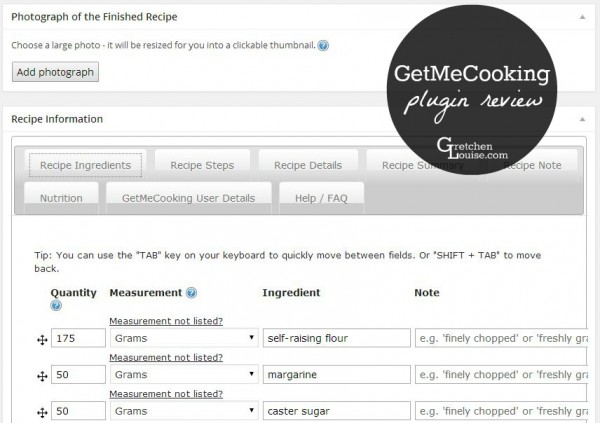 If you're looking for a plugin that makes searching and categorizing recipes easy, GetMeCooking has a lot of options for organization. Using a custom post type of "Recipe", GetMeCooking automatically creates taxonomies (categories) of Allergies, Dietary, Courses, Occasions, Region, etc. Key features of GetMeCooking are the ability to offer larger images on popup and the ability to insert more than one recipe per post. The pro version of the plugin even tells you which recipes have already been inserted in posts.
Entering a recipe in GetMeCooking requires clicking through a lot of tabs, and each item and quantity is entered as a separate field. But you can easily add a main image for the recipe as well as an image for each step. There is no way to set a heading to separate sections of ingredients or directions for base vs. topping. The fields do respect basic HTML formatting for bold, italic, etc. however. All customization of the recipe appearance must be done in the custom CSS area of the settings–there's no WYSIWYG option.
GetMeCooking offers handy print options in a drop-down from the print button: Print with all photos, Print with main photo, or Print text only. However, none of these options actually display the URL of the online recipe on the printed copy, which is a serious downside to the plugin.
GetMeCooking Pro offers a recipe index page, clickable recipe categories, a recipe slideshow, nutritional information display, and more.
Example Recipes Using GetMeCooking: Fantastic French Toast (free version) and Hummus, Pesto, and Edamame Pizza (pro version)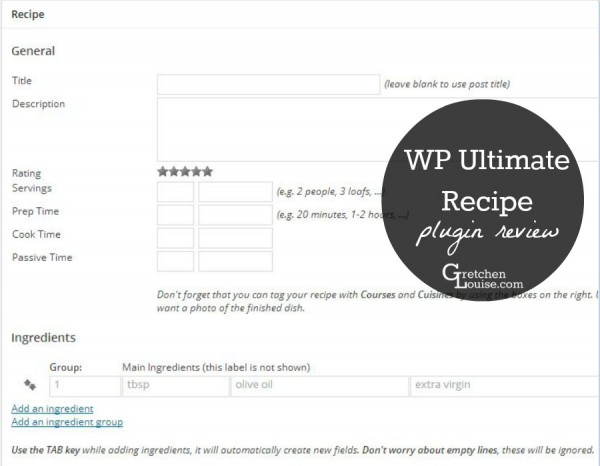 If you want to create a powerful recipe index that you can sort by ingredient, WP Ultimate Recipe can ultimately do it all. Harnessing the power of custom post types, WP Ultimate Recipe creates a unique custom post for each recipe, which you can then add into any post or page. Rather than having one box for entering all the ingredients, and another for adding directions, WP Ultimate Recipe has more of a database feel with each quantity, ingredient, and description having its own field. The power of that is not only that each ingredient is linked to the other recipes using that ingredient, but your readers can easily change the suggested serving size to tweak the recipe quantities (no math involved!). You have an image option for every ingredient, every step. The pro version even allows you to specify affiliate links for your recipe items, turning each recipe into a potential for profit. But without the pricey WP Ultimate Recipe Pro, you might feel quite limited about the options available for customization–especially because it shows you all the things you could be doing if you upgraded. No themes are available in the free version, however custom CSS for both the display and print areas makes it easy for a coder to customize.
Entering recipes will be more time-consuming with WP Ultimate Recipe, but if you want to create a powerful, profitable recipe site from the ground up, look at WP Ultimate Recipe and check into the pro options. (You could recreate similar options by combining another recipe plugin with Types and Views, creating the Custom Post Type "Recipe", with the Taxonomy "Ingredients", and coding to your own needs.)
Example Recipe Using WP Ultimate Recipe: Spiced Apple Sauce
Recipes on WordPress & Pinterest: FAQ
What happens to my recipe if I deactivate the recipe plugin?
I wondered that, too! So, I created a test recipe with each of the four recipe plugins on a test site. Then, I deactivated each plugin. Here are screenshots of my results.
YumPrint's Recipe Card returned only a short code for viewers:

ZipList did the same:
EasyRecipe, however, left the recipe intact within the post. The only thing that didn't display properly were images that had been inserted into the recipe instructions via shortcode. But with the image source URL still intact, it would be easy to create a shortcode to display them again: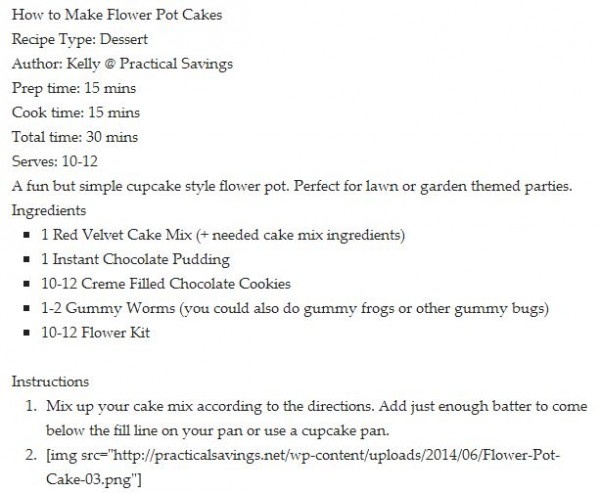 WP Ultimate Recipe and GetMeCooking really failed the test. If the recipe had been inserted in a post, it displayed the shortcode below. However, if the recipe had only been created as a "Recipe" (custom post type), the recipe URL simply displayed the contents of the home page of the site-because all the code for the custom post type "Recipe" itself had been deactivated.


EasyRecipe definitely wins when it comes to having recipes that will remain on your site even if the plugin you used to enter them is deactivated or no longer supported.
How do the print friendly pages affect my site SEO?
YumPrint, ZipList, and GetMeCooking open their print-friendly pages in a new, "about:blank" window. No fear of duplicate content issues the way these plugins are set up! However, GetMeCooking does not have any option to print the URL of the recipe, making it difficult for readers to come back and find your recipe online again.
EasyRecipe's print button has a nofollow link to a printable page in the form of yoursite.com/easyrecipe-print/16784-0/ (live example http://practicalsavings.net/easyrecipe-print/16758-0/). The printable page itself has a noindex, noarchive meta tag telling robots not to index it for search engines. However, I'd like to see a canonical link tag in there just as one further prevention against duplicate content penalties.
WP Ultimate Recipe leaves much to be desired when it comes to printing, however. There is no option to print the actual permalink of the recipe post–instead the browser displays (and prints) the URL as yoursite.com/wp-content/plugins/wp-ultimate-recipe/template/recipe_print.php.
How can I get Pinterest Rich Pins?
If you haven't applied for Pinterest Rich Pins, a recipe plugin will only give you pretty recipe boxes when Pinterest visitors drop by. To tap into the full power of your recipe plugin combined with Pinterest, be sure you have installed WordPress SEO by Yoast and that "Add Open Graph Meta" is checked in the Social settings under the Facebook tag. Then just go to the Rich Pins Validator, paste the URL of any one blog post from your site, click Validate, choose HTML Tags, and wait to be approved. It's that easy. You don't have to validate every link on your site–just one shows Pinterest that your site has the opengraph data to work with Pinterest. And you may not get a confirmation email–but check pins from your site in a week and you'll see a huge difference. (For more help on applying for Pinterest Rich Pins, check out this awesome tutorial from Clothed in Scarlet.)
Which recipe plugin did you decide upon?
I was torn–I was drawn to all the features of WP Ultimate Recipe, and I loved the clean interface of YumPrint. But the fact that EasyRecipe would leave my recipes on my blog even if I removed EasyRecipe in the future was the final selling point for me. Not to mention the fact that EasyRecipe Plus is very affordable–and the support docs on the EasyRecipe site are superb. How about you? Have you used a recipe plugin? What are your favorite recipe plugin features?