Kayse Pratt has a talent for distilling a lot of information into a short and easy to read eBook. Her eBook Undivided Mom was a refreshing breath of fresh air, and now she's done it again with Worth the Fight. In Kayse's inimitable easy going style, she shares honestly about her own "high maintenance" marriage as she encourages others in theirs.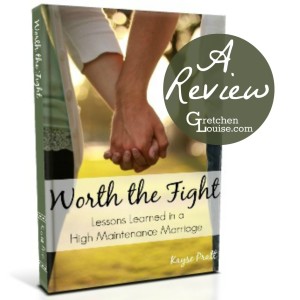 In Worth the Fight: Lessons Learned in a High Maintenance Marriage, Kayse discusses five essential elements to every marriage: Commitment, Communication, Service, Laughter, and Sex. The explanation of "reflective listening" alone is more than worth the price of the book. But Kayse and her husband are parents of two little children. They understand the challenges that married couples face when it comes to communication and time together:
We realized "good communication" was not exactly the same thing as "talking a lot."
Kayse's eBook isn't prescriptive, it simply affirms the truth and encourages you to live like you believe it. Without being confrontational, Kayse gets right to the root of some of the issues marriages face. I so appreciate her perspective on the way we speak of our husbands!
When we speak about our husbands in a negative way to others, we perpetuate a feeling of discontent in ourselves. We let ugliness tumble out of our mouths and make it's home in our hearts.
Worth the Fight is worth the price for a quick shot in the arm for your marriage. Whether you read it alone in one sitting during naptime (that was me!) or out loud with your husband whenever you both get a chance to sit down together (and how often is that?), you'll be blessed by Worth the Fight.
Use the code worththefight20 to get 20% off today (February 3) only!
Disclosure: I received a free copy of this eBook in exchange for an honest review.