I wrote this letter to send to the people I was inviting to pin to my group boards, and then adapted it to be a general welcome letter. Feel free to pin and share it with your own group board contributors!  And, if you'd like, come follow me on Pinterest.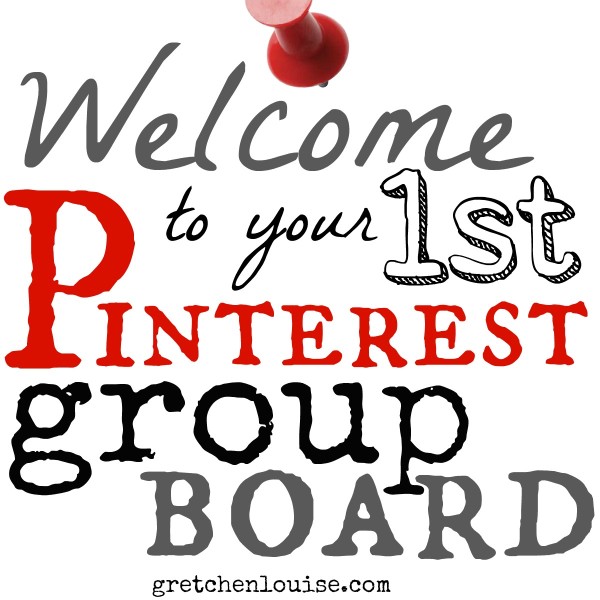 Hello friend!
This note is to welcome you to your first group board on Pinterest, and fill you in on how group boards work. (If you missed seeing your invite, visit the board you were invited to and you'll see a notice that you've been invited to pin to it.)
Group or "contributor" boards are a great way to build community and expand your reach on Pinterest. By inviting others to pin to one of your boards, you make it a group board, and essentially share your followers with others. By pinning to other people's group boards, you're able to widen your prospective Pinterest audience, as your pins will be seen by their followers.
What you need to know from the owner of the group board:
Pin Topics: Are you allowed to pin only specific topics of pins to this board, or are any types of pins allowed?
Pin Sources: Are you to pin only your own posts (from your site and your guest posts), or are pins from any site allowed?
Pin Limits: Are you limited as to how many pins you can pin to the board per day or week?
Duplicate Pins: Are you allowed to pin something to this board more than once, or is each pin allowed only once?
Board Invites: Are you allowed to invite your friends to pin there along with you?
A few technical notes about group boards:
Any group boards you belong to will show up along with your own Pinterest boards with a little "group" symbol by them, both on your Pinterest profile and on your board options when pinning.
You can drag and drop as you wish to rearrange your boards on your profile. Drag group boards you belong to but don't own to the top of your profile so that people can easily see and choose to follow them.
When someone clicks "Follow All" on your account, they will not automatically follow other people's boards that you contribute to.
When someone clicks "Follow All" on the board owner's account, they will automatically follow any group boards that person has started (the same goes for your account and any group boards you own).
Any followers of the group board will see your pins there, with your picture next to them. Your pins to group boards will show up in the owner's boards, but not in the owner's latest pins (they'll appear in yours).
The board owner has the right to remove your pins individually, remove you from the board (which leaves your pins there), or ban you from the board altogether (which deletes all your pins).
A few best practices for group boards:
Don't spam Pinterest by pinning the same post to every group board you belong to at once. Spread out your pins (by hours or days) to spread out your reach.
Don't spam specific boards by filling them up with all your pins all at once. Pin with a plan and come back later to pin again!
Most group boards allow duplicate/repins of the same pin as long as they are appropriately spread out. Large group boards move quickly so it's easy to pin your post there once a day or every week without it being seen too many times by the same people.
Group boards vary as to whether you're allowed to pin anyone's post to the board or just your own. If you're looking to expand your reach, you'll want to pin your own posts (not just other people's) whenever they fit the board.
FAQ
Should I accept all group board invitations? No! Check out the board's followers to see if you'll truly be expanding your reach. Make sure the board aligns with your goals and niche. And if it doesn't, just decline the invitation. No hard feelings!
Will my followers know about the new group board I've joined? Not unless they've already followed it! You'll want to alert your followers via your other social media networks about key new group boards you join. Check with the group board owner to see if there's a graphic you can repin with a link directly to the group board. Drag your favorite group boards to the top of your profile so they're easy to see and follow.
What is a spam free zone on Pinterest? If a board is noted as spam free that usually means it only allows pins of original content created by the contributors. Thus there won't be any issues with repins that accidentally link to spam/ads.
Want more Pinterest tips?
Thanks, friend.
See you around Pinterest.
P.S. Want to pass it on? Choose one or a few topics that fit your niche and create group boards for them. Invite your friends who excel in those niches to contribute to your boards, thereby giving them the opportunity to expand the reach of their own pins as well as others they choose to repin.