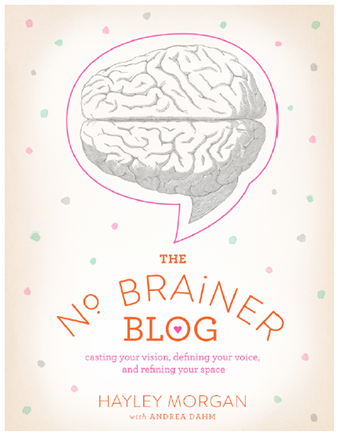 In her inimitable "less-fuss" style, Hayley Morgan has created a "No Brainer" eBook that will do for your blog what her first eBook did for your wardrobe.  The No Brainer Blog is practical and realistic, and truly a must-read for anyone who blogs or has ever thought about blogging.
Hayley's approach to blogging is the same as it is to life: keep it simple, re-evaluate often, and if it doesn't work, throw it out or do it differently.  That approach makes for an easy to read 43-page eBook jam-packed with information that applies to all different styles of blogs.
First, Hayley explores "Casting Your Vision". Whether you're just beginning to plan a blog or have been blogging "forever", Hayley's book will provide food for thought about your blog's vision and purpose.  Should you monetize?  How often should you post?  How much time can you invest?  Hayley guides you through each question with a view towards sustainability and worth:
"It is important to think about how to make blogging sustainable for you."
(The No Brainer Blog, page 6)
When it comes to finding your niche, Hayley says it can be confusing, and even if you do think you've found it, hold it loosely.  She encourages bloggers instead to focus on "Defining Your Voice":
"A topic might draw a reader to your blog, but your voice will be what keeps them coming back." (The No Brainer Blog, page 7)
No blogging eBook would be complete without a section on writer's block, and Hayley doesn't disappoint.  But she puts her finger on the pulse of the problem, arguing that when you lose your voice or your words you may have been spending too much time consuming rather than creating.
Finally comes the graphic-rich section of The No Brainer Blog: "Refining Your Space."  From sans serif fonts to graphic elements, from matching typefaces to coordinating color palettes, Hayley focuses more on the design aspect of your blog and brand than any other eBook I've read on blogging, but I found it to be incredibly helpful.  Not only will The No Brainer Blog be worth every penny of $7.99 to those who need some expert tips as they endeavor to design their own blog, but it will be a key tool for those who hire and work with a designer as well, to make sure their design will be up to par.
"Think of your blog as your small home on the internet. It can be decorated any way you like and it can evoke all kinds of feelings from your reader."  (The No Brainer Blog, page 25)
There's even a short section on photography as well as thoughts on doing a blog redesign, with some helpful points to consider.  The eBook closes with some how-tos on everything from sponsorship to growing your readership, and best practices for social media.
For Hayley's followers (who know her as "The Tiny Twig"), it's obvious that she has long practiced what she preaches in The No Brainer Blog.  Hayley doesn't just blog: she blogs to inspire women to live out their passion with less fuss.  She's taken the time to find out what works, and she's sharing her best "less-fuss" blogging practices in The No Brainer Blog. 
Disclaimer: I received a free review copy of The No Brainer Blog.  Opinions expressed are my own.