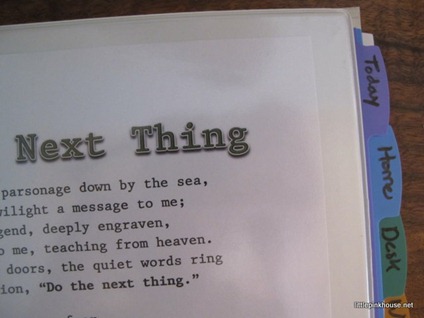 Every housewife has a different name for it.  The FlyLady calls it a "Control Journal" since she "flys" and it's like her control tower.  Tsh of Simple Mom calls it her Home Management Notebook.  I wanted something with a ring to it, and a bit of alliteration.  I landed upon "Next Thing Notebook", because I knew it needed to contain the poem "Do The Next Thing".
My notebook is made up of:
1" three-ring binder with a clear cover
Avery Write-On Tab Dividers (16179)
clear page protectors
lots of lined notebook paper
Here's a run-down on what I have in my still-in-progress "Next Thing Notebook."  (Yes, there's a theme—it's lots of inspiring printables!)  It works for me!  But I want to know—do you have a household notebook?  What do you have in yours?
On the front:
"Do the Next Thing" poem (click here for free printable)
Inside the front cover:
10+ Real Helps for Really Busy Moms (printable from Ann Voskamp)
Today:
In this all-important first section I have a routine checklist for each day of the week, in a page protector so I can mark things off and add to the list with a dry or wet erase marker.  I knew that if I sat down to fill out a "Daily Docket" each day, I'd never bother to put each routine item on it that I really needed to be reminded to do.  But neither did I want to use so much paper as to print off a page for every single day.  So this was my combination of concepts from Organized Simplicity and Sink Reflections.  Each day's page has a list of tasks in loose time slots on the left, with spots for menu planning and additional to-do's on the right.  I made it up in an Excel spreadsheet so I could plan the whole week at once.  Then I highlighted each day's column to print it, setting the column with the time slots as "print titles", and creating the menu planning section in a custom header.  (But you don't have to make it that complicated—you can just make a page for each week in Word.

)
Home:
Routine-Based Printable from 31 Days to Clean: Having a Martha House the Mary Way
(planning to add more weekly/monthly housecleaning checklists here as I find favorites and land upon a routine that works for us)
Desk:
My tabbed dividers have pockets, and this is the tab that always has a full pocket!  From bank statements to bills to pay, they go in this tab pocket until I get to that spot in my "power hour."  Behind the tab is the sheet I've made with the tasks for the "role" of "family secretary", which include balancing the checkbook, writing the tithe check, etc.
Work:
This pocket currently has some logo design work I'm doing for a local business.  The checklist behind the tab includes a list of all the websites I am in charge of maintaining/monitoring so I don't forget to check on them, update plugins, etc. on a regular basis.
Write:
There's a quote from Mrs. Miniver that will go in a post sometime, and a scribbled piece of scratch paper with a quote from one of my daughters, in addition to a newspaper clipping my grandma shared that might inspire a post at some point.  Past the tab there's "A Blogger's Prayer"—Ann Voskamp's "Upside-Down Blogger" printable.  Then I have a list of weekly link-ups in case I need blogging inspiration, and lots of room to scrawl notes for future post ideas.
Family Business:
When you are part of a family business, it's really important that everyone pull their weight to make sure nothing falls through the cracks!  I have near-daily to-do's on my role task sheet for our family business.
Ministry:
Again, with the YLCF ministry, I have daily to-do's (like update social media) and monthly to-do's (change the wording on our Facebook landing page).  My goal is to eventually have each role's task sheet have my "mission statement" for that role at the top—but I haven't gotten there for each role yet!
Teach:
This section will grow as we focus more and more on homeschooling, but right now it just has our current vowel flashcards and some printables:
Super Woman vs. Abiding Woman (printable here)
A Parenting Manifesto of Joy from Ann Voskamp
Operational Definitions of Character Qualities from the Duggars of 19 and Counting
Pray:
The pocket contains the monthly prayer guide from Samaritan Ministries (the health-care cost sharing ministry we're part of).  Then there's ruled paper for prayer requests/journaling, and more printables with prayer calendars…
Inspired to Action Prayer Calendar for Moms
Praying Daily for Your Husband from Inspired to Action
25 Prayers for My Husband from Jamie
(more ideas on prayer binder)
Memorize:
I have great plans for this section.  Currently?  The pocket has the first part of the first chapter of Colossians in it.
Shop:
We can never remember what we need to order from Azure when it's time to order, so my plan is to eventually have a master list or two for Azure, Costco, etc. in this section.  Right now it just has the list of what to order from Azure next month, in addition to the Azure route dates, and a list of gift ideas and name exchange assignments for the coming holidays.
And there follows a few more blank tabs with blank paper because I know this is one notebook that will continue evolving as I "do the next thing"!
More Household Notebook Ideas:
Please tell me: What's in your Household Notebook?  What links/resources have helped you in making it?