The $70,000 reason we use YNAB.
(This post contains affiliate links. Read my full disclosure.)
Three months after receiving our undergraduate diplomas, we got married with not a care in the world. Except for that giant pile of student loan debt. And the impending cost of the master's degree my husband had to take a week off from just so that we could go on our honeymoon. Did I mention this was the fall of 2008 (read: economic crash) and the only job I could find was a part-time teaching job that put us below the poverty line in one of the most expensive cities in the country?
Needless to say, we needed a budget and we needed it badly. My mom, who'd worked in a high-level corporate job for years, sat down with me and helped make us a self-calculating month-to-month Excel spreadsheet that would enable us to visualize where our money was going. This was really important since we were bringing in less than $2,000 a month, rents in Seattle were astronomical, and half my paycheck went to housing, leaving little wiggle room for the rest of the necessities (utilities, insurance, food, fuel, etc.). Throughout the month, we manually entered every single transaction. Miraculously, we never carried a credit card balance from month to month.
Fast forward a year and we both had full-time teaching jobs. We found an apartment closer to our respective jobs at the same cost as our first and we continued using our beloved spreadsheet. As DINKs (Dual Income No Kids), we knew this was our chance to pay down our college loans. I joked with my husband that, when I married him, I also married $50,000 in student loan debt. While he had worked hard throughout college to pay the majority of the high cost of the private university we attended, he did still carry $50,000 of loans when we got married. Add to that his recently completed master's degree, and we were sitting at $70,000.
One of the best things we've ever done marriage-wise was to join a couples Bible study focused on marriage. Our first year, we read a book called Money and Marriage God's Way. While not a groundbreaking book, it was very practical and though each couple was in a very different place financially, the book's message called each of us on the carpet regarding our use of money. Together, the couples in our group researched different ways to keep track of spending. Mint (reviewed here by my friend Emily) and You Need A Budget (YNAB) were two that seemed intriguing, so we volunteered to try out YNAB since it seemed most similar to what we were currently doing. By that time, our Excel spreadsheet had seen better days, with glitches and calculation errors resulting from being copied and pasted from year to year.
We've been using YNAB ever since.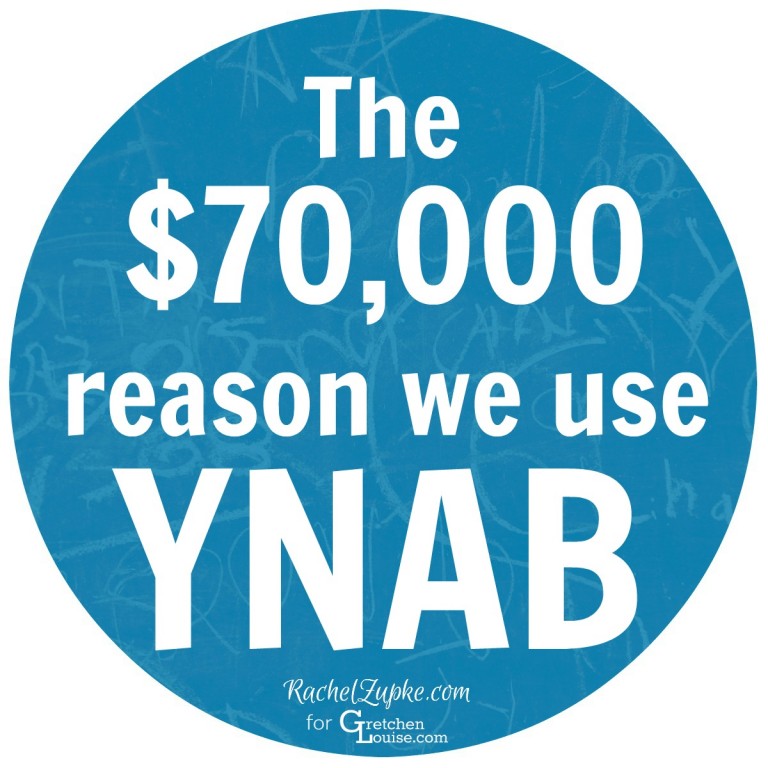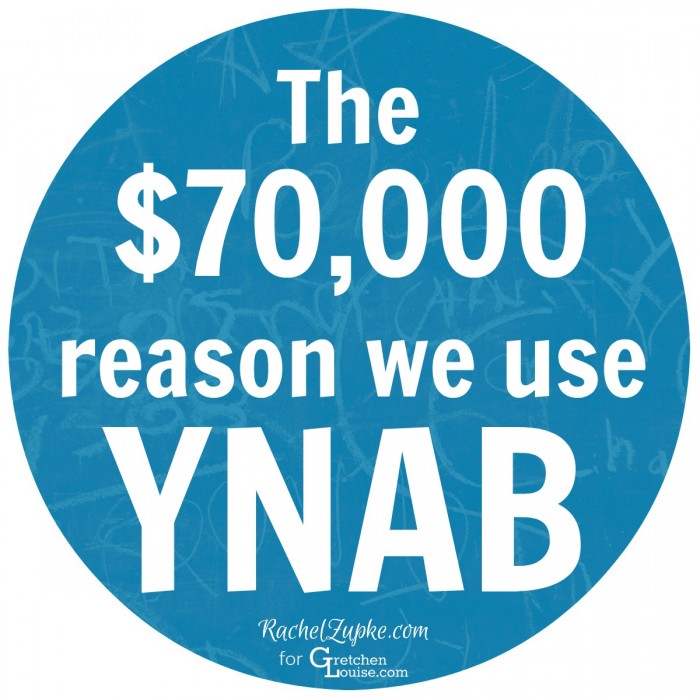 5 things we love about YNAB
When we started using YNAB over 6 years ago, we were flirting with $70,000 of student loans; $50,000 initially and another $20,000 for a master's degree. By tracking every single purchase — and having to manually input it — we had intimate knowledge of where our money was going. It took discipline but was well worth it for the ultimate result. In 3 years (by our fifth wedding anniversary), we were free of student loans (and believe me, we threw ourselves a party to celebrate!). We absolutely credit gaining freedom from student loans to having a handle on our money via YNAB. Some people use a cash envelope system (a la Dave Ramsey) for a similar reason, but we wanted to earn rewards from our two credit cards so we stuck with YNAB.
1. Categories
We settled on the following categories: Giving, Monthly Bills, Everyday Expenses, Periodic Payments, Savings Goals, and Debt. While there are subcategories in each of these, we like seeing how much goes to our monthly bills or our everyday expenses. Yes, it's important to know how much we spent on groceries, but we also wanted to know, overall, how much our combined everyday expenses were to see if we could cut down anywhere so we could have more discretionary funding to use somewhere else within our budget.
2. Zeroing Out
Each month, we zero out our budget. The work of assigning money to categories occurs throughout the month, but reconciling what YNAB says with what our bank account(s) say is the key step to making our money work for us. When we head into another month, we either have a value in the "Overspent" category or we get to assign the leftover money to one of our subcategories for the following month. While we had money assigned to a "Student Loan" category, we could use unspent money to pay this down even faster. At a 6.8% interest rate, getting rid of it was crucial.
3. Periodic Payments
Periodic payments are a huge benefit of YNAB that allows us to make large semiannual or annual payments painlessly. Throughout the year, we put money aside for insurance payments, Christmas, and workout costs (we like to do half-marathons, triathlons, etc. and they're expensive!). When our car insurance premium comes due, we're not scrambling for cash; while it's not partitioned off within our bank account, it has been within YNAB so we haven't spent it. The same is true for Christmas: we don't depend on last minute paychecks to cover presents, hospitality, or travel expenses to see family.
4. Month to Month Visualization
I love being able to see how we did last month, how we're doing this month, and how what we're doing now affects next month. YNAB's default view is a 3-month picture and it allows you to make decisions based on things that might be coming up. Know that we're traveling a lot next month? If we can spend less in "Eating Out" or "Household Goods" this month, we can allocate more to "Fuel" next month. Having a bigger perspective has helped me stay home with our two kids on just my husband's public school teacher salary (this a great interactive graphic of teacher pay in Washington State).
YNAB also has a Reports function where you can make graphics of what your money is doing. We rarely use this because we're numbers people but I can see how someone who is more visual would like this.
5. Mobile App
The Mobile App is an optional function that bridges the gap between YNAB4 (or YNAB Classic) users with users of the brand new YNAB (released in January 2016). One of the biggest cons of YNAB Classic – something we love, however – is the manual entering of purchases. But there's an app for that! YNAB Mobile syncs with your desktop version via Dropbox, which allows you to enter purchases as you make them instead of having to tackle a mountain of receipts. I also love the mobile app because I can check how much money we have left in a certain category before making a purchase.
The New YNAB
No more manual entry…if you don't want to.
This is really exciting stuff, y'all! They just released the new YNAB, which is a lot like Mint in terms of its connection with your credit cards, bank accounts, etc. We haven't switched over yet because they are still working out the kinks of transferring everything (plus I just don't have available mental bandwidth to learn a new system right now). I'm excited to switch over later this year, though!
The YNAB team has this to say about the new version and the pushback that not inputting every purchase would remove the intimacy with each transaction:
Yes. We've long since held that direct import would kill awareness and so we'd never do it. But we realized we were wrong, wrong, wrong. The way we've built the new YNAB you can have transactions imported directly from your bank (so fast! so easy!), but you still have to assign them to the appropriate category. Way less tedium, without losing awareness. Also, you can still use our mobile apps on the go, and manual entry if you choose. Or a combination of it all. Win-win all around.
I have a feeling that once we switch, we'll still utilize manual entry but I am willing to try a new way as well.
What things don't I love about YNAB?
Honestly, I couldn't think of a single thing. Seriously. YNAB works for us. Even the cost doesn't bother us. If you sign up before January 31, you'll lock in a 10% discount off the yearly $50 charge. $45 a year to have a hold on your money? Tech support if you ever need it? Yes, please. (As current YNAB4 users, we get the discount as well even though we'll be waiting until after the promotional period to switch over.)
How could YNAB help you with your financial goals this month? This year?
I'd love to hear about your budgeting successes (and failures!) in the comments.