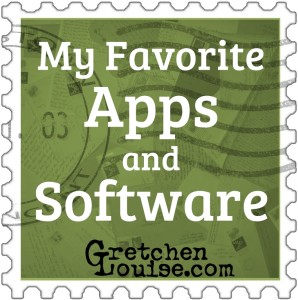 My favorite apps and software — the tools I use every day. (Some affiliate links included.)
Browsing & Email
Google Chrome
I'm not sure how I survived before I started using Chrome as my primary browser — it's the only way I can manage all my multiple online identities and keep track of my extensive bookmarks.  (Check out my list of favorite Chrome Extensions here.)
FireFox
My secondary browser.  Sometimes, I still need features that are only found in its Firebug CSS inspector.
SwagBucks
A search engine that rewards you with gift cards for random, everyday normal web searches?  A must have!
Thunderbird
After using multiple email clients, I gave Thunderbird a try again after reading this article in Christian Computing Magazine.  It works well considering the multiple accounts and signatures I use.  Find out more about Email Clients, POP & IMAP and why I switched to IMAP.
Gmail
I love Gmail's new tabs! Be sure to read my tips for Slaying the Email Dragon to find out why I love Gmail's archive feature, too.
Social Media
Buffer
I don't Tweet without it! (Find a Buffer 101 here.)
Feedly
The best thing that happened to RSS feeds. (Click here for my feed reader FAQ and reviews.)
Photo Editing & Organization
Paint.NET
Free photo-editing software that's free and amazing–and has more features than I've yet learned to use.
Picasa
It thinks like I do when it comes to organizing digital photos, and has a lot of buttons for easy, on-the-go editing.
PicMonkey
An online photo editing site with all sorts of fun effects and collage capabilities! Click here for the PicMonkey tutorials I'm pinning to Pinterest.
Files & Backups
FileZilla
A fast and easy to configure FTP client. Just wish it had import/export features!
DropBox
My no-brainer backup solution.
CutePDF Writer
Creating PDF files from documents is free and easy: just click Print and select the CutePDF Printer!
Productivity
Todoist
My brain. Click here for a review of Todoist and similar apps.
Evernote
My digital notebook. The way I take notes and keep track of details. Click here for more of my favorite productivity tools and apps.
Anti-Virus (for Windows)
AVG Free Anti-Virus
Sometimes, free is better.  This anti-virus program doesn't take over your entire computer like others do!
Microsoft Security Essentials
Another great free anti-virus program, that does everything automatically.