My favorite apps and software — the tools I use every day. (Some affiliate links included.)
[under reconstruction]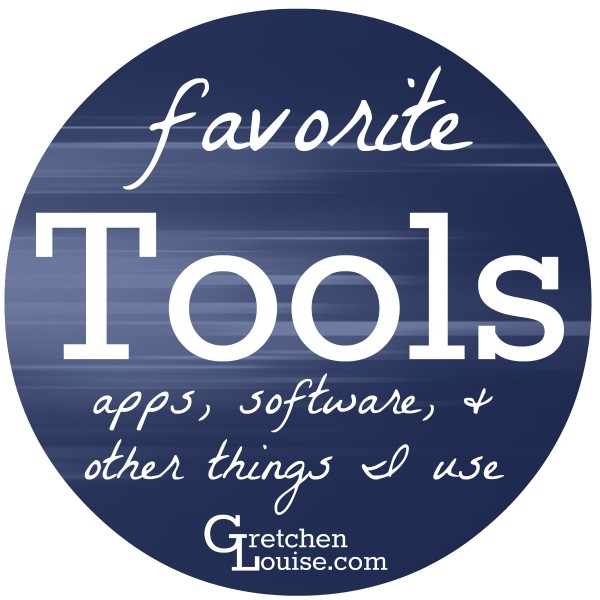 Browsing & Email
Google Chrome
I'm not sure how I survived before I started using Chrome as my primary browser — it's the only way I can manage all my multiple online identities and keep track of my extensive bookmarks.  (Check out my list of favorite Chrome Extensions here.)
SwagBucks
A search engine that rewards you with gift cards for random, everyday normal web searches?  A must have!
Gmail
I love Gmail's tabs! Be sure to read my tips for Slaying the Email Dragon to find out why I love Gmail's archive feature, too.
Blogs & Social Media
Feedly
The best thing that happened to RSS feeds. (Click here for my feed reader FAQ and reviews.)
Pocket
Buffer
I don't Tweet without it! (Find a Buffer 101 here.)
HootSuite
Photography & Image Editing
Canon PowerShot G11
Paint.NET
Free photo-editing software that's free and amazing–and has more features than I've yet learned to use.
PicMonkey
An online photo editing site with all sorts of fun effects and collage capabilities! Click here for the PicMonkey tutorials I'm pinning to Pinterest.
Canva
Files & Backups
My no-brainer backup solution.
SmugMug
Productivity
Todoist
My brain. Click here for a review of Todoist and similar apps.
Evernote
My digital notebook. The way I take notes and keep track of details. Click here for more of my favorite productivity tools and apps.
Google Keep
Bookkeeping, Time Tracking, & Invoicing
QuickBooks Online Essentials
17Hats
Miscellaneous Software
Microsoft Word
Microsoft Excel
Scrivener
Favorite Android Apps
Pocketcasts
Blogging & Web Development
WordPress.org
BigScoots
FileZilla
A fast and easy to configure FTP client.
Notepad + +
Devices
Dell Laptop
Samsung Android Tablet
Verizon Brightside Phone
Anti-Virus (for Windows)
AVG Free Anti-Virus
Sometimes, free is better.  This anti-virus program doesn't take over your entire computer like others do!
Microsoft Security Essentials
Another great free anti-virus program, that does everything automatically.