I have a question for you.
Are you a blogger or a writer?
You may very well be both, but you were one before the other, and I would venture to say that unless you began blogging for the sole purpose of making an income with the tool of blogging, then you are deep down, first, and at the end of the day, a writer.
And if that is the case, I have some words for you, and me, that need to be said. I need to talk to us writers.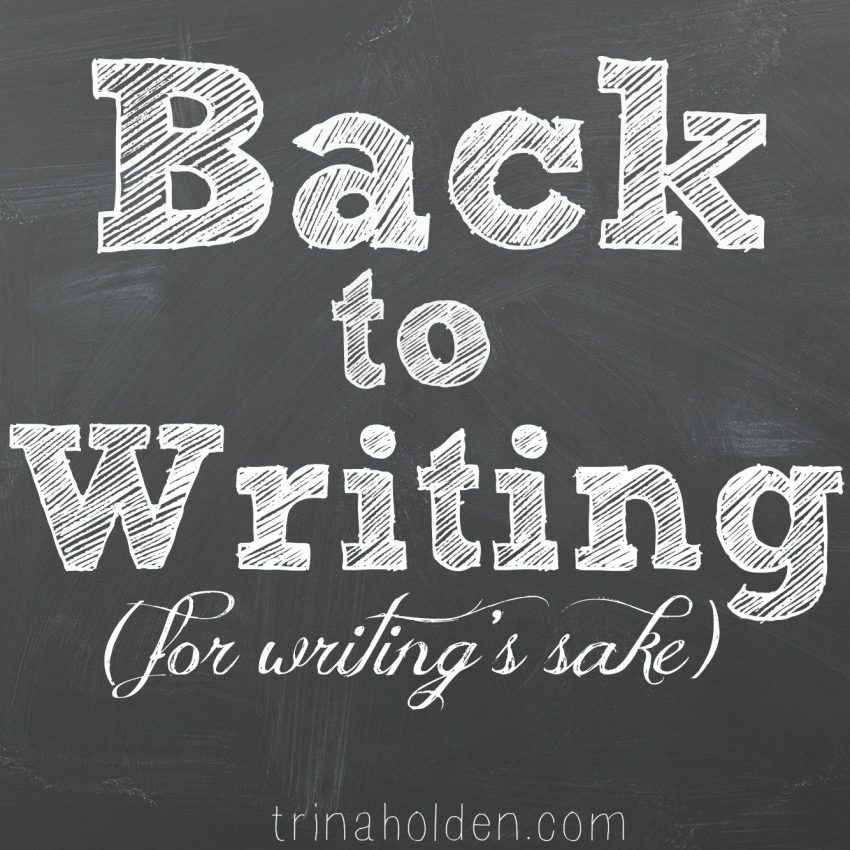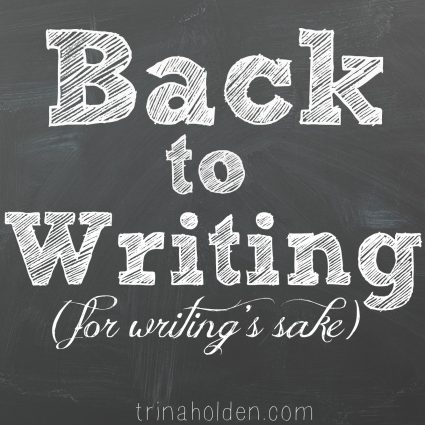 The Gift of Writing
If you're like me, blogging was the best thing that ever happened to your writing. It took writing from a solitary experience, with a single moment of satisfaction at the peck of the last period, to a shared experience, the gratification multiplied each time another read your words. Instead of the last sentence being the end of the story, it was the beginning of a conversation. You experienced the thrill of you words impacting someone else.
And it was awesome. So, you became a blogger…probably before you ever claimed the title of writer.
Blogging not only helped you recognize the writer in you, and it also improved your writing because there was accountability—you kept showing up, and you kept practicing. You participated in writing prompts and challenges that pushed you to grow and improve your craft. It was a wonderful thing.
Distracted From the Gift
And then, one day, if you were like me, you read something about making money on your blog. It was presented in such a way, or from such a person, that you believed it might be possible for you. So you began researching and learning and gaining experience. It was a lot of work, but filled with the thrill of discovery, and you got to write—a lot—so you didn't really notice that you'd jumped into what is now considered a valid career—professional blogging. (If you did, at one point, think it did kinda feel like a job, you thought you had actually figured out how to turn your love of writing into a paying job…and you were almost right.)
Maybe it was a few months, maybe a few years before you realized something was wrong. Your blog was keeping you awake at night…and it wasn't all good. Between attending an online seminar about maximizing Pinterest, answering emails, negotiating with sponsors, fighting Facebook to connect with people you've never met, researching hashtags for Twitter promotion, and trying to figure out Google Plus, you're maxed out. Not only is blogging taking up most of your spare time (what used to be your writing time), it's competing (and often winning) against other priorities like family, food, and sleep.
And you can't remember the last time you just wrote your heart out.
Forfeiting a Miracle
Do you know why this is tragic? Because you—and me (I'm writing this to myself, too, you know)—we're writers. We come from the that part of the Father's heart that beats best with lots of words present. Good words, holy words, and words that come from we-don't-know-where when we sit down and just put our fingers to the keyboard. We thrive on words—reading good ones and writing the best we have. We process life through words, we worship through writing, and the best way we serve others often has something to do with words.
But we've turned our backs on our first love. On a quest for fame and fortune, we've sold our soul.
And this has to stop. Because we're exchanging our birthright for a bowl of porridge. As writers, we've been given the gift of sitting down, putting our fingers to the pen or keys, stepping out in faith and obedience, and experiencing the miracle of having God meet you and speak to you and change you and grow you during the simple process of putting words on paper. (You've experienced this miracle, too, right? You've sat down to right you-don't-know-what and an hour later words you didn't even know you had inside you have formed themselves into thoughts that have led you further toward His heart? Please tell me you have—share the miracle with me!)
Such a miracle—such a gift. Yet we've turned away and sought Facebook likes and sponsorships. Spent all our time creating pinnable graphics and courting ad networks. We have assigned more value to temporary, monetary gain than to the gift of being a writer. It's time to remember what is most important.
What About the Money?
But, you say (and I say), "What about the money? We need money to live! And there's so much potential, if I could just figure out…."
Is money driving you? Oh, I hope not. Because I've taken that ride, and it ain't fun. Do you fear for your provision if you do not wear yourself thin online? The Lord has whispered this verse to my heart in regards to my blog…
"It is vain for you to rise up early and go late to rest, eating the bread of anxious toil for He giveth His beloved sleep." Psalm 127:2
I've tried really hard—so hard to make money online. The problem is, I've been just successful enough to make me keep trying. But 6 months ago, my Father said, "Okay, good job—but you need a break. Let me take over—my turn." Has my income increased? No. But my faith has. My trust has. And my peace. I sleep at night.
(I'm not apposed to making money on my blog–just feeling convicted about pursuing that over my call to write. You will see the occasional add or affiliate link on my sight, but these are low-maintenance, passive income strategies I employ in an effort to be a good steward of my online time.)
Maybe you're blogging to make a name for yourself? I tried that for a season, too. Until the day I quit blogging for attention and committed impacting the few He brings to my little corner of the internet. (I wrote about that journey in my free eBook More Than Numbers.)
Returning to the Gift
And so we come back to writing just to write. Going back to our first love. Putting words on paper not for likes or pennies or shares, but for the sake of the gift. For how words center us, and draw us toward our Author.
And so I ask you again. Are you a writer? If so, when is the last time you wrote just to write? Just for the fun/agony of it (hurts so good sometimes, doesn't it?)? Have you mortgaged your blogging soul? It's not too late to go back (or, better yet, forward) to writing for writing's sake. There are treasures in this discipline that will never be found in trackbacks or affiliate payouts.
What if you took all the hours you spend each week on social media (sharing, promoting, learning) and focus on simply producing high quality content on your blog? Focus on your calling as a writer, and leave the increase to God.
P.S. Are you ready to try? Not sure what it looks like? Are you a bit rusty at writing just to write? So was I. So I started a private blog (silly, I know, but I type faster than I can write longhand, and I'm impatient to get to the treasure). I wrote 3 posts in one 24 hour period—stuff I'd been wanting to write about, but wasn't fit for public consumption.
And I got unclogged. Remembered where my writing muscles went, and it felt good to flex. And then I wrote this post. Which I knew how to begin though I didn't know the ending. I still don't see the climax, actually, but I know I've made progress in pinning down God's heart for my writing in this season. I put this post on my public blog because I wanted you, too, to be encourage to turn from whatever distracts you and embrace the gift of writing again. Let me know how it goes?
The following two tabs change content below.
Trina is the author of two books, and writes a
lifestyle blog
where she shares what inspires and helps her to thrive as an artist, wife, and homeschooling mamma. You'll find real food recipes and fashion inspiration mixed with hilarious tales of their family adventures traveling the country in a converted bus. You have to see it to believe how random her blog is...
Latest posts by Trina Holden (see all)