for the love of dollywearing
(This post contains affiliate links. Read my full disclosure.)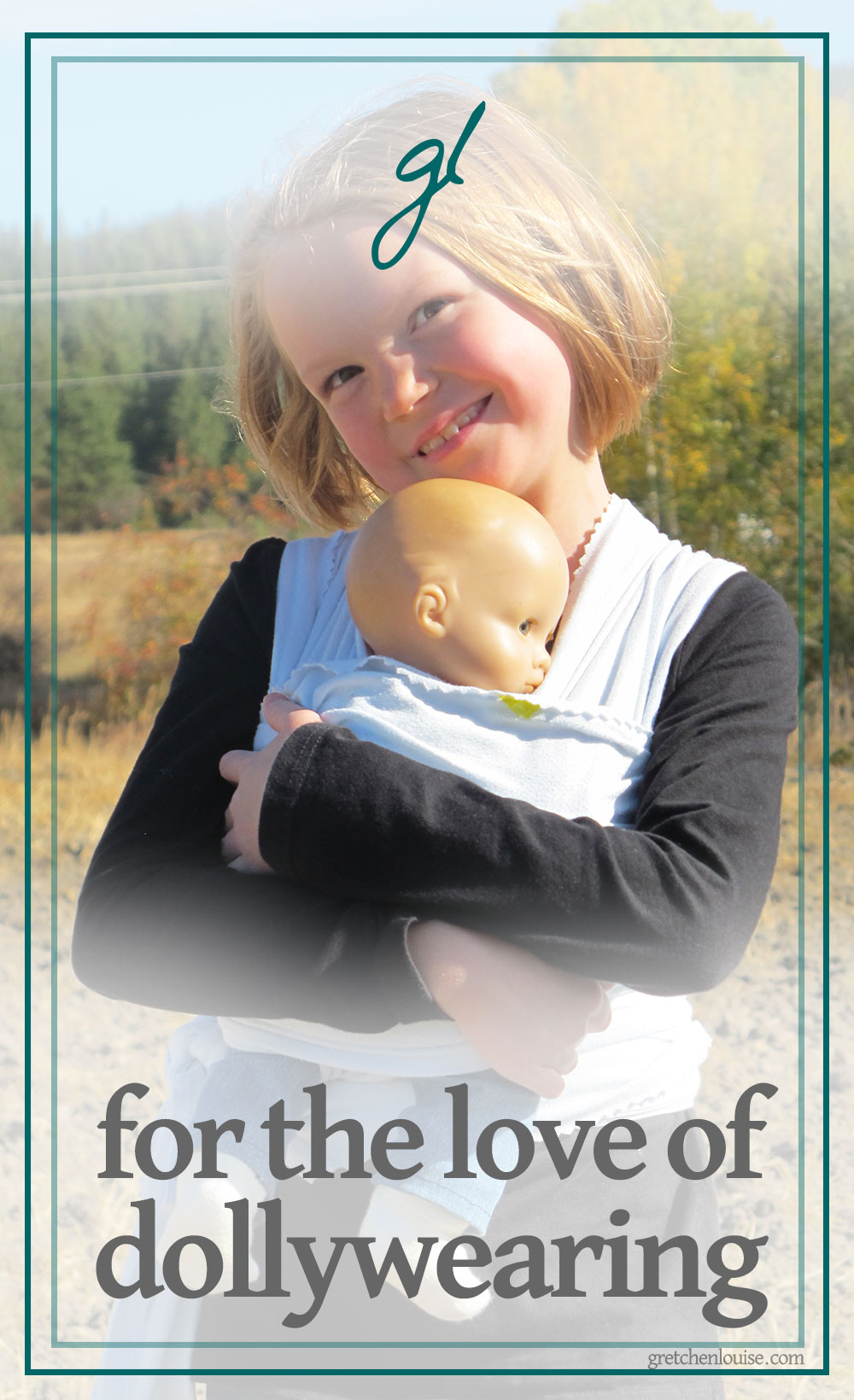 I love watching the mothering instinct bud in my girls. There's something so precious about watching them snuggle a baby doll for the very first time. Seeing them gently kiss a baby sibling's head. Tucking their stuffed animals in bed.
My little ones mirror my actions so often it's quite humbling. And sometimes, in the thick of motherhood, I wonder if they really understand how much I love them. It's rewarding, then, to watch them nurture their dollies and "stuffies", and even their baby sister. I can't help but smile as my oldest tucks a blanket into her shirt as a nursing cover and proceeds to "feed"so her baby. And I'm proud to see my son's protective side come out around his baby sister (even as he whispers to her, "I love you because you're chubby, and fat, and cute.").
It follows, then, that since babywearing is such a precious part of parenting for me, I love to see my children mimicking my actions there, too. It started with them swinging bags or purses over their shoulders and tucking their dollies inside. Then they began asking me for help. First, I broke out the sewing machine to create a mini mei tai for my girls out of the same print I was carrying their brother in. Several years later, as I researched the latest in wraps for the baby sister that came this spring, all three big siblings requested wraps in which to wear their dollies.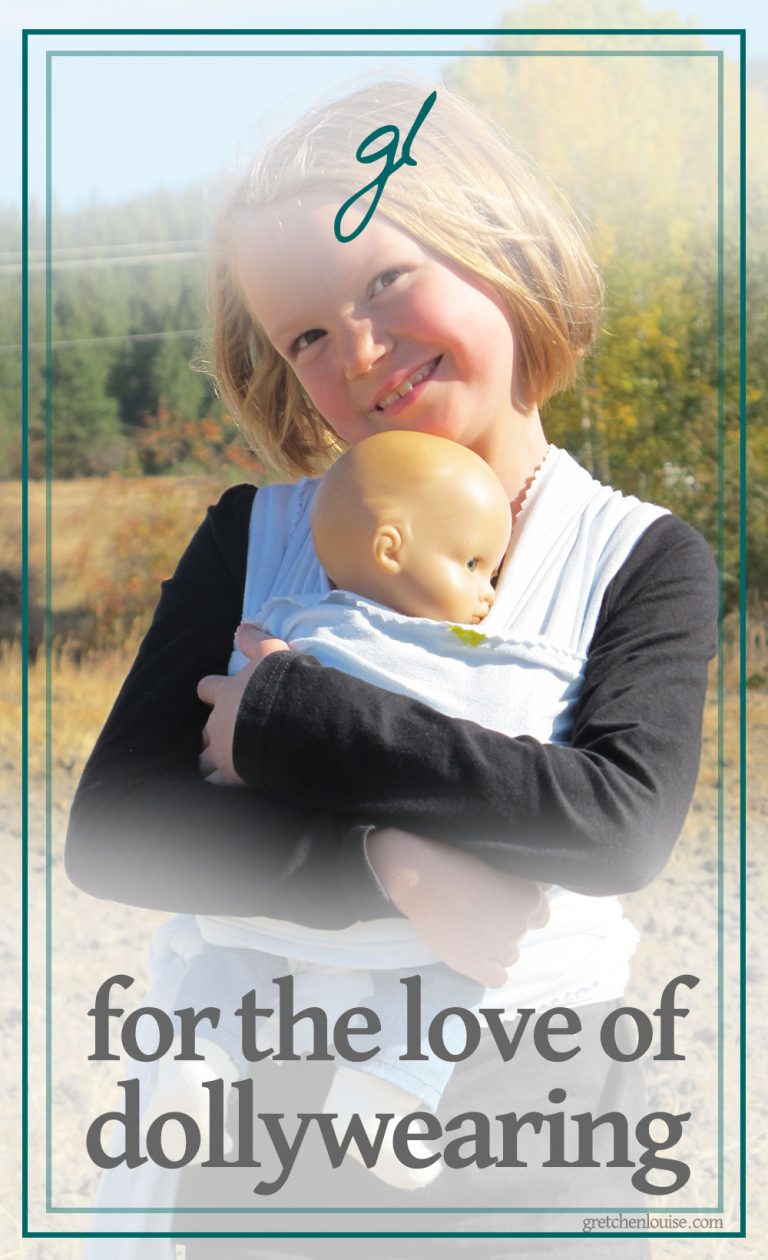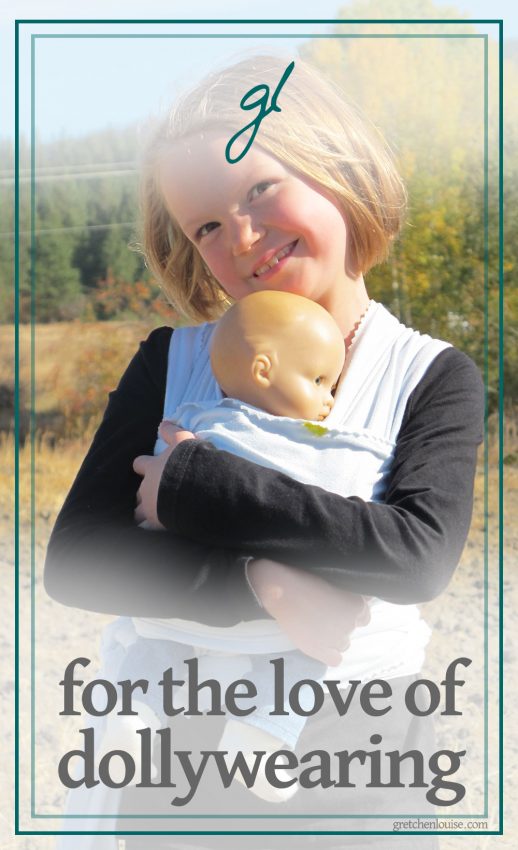 These days, it's a common occurrence for one of the girls to tie their dolly in a wrap before they help me hang out the laundry. It absolutely delights my girls when all three of us are wearing our babies in our wraps. And it thrills my heart with joy to watch these budding "little mommies" following in my footsteps with their "dollywearing".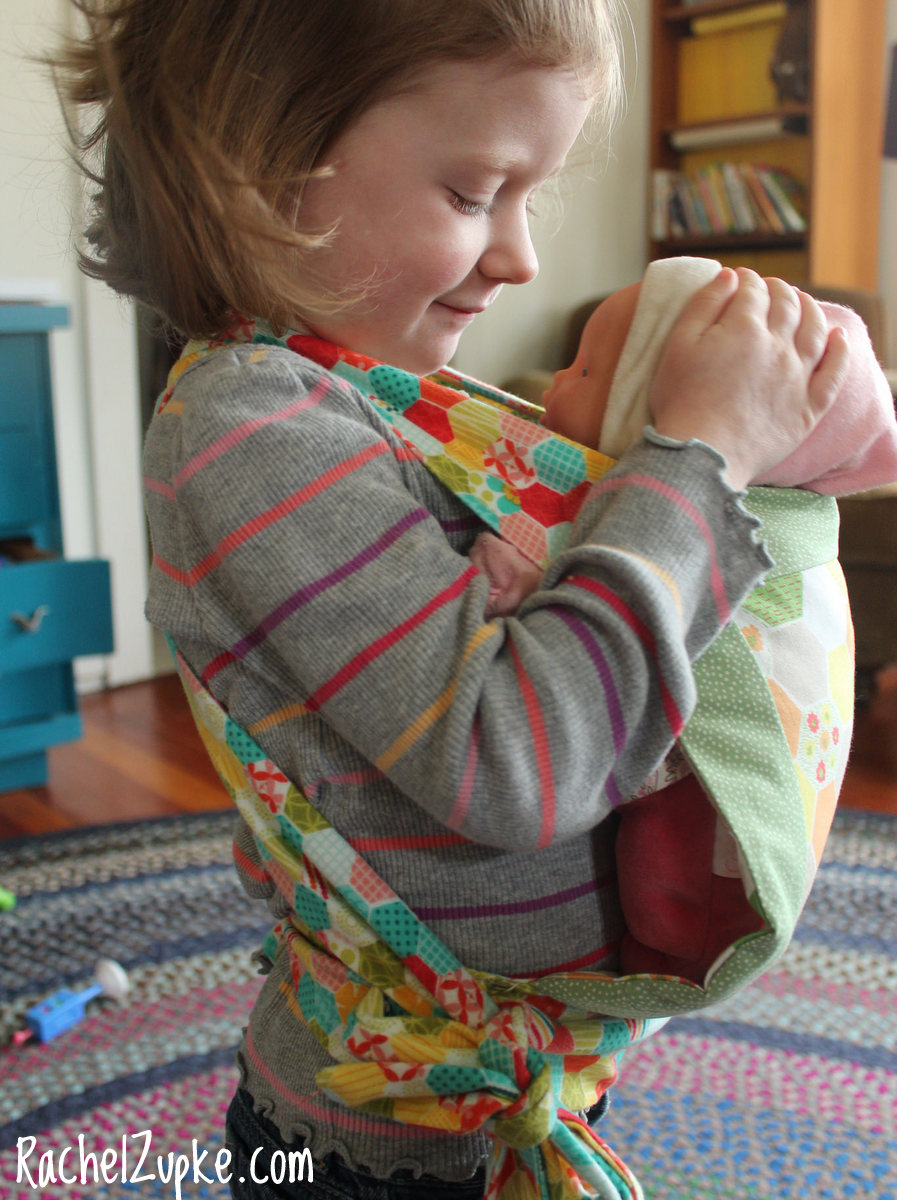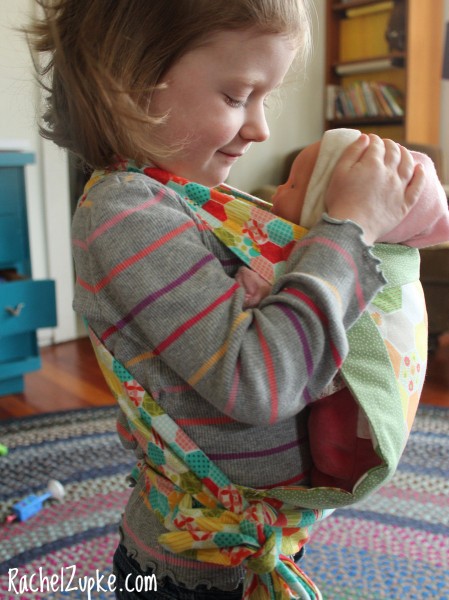 Rachel Zupke is offering my readers a special discount on a mini mei tai
available through her Etsy Shop, Reprezent Creations!
Use the code "gretchen" for $5 off this dolly mei tai now through November.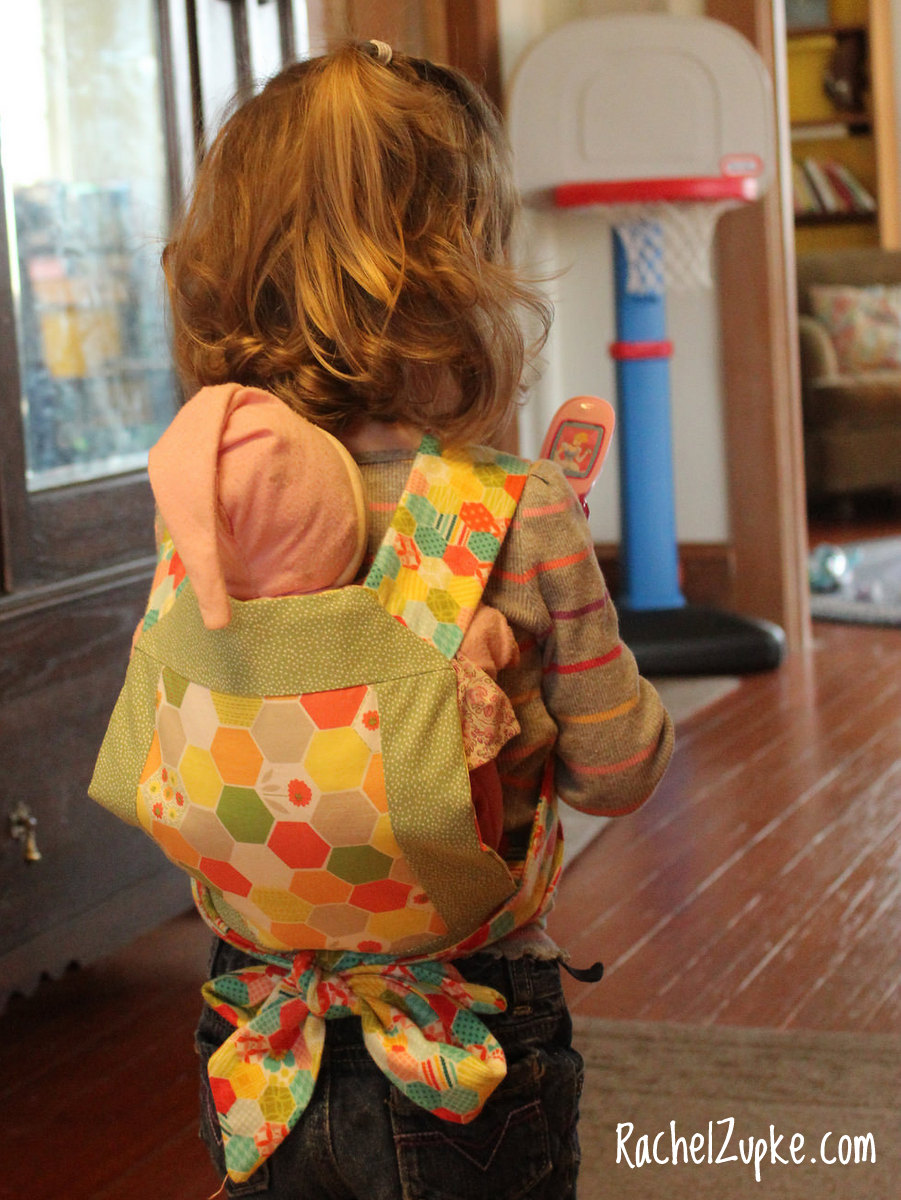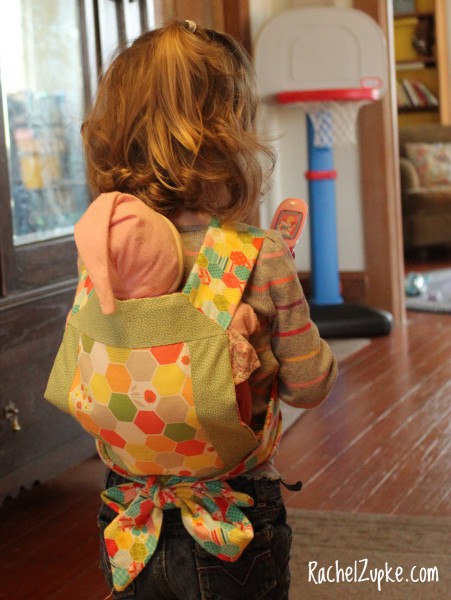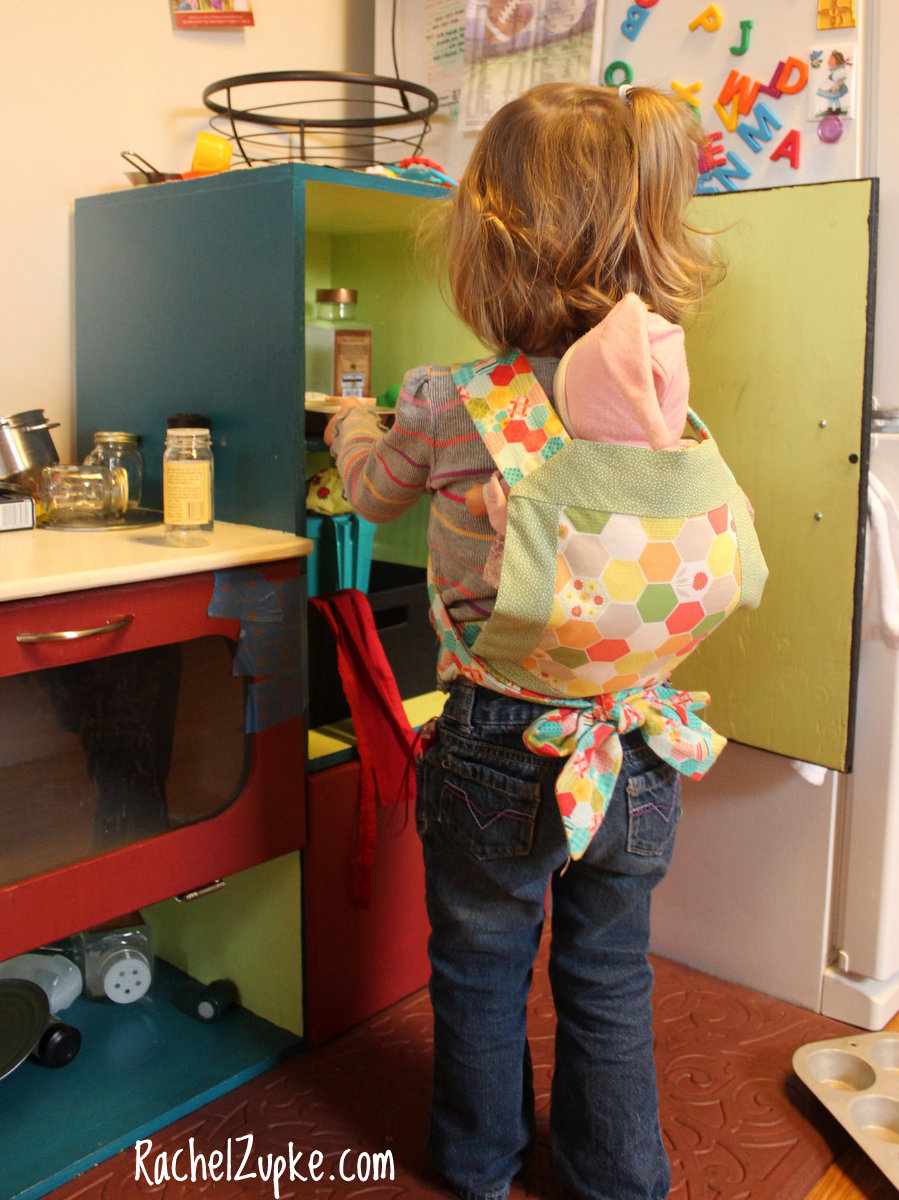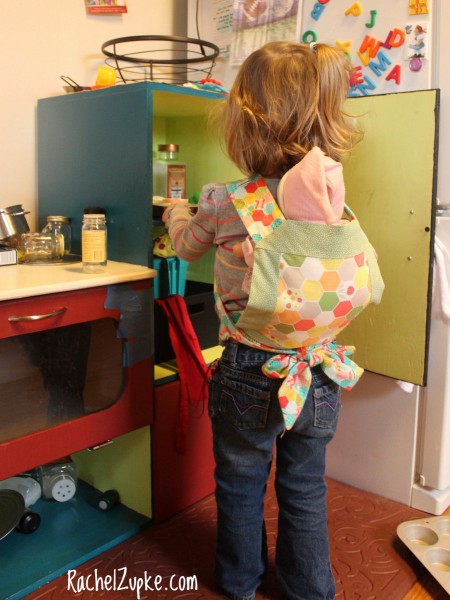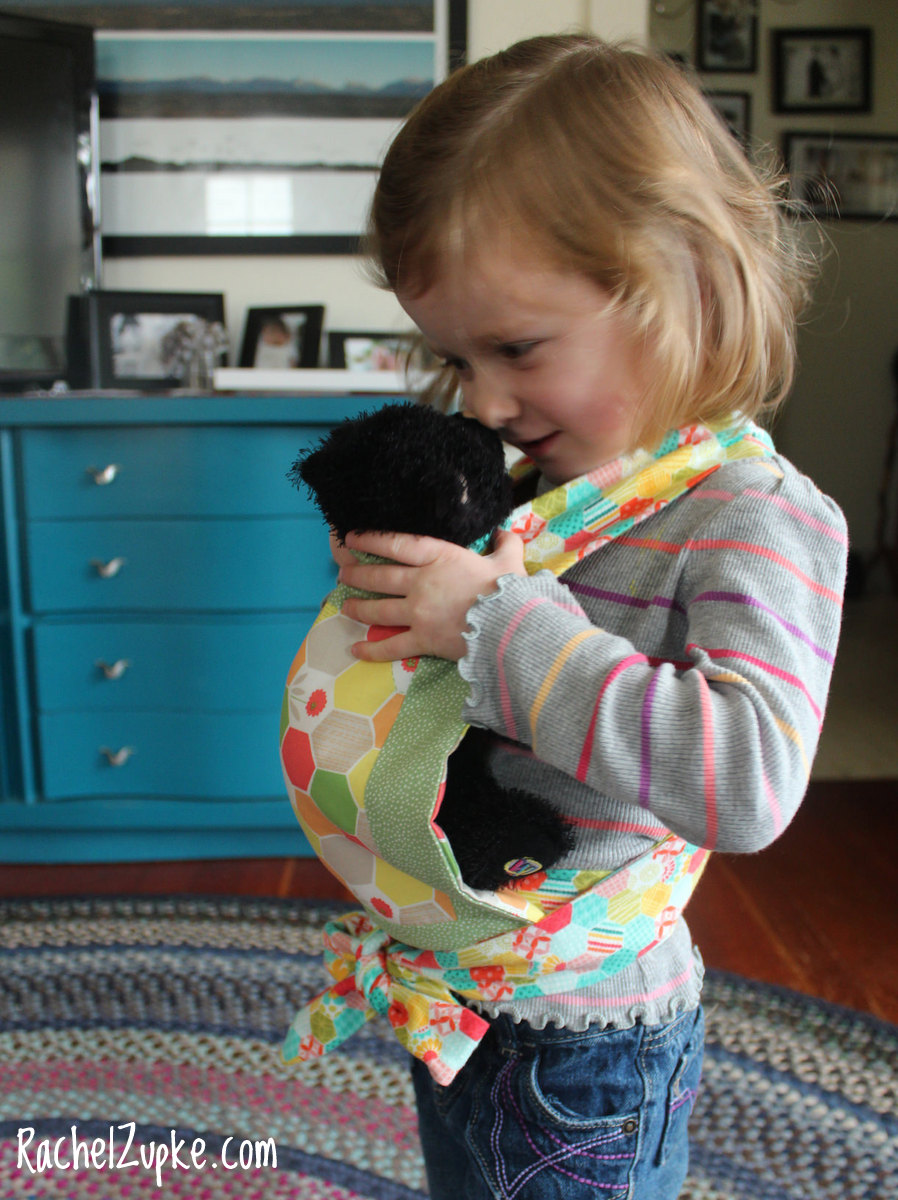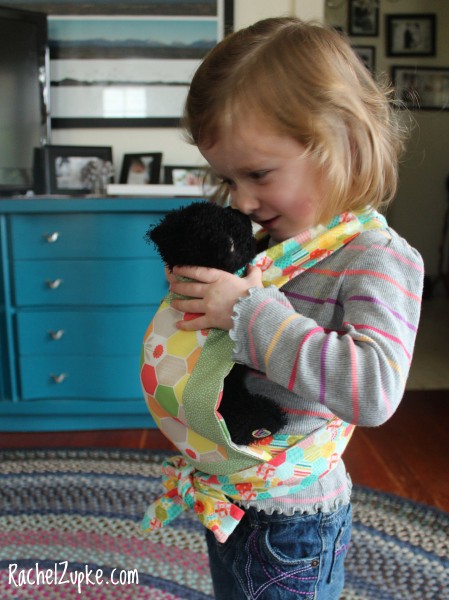 DIY No Sew Moby Wrap Style Dolly Carrier

I had a set of Jersey knit queen size sheets in the rag bag, and three little ones who wanted their own baby wraps. Equipped with the energy of the second trimester, I folded the sheet in half diagonally, and cut three wraps from 12 to 18 inches wide. The wider wrap I cut from the folded middle section was the longest (about 12 feet), perfect for my oldest. The next two were shorter (about 10 feet), but fit my 6-year-old and 4-year-old well. We even used permanent markers to mark the center of each wrap with a colored heart, so they could easily identify their own wrap, and, of course, find center for the perfect wrap job.

I always tell people that if my kiddoes can learn how to tie a wrap by watching the Solly Baby wrap tutorial videos, anyone can!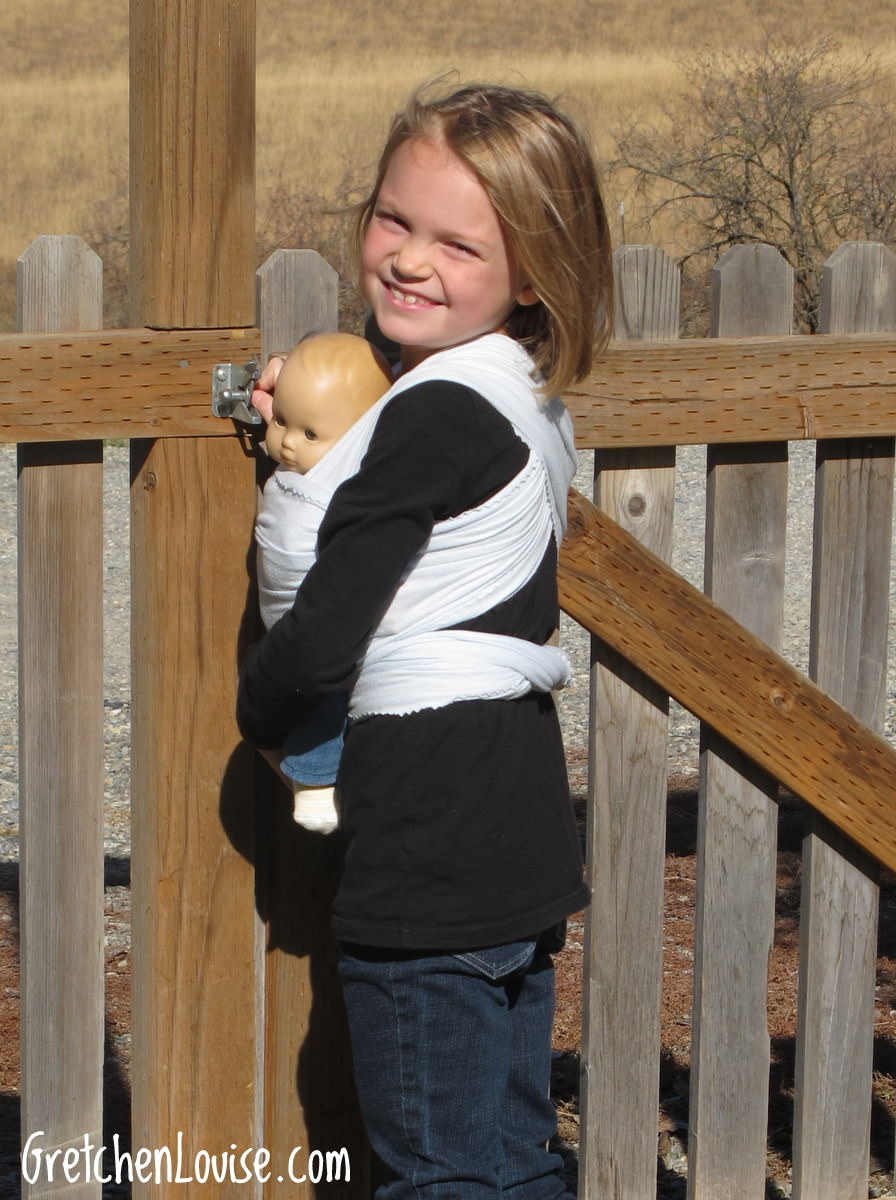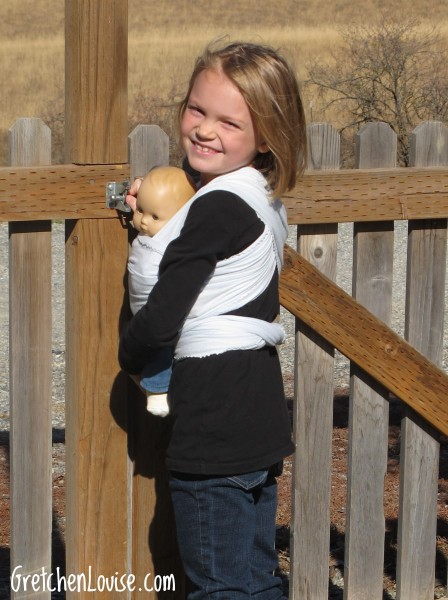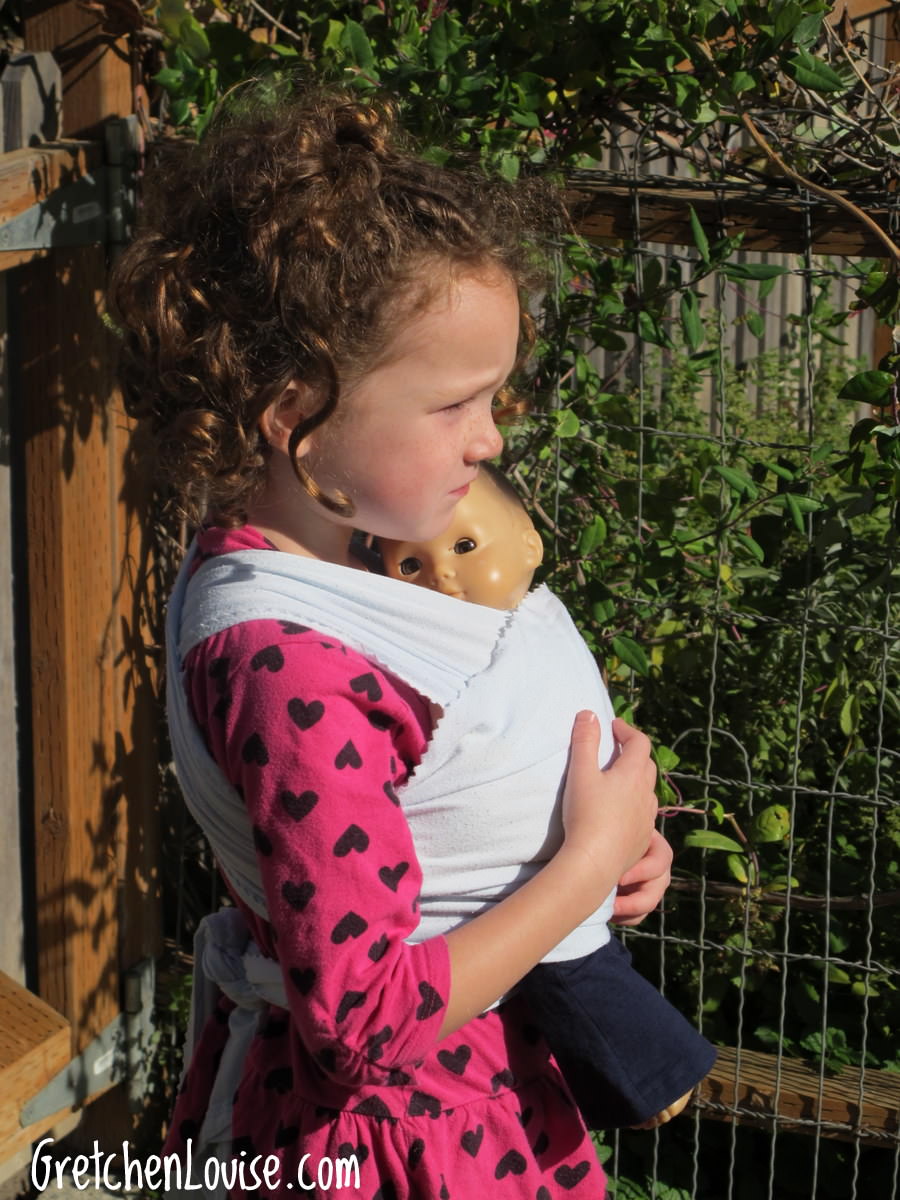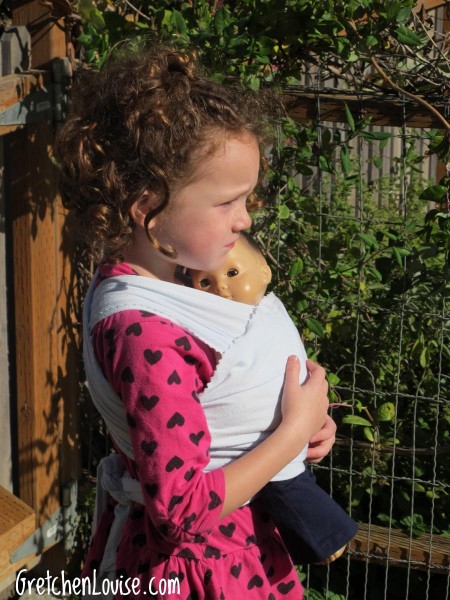 DIY Mini Mei Tai or Ring Sling

If you have a bit of skill with a sewing machine, a mini mei tai or ring sling is sure to delight your little ones! If DIY isn't your thing, check out Etsy shops like ReprezentCreations. (Don't forget that Rachel is offering $5 off her mini mei tais for my readers, using coupon code "gretchen"!)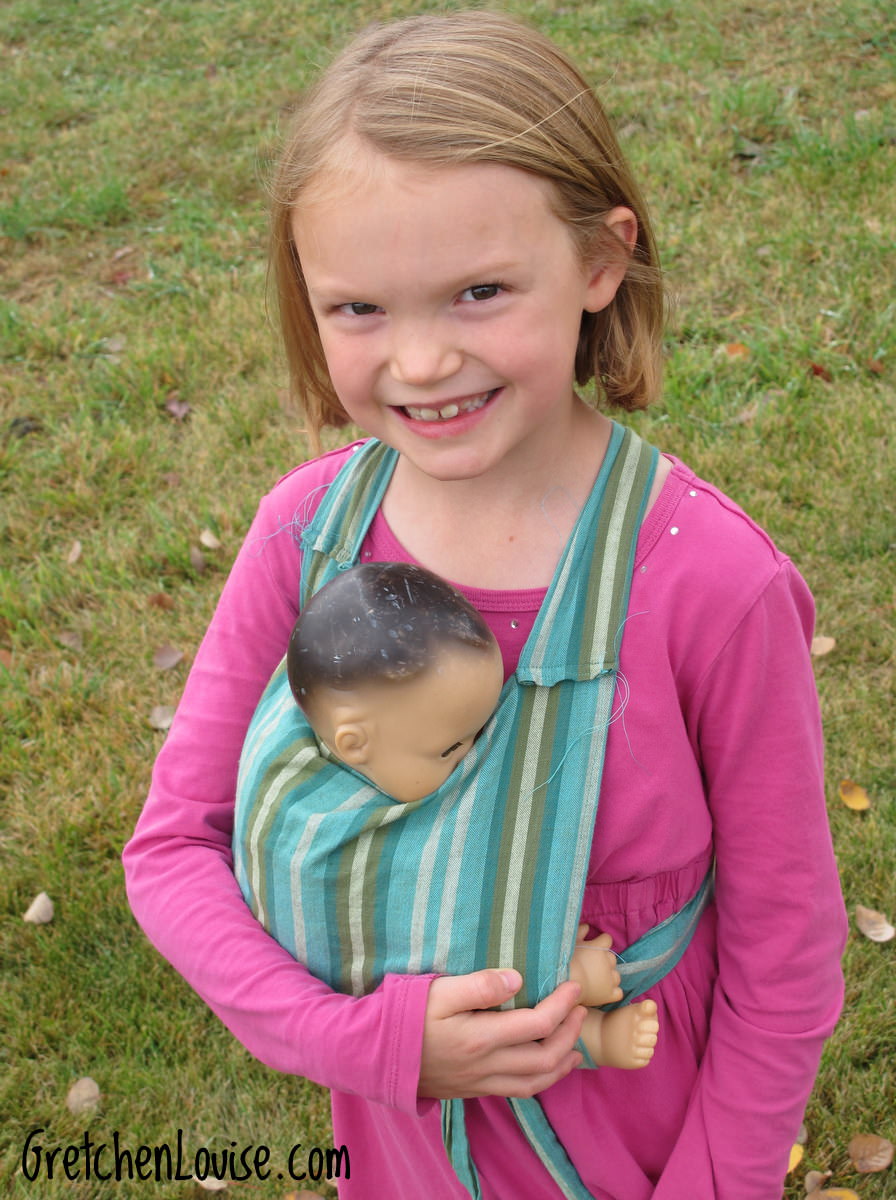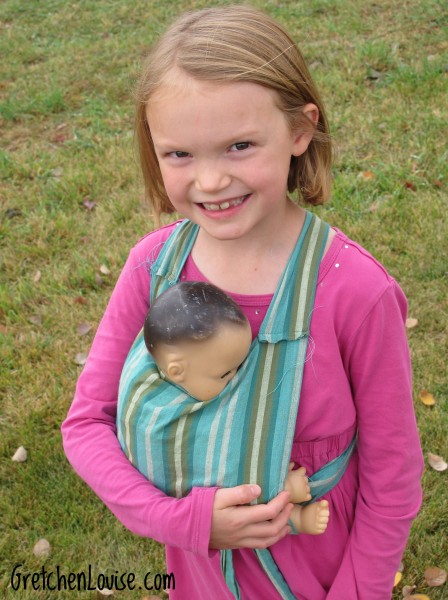 Super Simple Swaddle Blanket Dolly Wrap

Jessica Telian says, "I make my kids a dolly wrap by folding a blanket into a triangle and place the dolly in the middle like I'm going to swaddle it. Then I draw up the bottom point between the dolly's legs and then tie it onto the kid's back using the side points, usually going over one shoulder."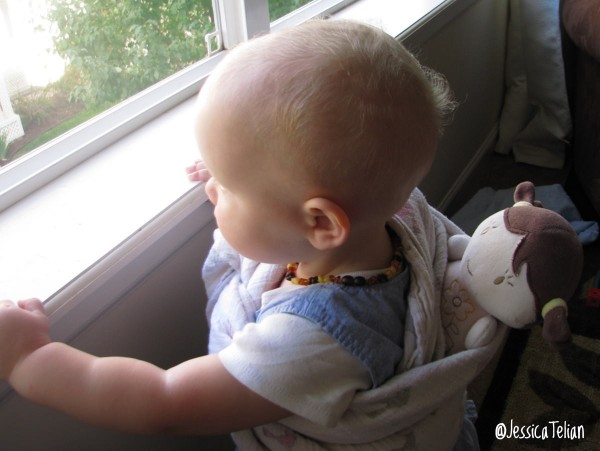 More Dolly Carriers for Your Toddler's Wishlist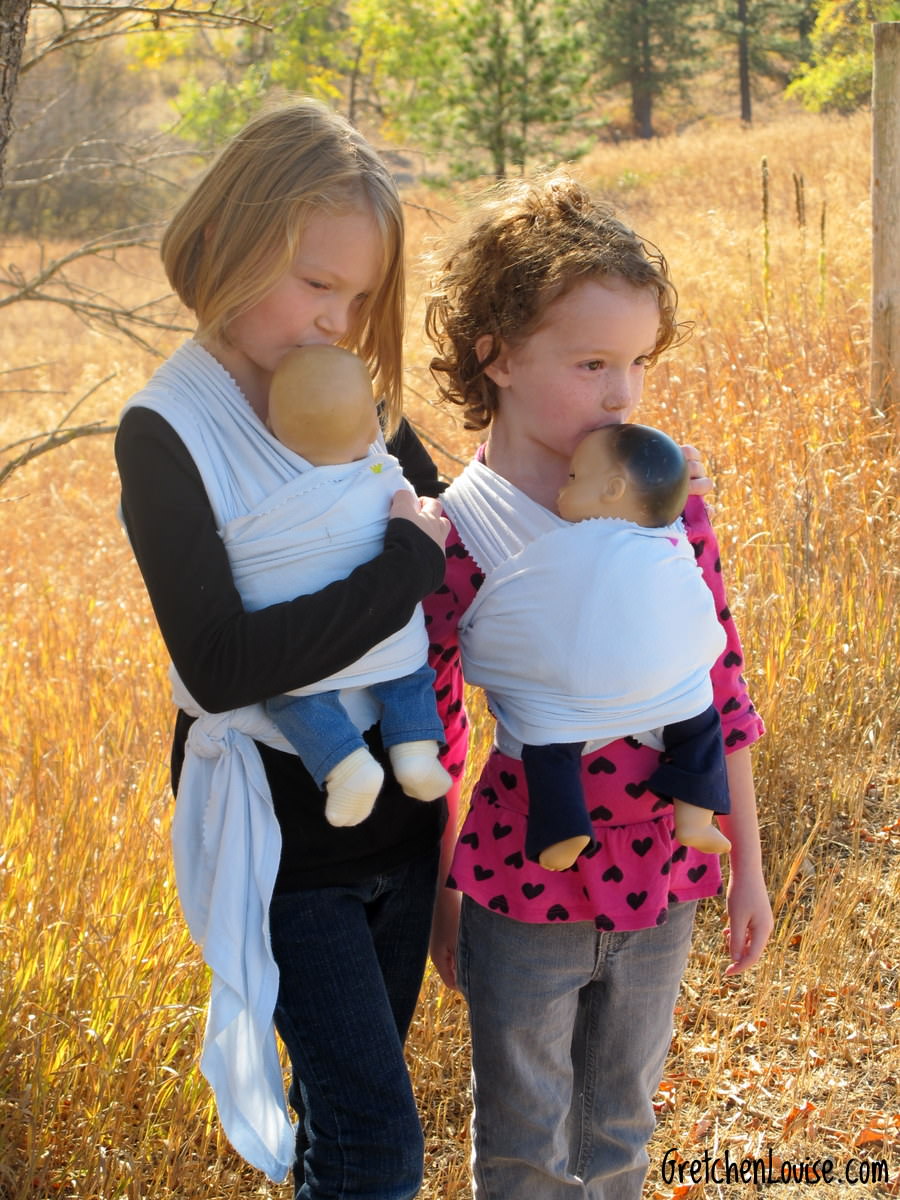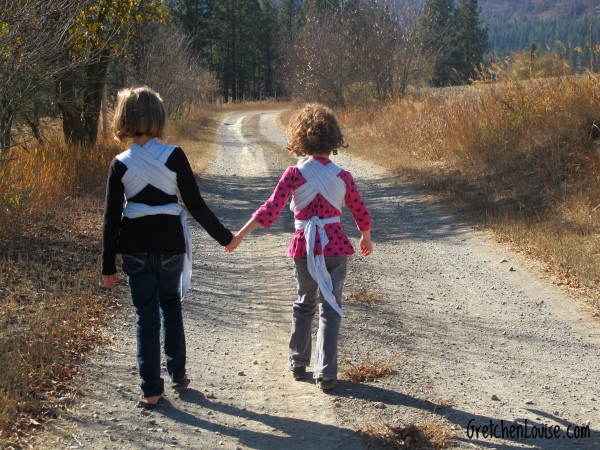 Have fun wearing all the dollies!