How do you keep up on the posts from all your favorite blogs? Do you bookmark each one and check it regularly? Do you subscribe via email to get all the latest posts in your inbox? Or do you use a feed reader?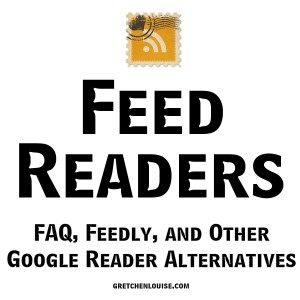 What's a feed reader?
A feed reader is a site or application that literally "feeds" all the latest blog posts to you right in one place. Instead of visiting a dozen (or two hundred) favorite blogs each day to see if they've posted anything new, you can go straight to your feed reader for all the latest — all in one place.
What feed reader options are there?
Google Reader was "the" most popular option for many years. But Google recently announced that it will be shutting down Google Reader come July 2013. And new feed readers are emerging to the front — some arguably better than Google Reader ever was.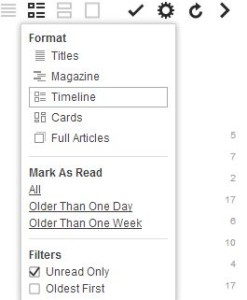 Feedly is my favorite so far! It has a fast site, a gorgeous app, and it's got lots of organization and layout options. Like Google Reader, you can organize blogs into folders (I have a folder for my fellow Kindred Grace writers, a folder for my Mastermind Group members, a folder for technical blogs, etc.).  It even features content content based on what's most popular, rather than just chronological (but you can change that in the preferences, if you like.
Bloglovin has long been popular among some of my friends. It's simple and straightforward, but doesn't have any options. And I've heard reports that it's app is less than great. Have you tried Bloglovin' before?
(Click here to subscribe to my tech tips in Bloglovin'.)
If you're a WordPress.com blogger, you're probably already familiar with WordPress' reader. But you don't have to be a blogger to create an account and use the reader. It's especially handy if you follow a lot of blogs that are hosted on WordPress.com — you'll get notifications in the menu bar when your comments have been replied to.
Other Feed Reader Options
I've highlighted the most popular options above, but there are lots of others, in every form — from app to web-based to software!
Feed Reader Reviews
How do I subscribe to a feed?
Click the Icon
Look for the "RSS" (really simple syndication) icon on your favorite blogs. The default feed button is orange and looks like this:

But lots of blog authors (like me!) have fun using that dot and two curved lines to create their own custom RSS icons:

Wherever you see the RSS icon — whether it's pink or purple or orange — you can click on it to subscribe to that blog's feed. Some browsers even put the RSS icon right in the address bar whenever you're visiting a site with a feed.
Get an Add-On or Bookmarklet
Most feed readers have browser add-ons or bookmarklets that enable you to subscribe easily, right in your favorite feed reader, even if you don't see the RSS icon.
Feedly's Extension for Chrome gives you a mini-toolbar with one-click access to sharing any blog's post on your favorite social media network, or subscribing in Feedly. Here's a Feedly bookmarklet that lets you subscribe to any blog straight from your bookmarks bar. (And if you're still using FireFox, there's a Feedly extension for FireFox, as well.)
Search from Within Your Reader
Most feed readers provide a search feature — just type the name of your favorite blog and you'll be able to subscribe without ever leaving the reader.
Wait, what's a RSS feed anyway?
Simply put, an RSS feed is any blog or site's content formatted into a way that it can be easily read by all sorts of different applications, in all sorts of ways. RSS stands for "Really Simple Syndication", or in the everyday terms Stephanie Quilalo uses to explain it, RSS simply means "Ready for Some Stories". RSS feeds are what allow you to subscribe to blogs so you can find all the latest posts, all in one place: your favorite feed reader.
What feed reader do you use?
Come chime in on the poll on my Facebook page!
See Also