The first time you read about duplicate content, your heart sank. You've been duplicating your own posts on your own blog for years. What can you do now?
I've been there. My ministry blog was in that boat. We had an annual feature dedicated to re-posting the best of our archives! And that required a lot of clean up.
Here's a run-down of your options if you've already re-posted duplicate content on your blog–or somewhere else.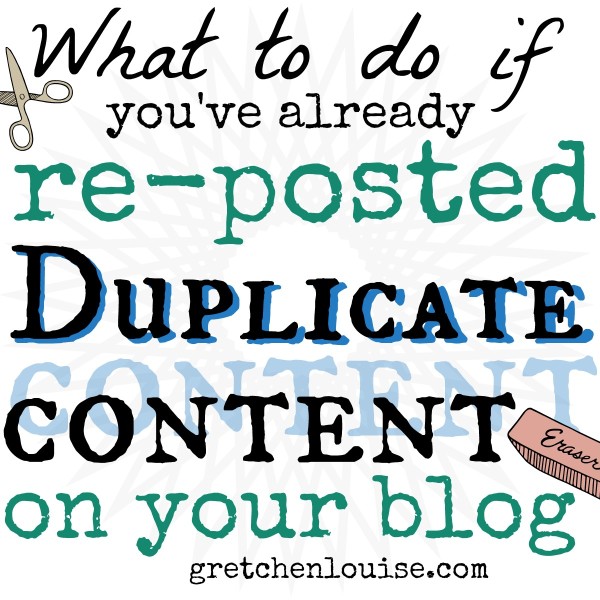 There is more than one way to fix duplicate content:
Merge: You can completely merge the content so it does not appear more than one place. It's a cumbersome process to merge comments and redirect posts, but once done, it's done–and you'll know not to re-post again.
Canonical Meta Tag: You can leave both posts published, but point the duplicate to the original using a canonical meta tag.
Noindex, Nofollow Meta Tags: Adding noindex, nofollow meta tags to the duplicate or the original post will tell search engines not to look at it. (It's up to search engines to honor this request.)

Link, Delete, or Mark Private: At the very least, make sure the old and new posts both link to each other so they look less like scraped content to search engines. You can delete one post if it doesn't have any comments. Or, you can simply mark the post with the least comments as private so only you can see it.
1. How to Merge Duplicate Posts
Merging posts is probably the most complete solution, but also often the most complicated.
There are two goals to keep in mind when merging duplicated content:
Don't break either of the links.
Don't lose either set of comments.
Merging Posts in WordPress.org:
Decide which post you will keep and which post you will delete. If the comment/share count is similar, you can keep the original post. If there are significantly more comments on the new post, it will be easier to keep it and move the comments from the old to the new. If there are significantly more likes/shares on the new post, you might want to keep it for that sake.
Use a plugin like "Tako Movable Comments" to move all the comments from the post you are planning to delete to the post you are planning to keep. (If you use Disqus, you can edit the individual comments to change the thread they belong to, or upload a thread merge file.)
Delete the post without comments.
Use .htaccess 301 redirect or a plugin like Redirection to redirect the URL of the post you deleted to the post with comments.
Trying to find all the duplicate posts within your WordPress blog? Check out the Find Duplicates plugin.
2. How to Canonically Link Duplicate Posts
WordPress automatically provides all sorts of canonical links to let search engines know that archive pages and shortlinks are just representing the original post permalink, rather than the permalink of the archive page. If you don't want to merge your duplicate posts, you can simply point the new one to the old one with a canonical link so that Google knows to give the SEO rank to the original post (or vice versa). This is especially helpful if your original post is syndicated or duplicated on another site–they won't want to give up the SEO ranking, so instead you point your post to theirs. (Read more about Canonicalization from SEO Moz.)
You can easily set a canonical link for your post or page with an SEO plugin like WordPress SEO by Yoast:

If you have access to the header code of a specific post or page, you can put the following meta tag between the <body></body> tags:
<link rel="canonical" rel="nofollow" href="http://huffingtonpost.com/2013/10/01/mygreatpost.html" />
3. How to Noindex, Nofollow a Duplicate Post
Asking search engines not to look at a duplicate post is one way to lessen potential duplicate content issues. Be sure to disallow indexing of only one post, not both posts!
There are a variety of WordPress plugins that allow you to tell search engines not to index a specific post. You can use WordPress SEO by Yoast's Advanced Tab (where you can also remove the post from your sitemap, etc.):

You can also noindex a specific post with your robots.txt file:
WordPress SEO by Yoast allows you to edit your robots.txt file under SEO, Files. Or use WP Robots Txt to edit your robots.txt file under the Settings, Reading.
User-agent: *
Disallow: /2012/10/duplicate-post/
Disallow: /2012/10/another-duplicate-post/
(Custom robots.txt is available for Blogger.com users, but not WordPress.com users.)
If you have access to your individual post or page header content, you can use this code with <head></head>:
<meta name="robots" content="noindex, follow" />
Or request removal of a post via Google Webmaster Tools.
4. Other Options for Hiding/Linking Duplicated Posts
If you're blogging on WordPress.com or Blogger, your options are limited:
Consider editing the re-post to include only a brief quote or summary of the original post. Be sure to link to the new post from the old post and vice versa.
You can simply make the post with the least comments private, so you still have the comments but the post is not duplicated.
In Blogger, if one of the posts does not have comments, you can delete it and use the custom redirects option in the settings to redirect it to the post with comments.
Blogger also allows you to use robots.txt to noindex, nofollow specific posts (see #3).
What methods have you used to deal with duplicate posts?
More in this series: