How to Create a Facebook Page for Your Direct Sales Business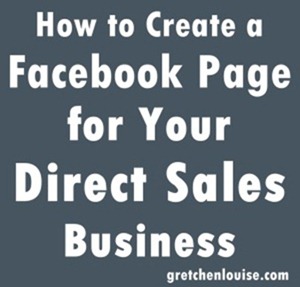 A Facebook page is an ideal way to connect with your customers on Facebook, while a Facebook group is better suited to interacting with your downline (or, on occasion, focused groups of customers). Today we'll delve into the details of creating a Facebook page for our direct sales business.
How do I create a Facebook page for my business?
If you already have a Facebook profile, it's really quite simple.
1. Go to https://www.facebook.com/pages/create.php
2. Choose "Brand or Product"
3. Choose "Product/Service" and type in the name you want for your page, making sure it complies with any guidelines provided by your direct sales company: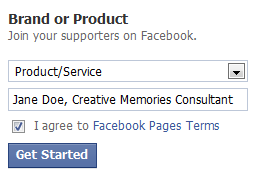 4. Upload a profile picture (perhaps a recent headshot or a picture of you doing something that relates to your business) and a cover photo (your company may even provide cover photos for you to choose from).
5. Invite your friends (especially your customers) to "Like" your page.
6. Enter your business website address and explain what people can expect by liking your page: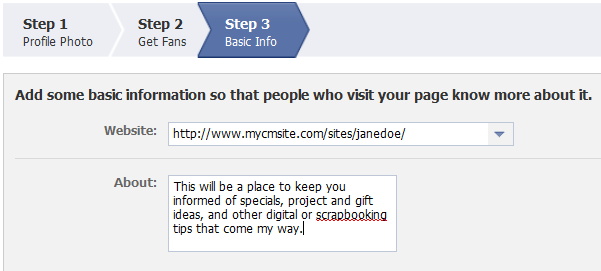 7. Congratulations! You've created a page. Refine your page a bit more by choosing "Edit Page," "Update Info" in the "Admin Panel" of your page:


8. Under "Basic Information" you can set a username such as "cmjanedoe" so that people can get to your page by going to http://facebook.com/cmjanedoe Be careful when setting your username—it can only be changed once!
9. Double check under "Your Settings" that the box is checked to get email notifications whenever someone comments on your page or messages you (even so, it's a good idea to check your page frequently to see if someone has contacted you with a question—you don't want to miss customer inquiries via Facebook!).
10. Be sure to save any changes.
How do I promote my page?
Put your Facebook page URL in your email signature (along with your personal company site URL).
Make your Facebook page your "employer" on your personal Facebook profile (click here for directions).
Invite your friends to like your page: click "Build Audience", "Invite Friends" in the Admin Panel of your page (be careful with "Invite Email Contacts"—it usually ends up turning into a friend request to each person you invite to your page!).
(Don't spam your friends with invites. Invite them to like your page once, then invite only new friends after that.)
What do I post on my page?
Get started by "sharing" a link or status from the page of your company (Creative Memories Home Office Facebook Page is at http://www.facebook.com/creativememories):
1. Click "Share" under the status you want to share:


2. Choose to share "On your Page", write any introduction you'd like to the status/link, and click "Share Status":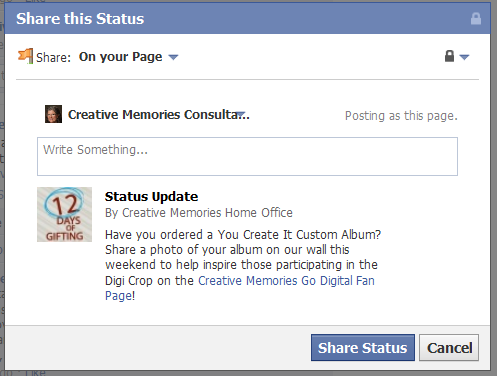 3. You can use your page to update your customers about sales, specials, upcoming events, and new products, as well as share tips, ideas, and pertinent links.
4. Sharing photos is often the best way to get "likes" and comments. Use the photo caption area to include links to applicable products/specials.
5. If you have a consultant website with your direct sales company (Premium Customer Connection Tools for Creative Memories Consultants), make sure to share product links that direct customers to your consultant site. If the home office posts something about a new product on their Facebook page, you can copy what they wrote, but replace their link with the direct link to the product's page on your own consultant site:


Should I "Like" other pages from my page?

Yes! Your page can "like" other pages by clicking "Add to My Page's Favorites" in the page's sidebar. This is a great way to give your customers easy access to the other pages pertinent to your business. You can even select which ones will always be featured there by selecting the "Featured" option when editing your page's info.
Creative Memories Consultants, get started by adding these pages to your page's favorites: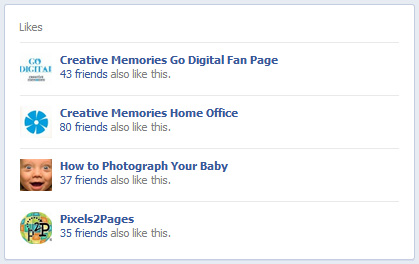 How often should I post on my Facebook page?
The biggest rule of thumb to remember is not to spam your page's "fans." Posting several times a day is okay, but spread it out! Sharing too many links/updates at once is a quick way to get your page unliked. Take advantage of the scheduling feature so that you can compose your posts in one chunk of time but spread out their posting schedule.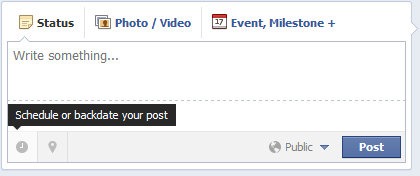 Should I ask my customers to post on my Facebook page?
It's up to you the permissions you set, but you can invite customers to post pictures of their projects created with your products on your Facebook page.

What if my customers want to help me promote my Facebook page?
If they ask, tell them that the best way they can help promote your business via your page is to invite their friends to like your page (by sharing it on their wall), and then by "liking" your posts. The more your fans like your posts, the more Facebook displays your posts to your fans.
Should I create Facebook events for my business events?
It can be a good way to generate interest and collect RSVP's, but if you're already using your consultant website for events, it might be unnecessary duplication. If you do create Facebook invites for your events, make sure to keep your customers' privacy as your main concern: make it a friends-only event so that customers can still invite friends but the general public can't see that they are gone from home at that time for that event. (Click here to read more about event privacy.)
More on Facebook Pages:
Do you have a Facebook page for your direct sales business? What marketing methods have you employed on your page?