Is your opt-in freebie ready to share with your subscribers?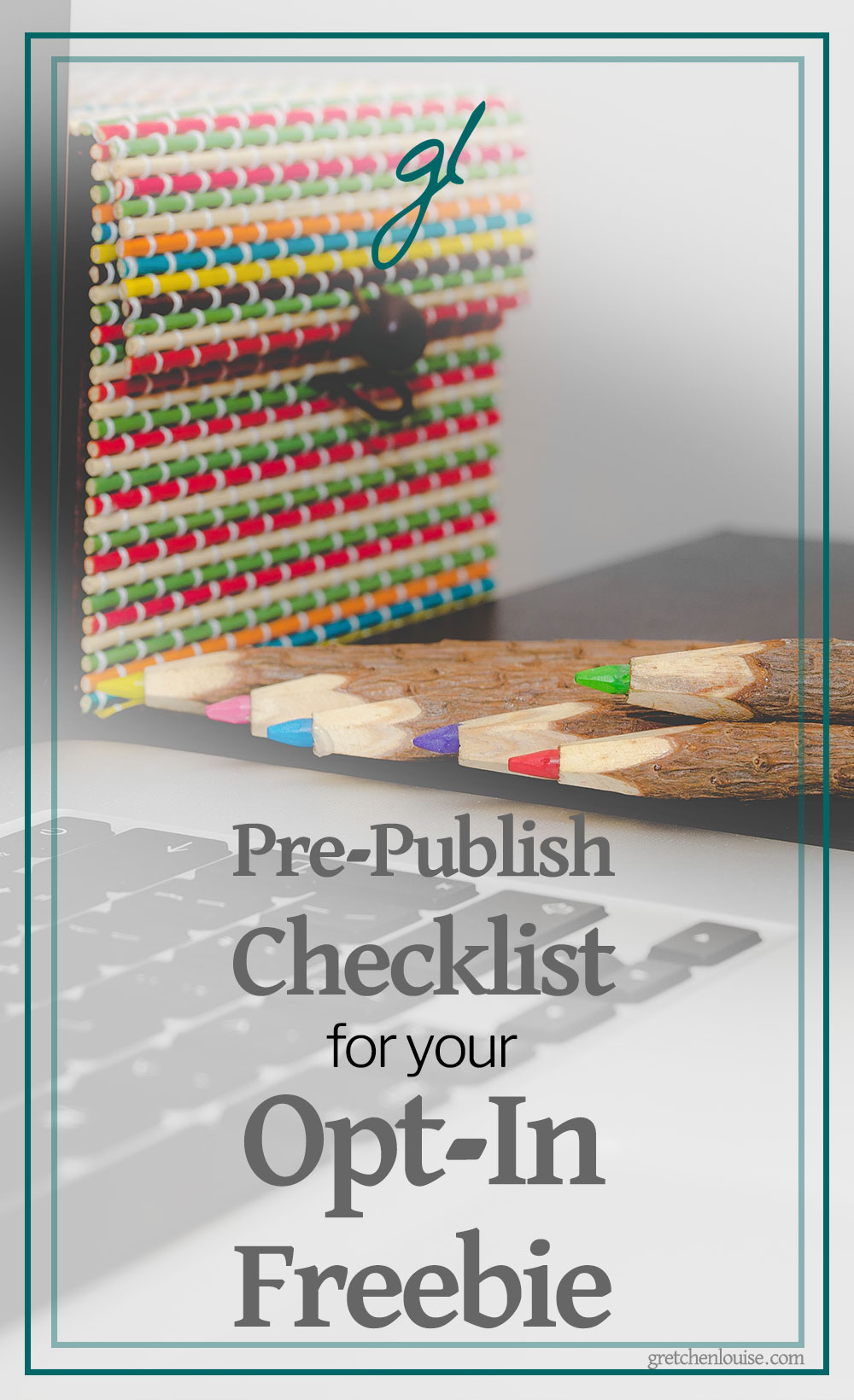 It's easy to get so excited about the brand new freebie you've created to bribe your visitors to subscribe to your email list that you forget a key element or two.
Here's a quick pre-publish checklist to make sure your file is ready to share with your subscribers.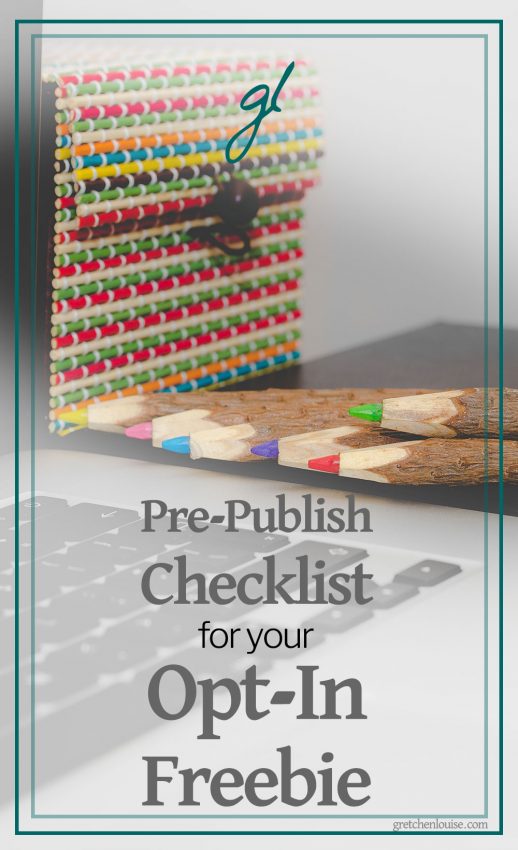 1. Author Name
It's so obvious it is easy to miss: make sure your name is clearly visible on any and every page of your printable.
2. Copyright
Indicate the copyright on at least one page, perhaps even the footer of every page, right along with your name and website address.
3. Clickable Website Address
Your website address should be easy to find, and preferably even clickable. (Depending on what you are using to edit the file, you can usually format a clickable address so it blends into the rest of your text and isn't blue and underlined.)
4. Clickable Learn More / Purchase Link
If you're offering an excerpt of a book, include information about where the rest of the book can be purchased (link to a page on your website that includes an affiliate link, rather than using an affiliate link here–this saves you from having to disclose and/or going against affiliate terms of service).
If you're offering a checklist about a topic you've written more about, include a link to read more.
If you're offering a content upgrade, be sure to link to the original post featuring the topic.
5. Shareable Link
Be sure to specify that this resource is for your email subscribers only–not to be directly shared or forwarded in any way. Then include a link for your email list signup page (or the home of a speficic content upgrade) where your subscribers can direct their friends to get their own.
(Drive this point home by stating it in the email with the download link and then restating it within the download itself. You can remind your subscribers of the shareable link in a follow-up sequence or automation a few days later. It's always helpful to check in to make sure they got the file, see if they have any related questions, invite feedback on the information you provided, and then ask them to spread the word to their friends.)
6. Branded
Feature your logo, use fonts and color schemes that coordinate with or match your website.
7. Print-Friendly
Keep paper and ink in mind when you design your freebie. Don't have excessive margins or use unnecessary pages if possible. If you design it in color, make sure it also looks good when printed in black and white and is legible on a low quality print setting.
8. File Format
Save your printable as a PDF so that the formatting appears the same no matter the device.
9. File Name
Save your opt-in bribe with a nice file name because that file name is the same your subscribers will see when they download and save the file. (Consider restating your name and website address in the file name–spell out "dot" if necessary.)
10. File Size
Make sure your file is an appropriate file size and downloads almost immediately no matter the internet speed. Use a free PDF compression tool if necessary. Consider zipping media files if necessary to reduce download size.
Giving Away a Media or eBook File?
If you are giving away a song, video, or eBook, you'll want the email containing the download link to include points 1-5 above. Be sure to include your name and website address in the file name.
Mobi or ePub File:
Create a custom file specifically for sharing through your opt-in, including the information that it is a gift for your subscribers only and not for distribution.
Audio/Video File: