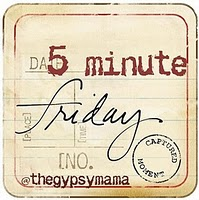 It's hard to be anything but real when we have people over for dinner.
They might arrive just moments after I've finished vacuuming the momentarily neat floor. But that doesn't mean it won't be strewn with toys before they leave. They see that our children don't always eat their dinner nicely or politely—or at all. The rolls might have turned out perfectly but I forgot to salt the soup.
But they are real friends and we talk late without noticing the time or even thinking about putting up a façade.
It's harder to be real online.
No matter how I write, it's never all of my day or everything about us. It might be more real to start out every post with a picture of the toys on the floor or the dirty dishes in the sink. It just might not be the most encouraging.
But I remember my purpose in blogging: to open up my fingers to Him as I hone my writing skills, praying to bring a bit of encouragement to someone even as I am convicted by the words I type.
And I know you'll know I'm real when I break links and misspell words and forget to salt the blog post.