10 Reasons You Might NOT Want to Babywear
I love babywearing. But in all honesty, there are some reasons you may want to steer clear of the babywearing fad. Thus, I present these ten points to consider before you jump on the babywearing bandwagon.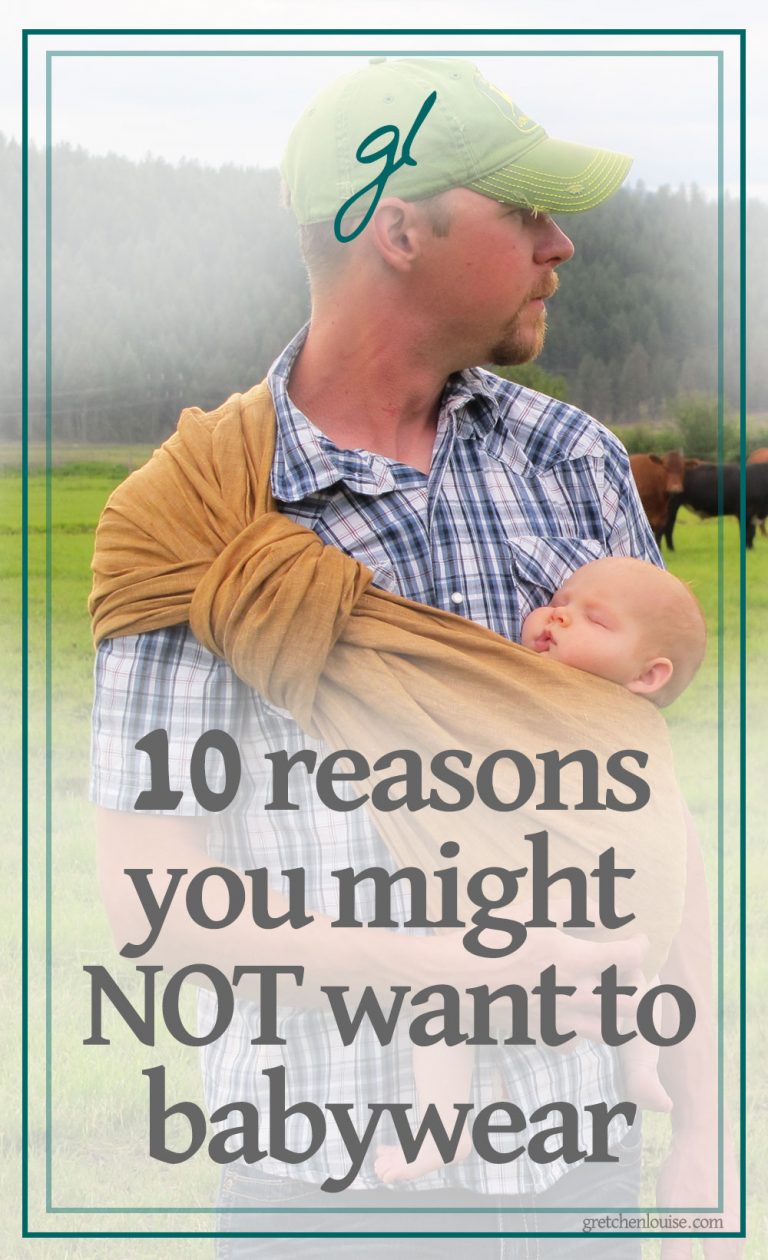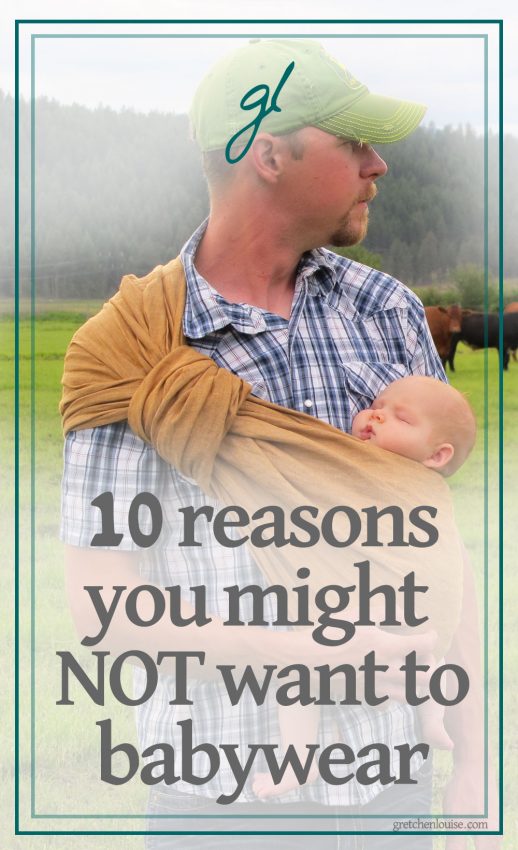 1. Babywearing makes things too easy.
Your mom raised five kids holding you in one arm and doing everything else with the other, so there's no reason you should have it any easier, right? (I'm guessing she walked up hill to school both ways, too.)
2. Close enough to kiss is addicting.
You're going to absolutely fall in love with having your baby close enough to kiss at the same time you're doing the dishes or folding the laundry. You'll probably want to start babywearing all the time. (And who has time for that?)
3. You'd rather have a backache.
Obviously it's more of an upper body workout to carry all that weight in your arms, rather than distributing it evenly across your back and shoulders with an ergonomic baby carrier. Your choice. (But they say babywearing is a workout, too. I'm just pretty sure it's easier on your back.)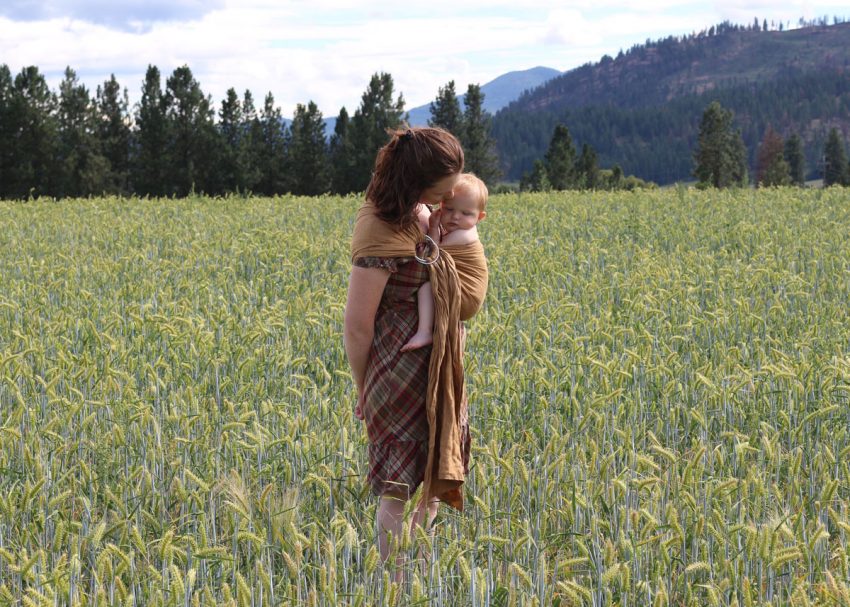 4. You'll need a baby carrier to go with every outfit.
Forget coordinating purses and shoes–babywearing moms just need a carrier to go with everything in their mommy wardrobe. (Limited though it may be in this every changing shape of life.)
5. Baby carriers are an investment.
Just like carseats, a good quality, safe baby carrier isn't cheap. But many baby carriers maintain or even increase their market value with use. (Or at least, that's the excuse we use when we buy them.)
6. You'll want to collect all the carriers.
Some women have a thing for shoes. Some collect jewelry. Others collect baby carriers. Stretchy wraps, ring slings, soft structured carriers, woven wraps, wrap conversion carriers… There's enough variety to start quite a collection. (And that's not even getting into brands.)
7. Babywearing daddies.
Need I say more? If you start babywearing, chances are your husband will take a turn or two. Especially if he finds out how cute you think it is. Which means you need to make sure you have a carrier or two on hand in more masculine colors. (Cha-ching. More investment. And more cute babies.)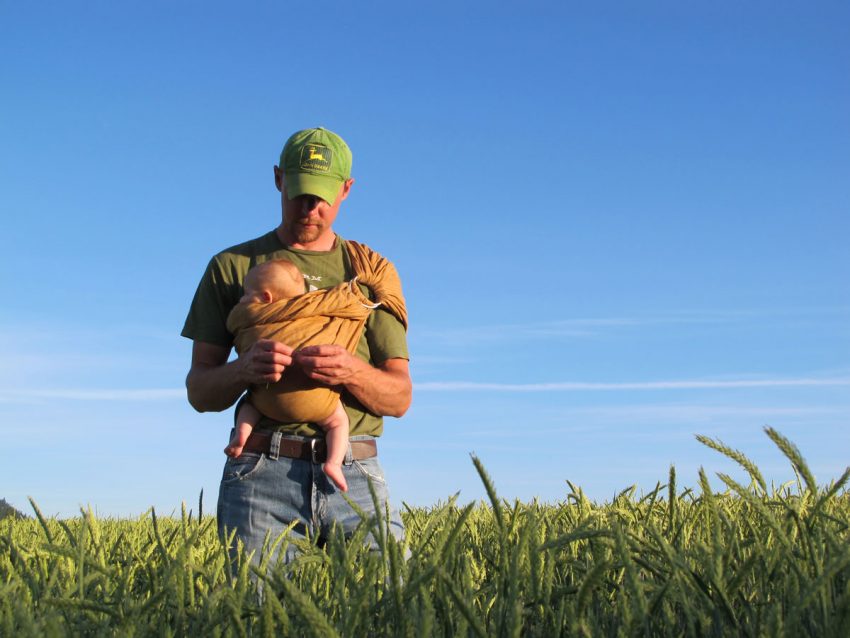 8. You'd rather wrangle a stroller.
Who doesn't love adjusting stroller wheels for the dozenth time to make sure they are going the right way? Or disassembling half the stroller to wash the spit up off again? Obviously, pushing a stroller is far preferable to carrying your baby hands free. (Besides, if you don't use a stroller, what will you use as a luggage cart in the airport?)
9. Too many #fortheloveofbabywearing hashtags.
Babywearing is so popular that there are just too many hashtags dedicated to it. It's impossible to follow just one babywearing hashtag on Instagram: brands, colors, styles, wearers. You might want to use all the hashtags, #wearallthebabies–except, it's too confusing. (And the babywearing overgramming is too much cuteness. Seriously.)
10. You'll be that little old lady.
If you fall in love with babywearing, you'll probably end up as that little old lady someday. The one in the nursing home, wearing a lifelike baby doll in a sling or wrap. (On the plus side, tying a wrap should help keep your brain active while the rest of you is stuck in those beautiful babywearing memories.)
If you're considering babywearing, I hope these ten points have helped give you a more well-rounded perspective (tongue in cheek though it be).
If you're a veteran babywearer, why would you caution moms against your favorite pastime of babywearing? Share your input in the comments!