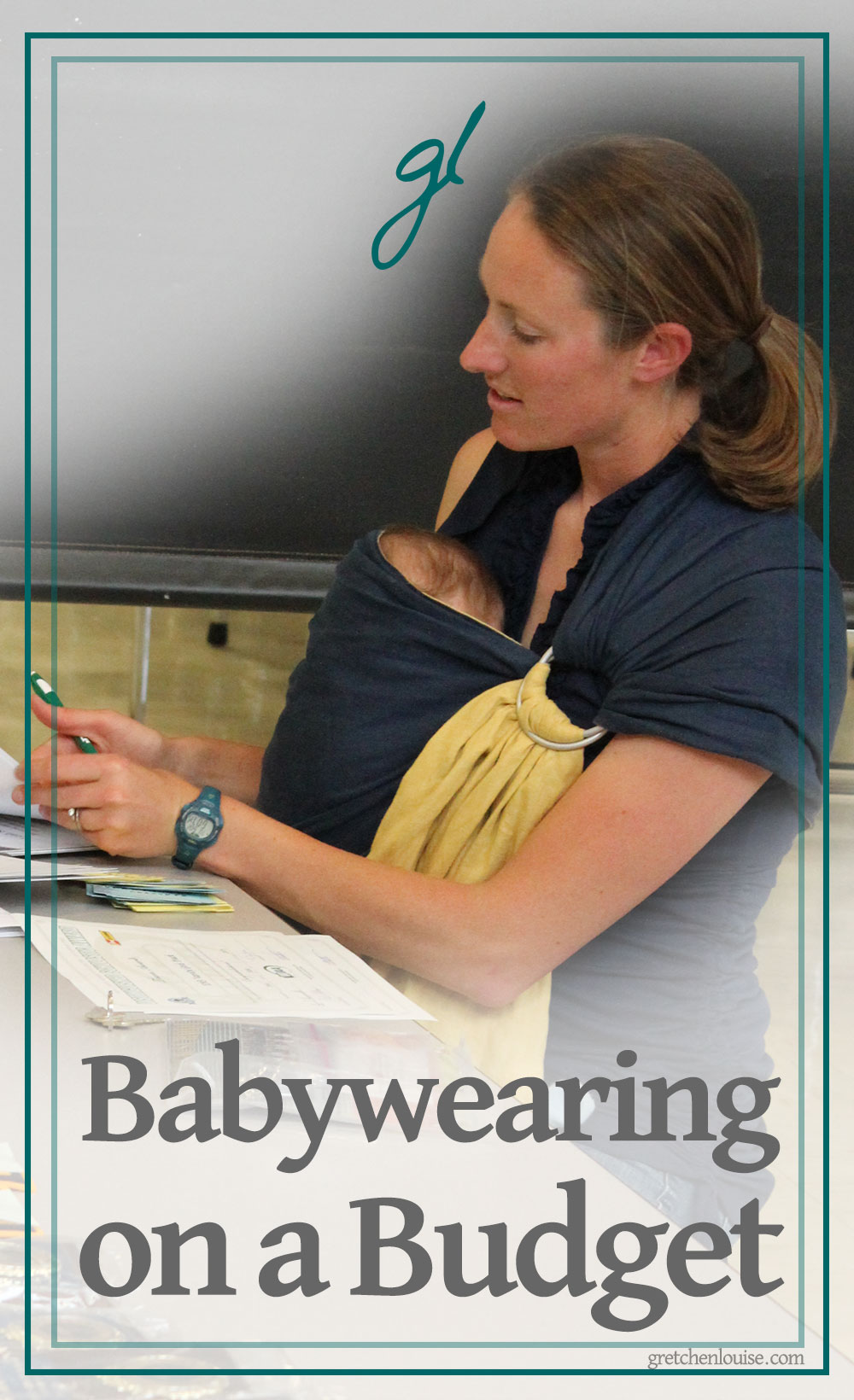 Babywearing can be expensive. But it doesn't have to break the bank.
If you have entered every giveaway for every brand of carrier, and have finally given up on winning one for free, here are some suggestions on how to babywear on a budget.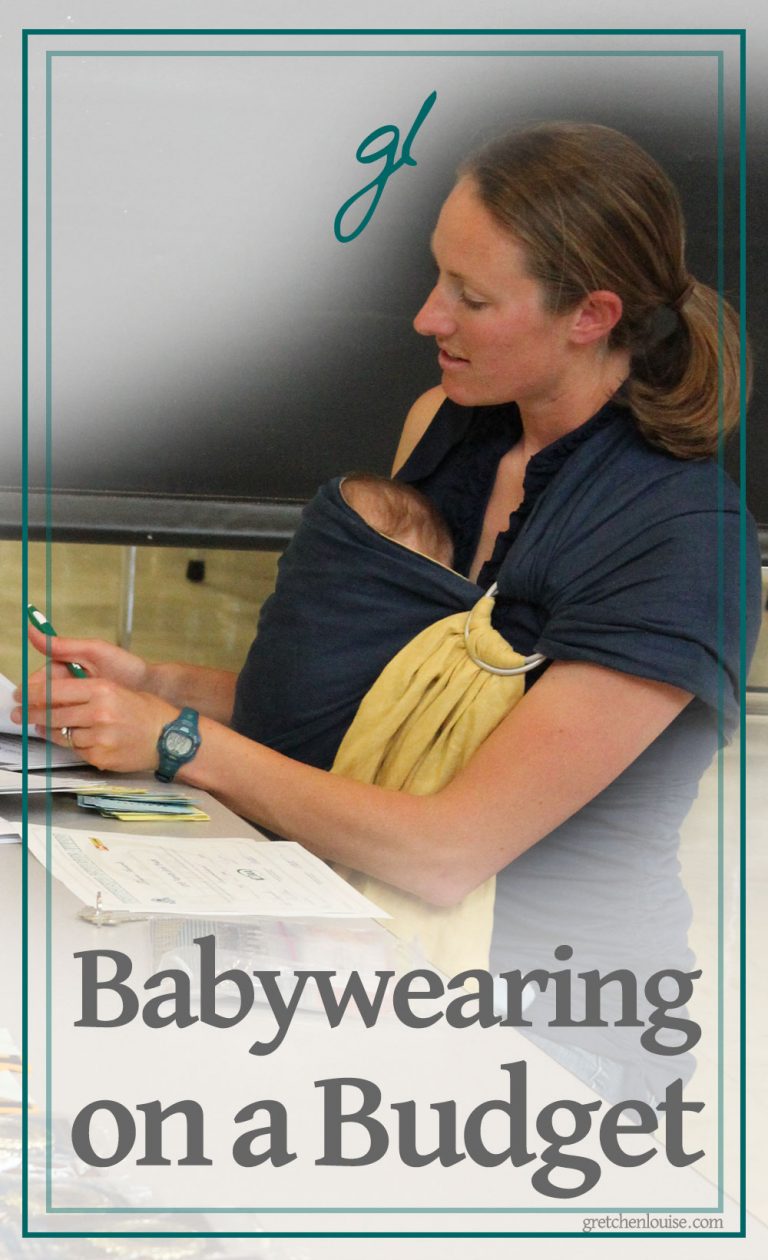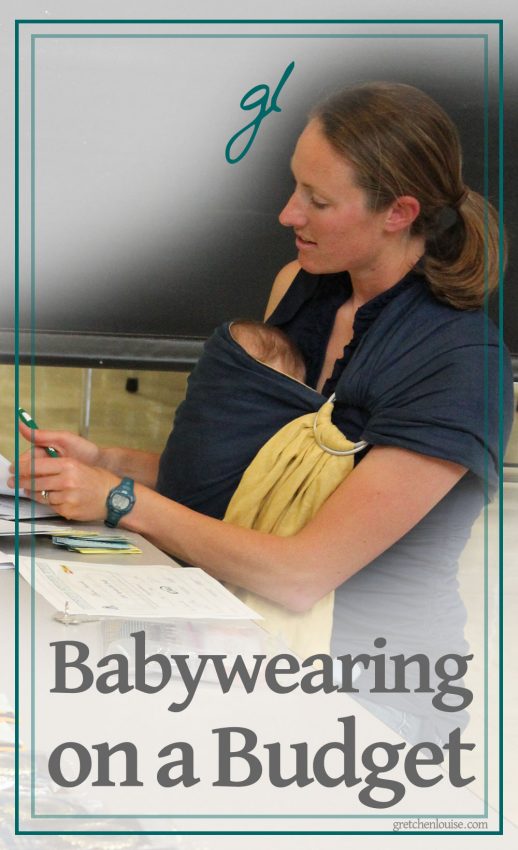 1. Decide what type(s) of carrier you're shopping for.
The sheer variety of babywearing options can be overwhelming. It's easy to be swayed by a favorite color or a promised steal, but before you start comparing prices and choosing colors, do your research. When you're babywearing on a budget, the primary goal shouldn't just be to get the cheapest price. You are looking for the best value for your money, which means you want to find a good deal on a quality baby carrier that will be comfortable for you and carry your child safely.
2. Make a list and check it twice.
Armed with your research, make a list of the top two carrier styles you're looking for as well as your preferred brands in each. Note regular retail prices in the specific patterns or fabric styles you're looking at, so you know when you come across a good deal. You'll be surprised how different prices can be retailer to retailer.
3. Buyer beware.
When you're looking at used carriers, be sure to check for tears or weak spots in the fabric. If you're swapping online, ask to see closeup pictures of any stains or defects. Inquire about action shots so you know you're not just seeing a stock image. Ask questions like:
How many times has this been washed?
Is there any fading?
Are there any stains?
Is this from a smoke-free home?
Is this from a pet-free home?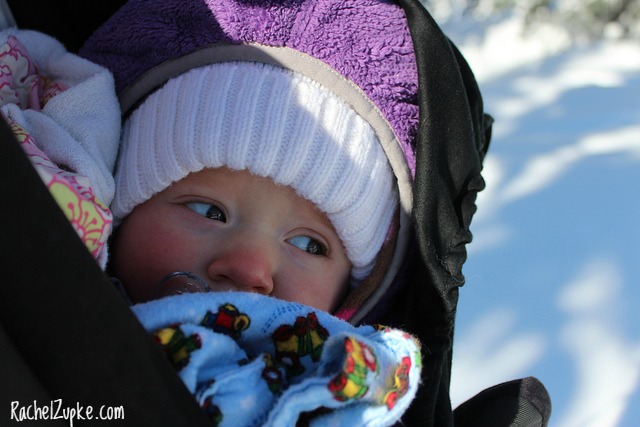 4. Shop and swap!
Now comes the most fun part–and potentially the most overwhelming! Here are some of my favorite places to shop and swap babywearing gear.
Join brand-specific babywearing swap groups on Facebook.
If you're ready to buy a wrap, sling, or carrier, there are many different B/S/T (buy/sell/trade) groups on Facebook where you can buy them second hand. Some carriers hold (or increase!) their value on the used market so do your research to make sure you're getting a good deal. While many people are simply looking to clear out their stash of carriers once their little ones are grow (this is where you'll get the best deal!), many others who call themselves "churners" are constantly buying and reselling carriers of different colors and styles at or near retail price. Either way, you'll want to check out a seller's feedback link (required by most B/S/T groups) which will give you a page of comments about transactions they've participated in and how their buyers (and sellers) have felt about their interactions.
Babywearing on a Budget and The Babywearing Swap (aka THE swap) are two that include many different kinds of wraps and carriers. You can also find specific groups depending on what you'd like to purchase. (Some are B/S/T only, while others allow for "Chit-Chat" about the carriers, so check the rules before posting!) Here are a few of our favorites:
Shop on eBay.
Searching eBay completed listings is one way to find out what kind of deal you can expect on your carrier of choice. eBay is a great place to get a deal on a collectible carrier because not all sellers will know the values of a specific fabric or style. But when it comes to buying on eBay, there are often fake versions of premium carriers being sold for less. This is illegal but they're working on filtering out the fake (and often faulty) products. You can also check a seller's rating to see what buyers have had to say about the products they've sold in the past.
Search Craiglist and other local swap sites.
Depending on how close you are to a large metro area, Craiglist, Offerup, and other local sites are a fabulous place to look for baby carriers. You can also check Facebook for local children's goods swap groups; I've seen lots of carriers sold locally this way. Either way, without the comparative pricing aspect of eBay, you're likely to find a great deal if you know what you want and keep looking. (Please keep common Craiglist safety practices in mind!)
Find a favorite on Etsy.
It's worth checking out carriers made by WAHMs on Etsy. A homemade ring sling is considerably cheaper than a high end linen version, but you have to be careful that you're buying a quality product. Homemade carriers can often be awesome – and you feel good supporting another mom – but read their reviews to find out what other purchasers thought of their product. Ask questions about their compliance with safety standards and the quality of their fabrics. A few Etsy shops to check out are Lily and Mama Market and Vienna Springs.
Check out local children's consignment shops and seasonal consignment sales.
Consignment shops are a favorite place for mommas of littles to get gently used clothing and baby gear. This makes them the perfect spot to haunt when looking for a gently used carrier with lots of life left in it. The closer you are to a large metro area, the more likely you are to find high quality brand name carriers. But if you know your prices and brands, you just might find a deal waiting for you in the most unlikely place!
You can also check out seasonal consignment events like Just Between Friends or Duck-Duck-Goose. Held regionally throughout the US and Canada, families come together to buy and sell gently used children's and maternity items, including baby carriers. They are often busy and crowded, but they're worth a try! If you want the best pick, they do sell tickets for early entry, but also often give free tickets to first time parents, military, teachers, and those selling at the sale. You can also just wait until the second day so there is less of a crowd to contend with.
DIY with care.
The number of WAHMs on Etsy are a testament to the ability of many talented mamas to make their own carrier or sling. However, DIY babywearing is usually recommended only for experienced babywearers and/or talented seamstresses. Pay close attention to the babywearing safety guidelines and compare your DIY carrier closely (preferably in person!) with reputable brands of similar style.
There are Facebook groups for all things babywearing DIY which I've found supremely helpful as I research making my own carrier. Be careful to get your hands on safe sling rings and the right kind of material (osnaburg fabric for wraps and ring slings). If you have a bit of prowess with a sewing machine, you can make your own. Bottom line when it comes to DIY babywearing, made in-house or purchased from a WAHM: don't risk your baby's safety in an effort to DIY on a budget!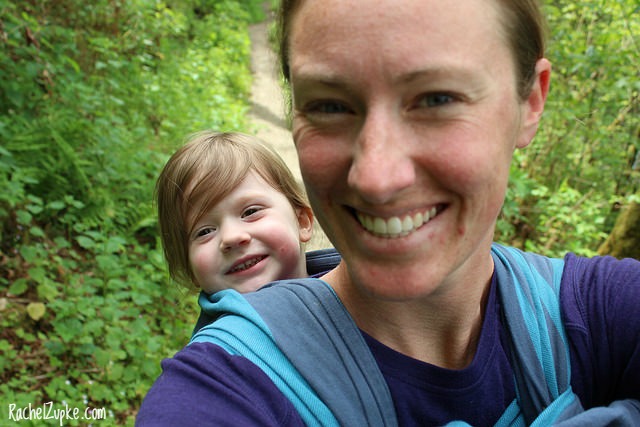 Get wearing!
With all the priorities moms have to keep in mind on a daily basis, deciding where money gets spent is almost always part of decision making. Buying a quality baby carrier, be it a wrap, sling, or structured carrier, should be an exciting investment rather than one to be agonized over. So do your research, choose your fave, and get wearing. You'll be glad you did and probably even wish you had started sooner. Happy babywearing!