(re)branding: step-by-step
"Branding is how you present yourself to the world."
-Amy Lynn Andrews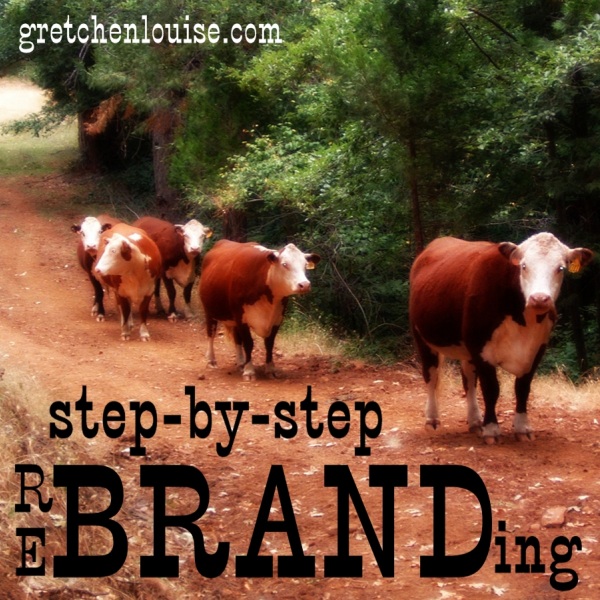 There's nothing like being part of a blogging mastermind group to get everyone redoing their social media profiles at once. While I worked on my own rebranding, I helped walk friends through the same renames and inconsistencies I was working through.
Here are the basic where-to-go steps for rebranding each social media profile…
(Don't forget, KnowEm is a great tool for a bulk check of your username. Make sure your chosen one is available everywhere so you don't get to the last account and find out it won't be consistent with the rest.)
"I recommend using initial caps and in-word caps. It will make your username more readable and memorable. For example, I use 'MichaelHyatt' rather than 'michaelhyatt.'"
-Michael Hyatt in Platform: Get Noticed in a Noisy World
Originally Branded
Here are my original and rather inconsistent social media profile URLs:
littlepinkhouse.net
twitter.com/merrittsgret
pinterest.com/LittlePinkHouse
gplus.to/merrittsgret
youtube.com/user/merrittsgret
delicious.com/littlepinkhouse
facebook.com/LittlePinkHouse
feeds.feedburner.com/littlepinkhouse
linkedin.com/in/ga_____
flickr.com/people/merrittsgret/
disqus.com/merrittsgret/
Twitter
I renamed my Twitter account from @merrittsgret to http://twitter.com/GretLouise, then immediately signed up with a new Twitter account using my old username, so if anyone came looking for me by that name, they'd still be able to find me.
1. Go to https://twitter.com/settings/account and type in your new username:

2. Scroll down and click Save Changes, then log out of Twitter or open a different browser.
3. Immediately go to https://twitter.com/signup and create a new Twitter account with your old Twitter username (which is now available for anyone to use).

4. Follow your new username and fill out your info so that your new username can easily be found by any link to your old Twitter profile:

Pinterest
Pinterest was easy—you can currently change your URL right in your profile. Go to https://pinterest.com/settings/ and type your new username:

Google Plus
Even gplus.to now gives you the option to change your URL (though I've just seen some very compelling reasons not to use gplus.to, which makes me think I'll stick to using gretchenlouise.com/gplus/ for my Google Plus social icon links). Just go to http://gplus.to/update, login with your Google account, and choose an updated user name (there does not seem to be an update function for gplus.to accounts set up for brand pages).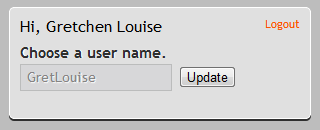 YouTube
I didn't have any videos on YouTube, but I figured I might as well be consistent there in case I ever take to vlogging (not likely!

). That was an easy matter of deleting my YouTube account—I didn't even have to re-subscribe to any of the channels I followed, because upon deleting my original YouTube account all my YouTube subscriptions instantly merged with my Google Plus account. Then I was able to set a new Channel URL at https://www.youtube.com/create_channel: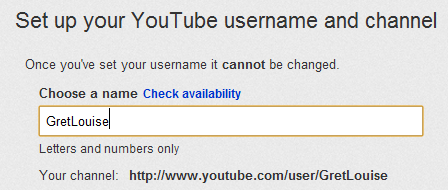 (It's probably a good idea to save a list of all your favorite channels in case you don't have the same results. And obviously, if you already have videos uploaded, you'll have to decide whether it's worth rebranding your account to have to upload all your videos again to a new account, losing the view count and any channel subscribers in the process. Here's more from YouTube's help on the matter.)
Delicious
Unfortunately, Delicious gave me no rename option. (Reddit is the same way.) But since I didn't have any followers on Delicious itself (just on the RSS feed of my Delicious links), it was fairly simple to export my links, create a new account, import my links, and delete the old account (two links got lost somewhere in the shuffle, but I'm not too worried—they were likely duplicates).

Facebook

And that brought me to Facebook. Since I had more than 200 likes on my original Facebook page, I couldn't change the page name. They are allowing you one URL change now, so that would have been workable, but I'd have been permanently stuck with "Little Pink House" as the page name. Update: Name change requests are now available to all page types with more than 200 likes!

So, following in the steps of another redheaded blogger, Sarah Bessey, I created a whole new page, and have been asking everyone to like it before I delete the old one. I'm fairly sure I'll lose on overall numbers, but at least I'll know I have quality fans. I'm aiming for more personal interaction on my new page, and I think that having my own name and face there should help, since people will be commenting to me and not a postage stamp.


Facebook Page Names Update: There's no need to create a new Facebook page now, because Facebook allows pages of any type to submit a name change request (just once), and a URL change (twice). You can even request to merge a smaller page into a larger one.
LinkedIn
LinkedIn knows you may need to change your URL. Just go to http://www.linkedin.com/profile/public-profile-settings and click "Customize your public profile URL":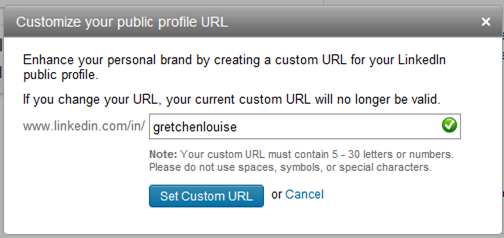 Disqus
The first few times I tried to update my Disqus username, I didn't have any success. But it finally worked—just go to http://disqus.com/dashboard/#account and type in your chosen username.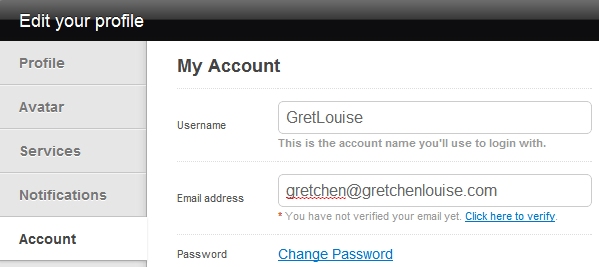 Goodreads
It's an easy change on Goodreads! Go to http://www.goodreads.com/user/edit?format=html and customize your URL:

Flickr

You can change your Flickr screen name, but if you've already customized your Flickr URL, you're stuck. I had so few pictures uploaded to Flickr that I decided to go ahead delete my old account, create a new profile and re-upload the pictures. If I'd already been a very active Flickr user, I'd probably have opted to just change my screen name and let my URL be outdated.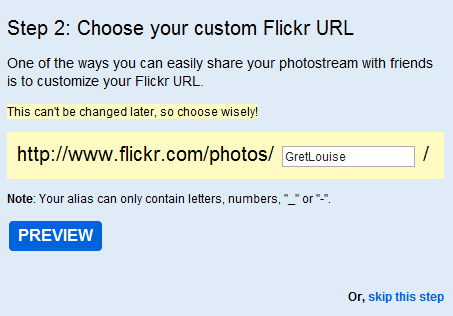 Feedburner
Feedburner has me stuck. I've read too many horror stories of losing all your subscribers when changing feed URLs.

I vacillated between create a new Feedburner feed using my new name or just not letting the one, rather hidden, inconsistency bother me. I tested it with a comment feed I didn't care about, and the subscribers dropped and stayed low, which didn't make me want to try it on a bigger list. So for now, I've decided to forget about the inconsistency (and from the looks of the Feedburner URLs of other bloggers, I'd say I'm in good company.)
Additional Profiles
Instagram
Go to http://instagr.am/accounts/edit/ to change your username. (Click here for more info.)


StumbleUpon
Go to https://www.stumbleupon.com/settings/profile to change your username—this can only be done once.

(Re)Branded
Here are my (re)branded social profile URLs:
Have you gone through rebranding? What did you learn along the way?
Read More: my personal (re)brand >> consistent (personal) branding >> more personal branding tips