Top Ten Must-Have Features of a Related Posts WordPress Plugin
by Gretchen Louise with Kelly Kathleen
Many WordPress bloggers ran their plugin updates in early December to see a notice announcing the discontinuation of their favorite suite of related posts plugins: nRelate Related Content, nRelate Most Popular, and nRelate Flyout. We had until 5pm EST on December 31, 2014 before the nRelate plugins and service stopped working, according to the nRelate blog. Which left us searching our favorite WordPress sites and asking our mastermind group members: What related post plugin shall I use now?
In my search for a new related post plugin, I decided that it would be helpful to establish what features were most important to me and to my clients in a related posts plugin. With this top ten list in mind, my friend Kelly and I set out to review the top plugins found in the WordPress plugin directory, and those we saw mentioned frequently in reviews on on social media.
This will be a growing, changing list as we work to find the best solution for our own blogs, and that of our clients and friends. We'd love it if you'd comment with your own questions, related posts plugin must-haves, and the options you've decided on!
1. Easy to Install
Ideally, a related posts plugin would be easily found and installed from right within your WordPress dashboard–no downloading or uploading necessary. And no account to sign up for or password to remember.
2. Featured Post Thumbnail Display
A picture is worth a thousand words, especially where related posts are concerned.
3. Default Thumbnail Image
Not all posts in the archives have featured images. A good featured post plugin allows you to specify a default thumbnail image in case there is no image in the post.
4. Layout Template Options
Not all bloggers know CSS. A few basic layout options make it easy for anyone to choose how their related content appears: title only, image only, or a combination of title, image, and post excerpt.
5. Custom Options
No more "You might also like:"–a good plugin allows you to change what text (if any) appears before your related posts. Custom thumbnail sizes allow you to make your related content as unobtrusive as you'd like.
6. Display Options
Not everyone wants related content to appear on every page and post right before the comments. Shortcodes, widgets, template tags–the options should be nearly limitless for how and where you can display related content, including the footer of posts in the RSS feed.
7. Relevancy Options
How does the plugin determine post relevancy–title, category, tag, post text, or a combination of both? And how relevant should related posts be–very relevant or only slightly relevant? Plugin options should allow you to specify how relevant content must be and what to display if there are no related posts found. Otherwise, a way to control related content on a per post basis is necessary.
8. Exclude Categories/Posts
Not every post belongs in featured related content. A good related content plugin allows you to exclude posts from inclusion by category, tag, ID, or post age.
9. Defaults to Your Own Site's Related Posts
It's fine if a related post service wants to offer promotion for other sites, or even allow advertising. But those options should be off by default, and easy to find and understand.
10. No Additional Server Load
A great related post service takes the load off your server, taking care of the caching (and the headaches) for you. (Check out this performance review of several popular related posts plugins.)
Bonus Tip: Read the Privacy Policy and Terms of Use.
No matter how good a plugin might appear on the outside, be sure the company behind it is respecting your site and visitor data privacy on the inside. Look for a company that does not harvest user information, place tracking cookies, or sell reader or publisher data.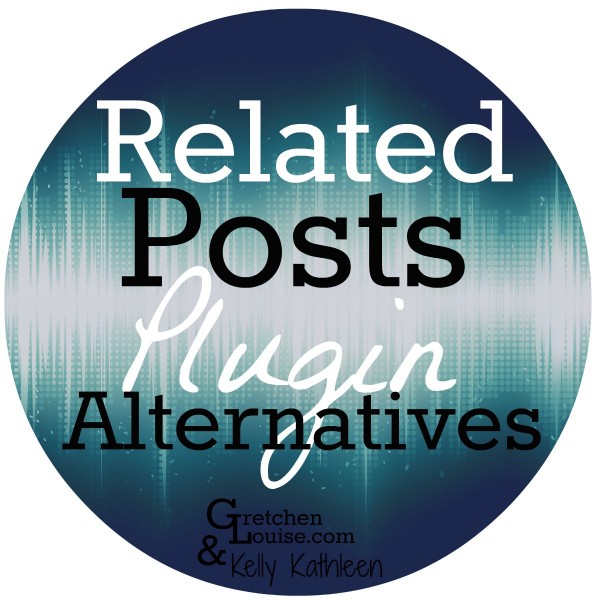 Top Related Posts Plugins for WordPress
So, now that you know what you're looking for in a related posts plugin, what are your options? Here we've reviewed the top options we've found. We'll add to this list as we find more, better plugins, so keep checking back!
Rating: 6 (and growing) out of 10
Limk is a brand new plugin to keep your eye on. With new features being added constantly, this plugin may end up becoming as good or better than nRelate.
Signing up for a free Limk account automatically walks you through the process of adding a site, and then creating as many widgets as you like for the site. You can choose from responsive, vertical, or horizontal widgets, with further layout options within each widget type. From there, you copy a bit of code to paste in your Limk settings within your WordPress dashboard, once you download and install the plugin (it will be coming to the WordPress plugin directory once it's ready).

Once you're in WordPress, the setup gets a bit more tricky. But I was promised that the whole process will soon be streamlined for WordPress. There's a live chat box available any time you're in your Limk account, with helpful representatives to walk you through each step. Limk also sends you an email with each widget code you set up in your account.
A key feature I noticed in the Limk Manage Sites area is that I could choose to re-index any of my sites, in case I'd made lots of changes or deletions. This data is all stored on Limk, placing no additional strain on my server. There's also a drop-down option to help diagnose any issues on one of the sites in your dashboard. The Limk Analytics area promises to be very helpful, tracking impressions and click-throughs on a per-site or specific widget basis. I'd love to see email reports added to Limk Analytics as well.
While Limk has plans to include options for publishers and advertisers, I was assured it would always be a free service for any site size, and that the ads would be opt-in and not a default option. I'm looking to Limk to provide a lot of the features users miss from nRelate (especially the ability to specify relevancy and exclude posts/categories from being indexed/displayed). Here's hoping they don't disappoint!
Rating: 8 out of 10
Upon installing the Contextly plugin, you're walked through a beautiful demo of how Contextly works, allowing you to choose your own options as you go. As soon as you've entered your site info and added the API key to your WP dashboard settings, you can set two orientations of default thumbnails, choose your layout, and specify what different sections to include. Contextly lets you add two RSS feeds for "Interesting" posts and a "Custom" section (like a YouTube feed). There are also in-post sidebars you can create or add automatically. There are many additional font and custom CSS settings available, too. Contextly's Advanced settings within your WordPress dashboard allow you to choose what types of posts/pages are included in related content, as well as providing a shortcode to change the default placement.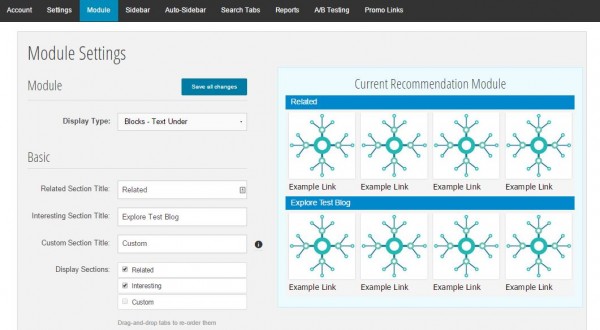 I reached out to Contextly for a bit of explanation on how they gather their contextual information, and was told by Ben: "All links displayed by Contextly's modules are internal, i.e. your content. Contextly is not an ad unit. Although, you can use it to run your own in-house promotions." I discovered that you can also specify directly related links from within the post edit area.
Ben further explained that they put temporary (and possibly not very related) recommendations from my site in place while my site is indexed. After that, they create at least two sets of related data for each page and actually run A/B tests on that related data to see how it performs. Plus, their plugin tries to determine my evergreen content as well. Apparently the entire process gets smarter the longer the plugin is on your site.
Since Contextly tracks the click stats, the URLs are all redirected through contextly.com (though the actual post permalink is displayed when you hover over the link). Ryan answered my query about the link format: "All of those links are 301 redirects – which essentially tell Google to ignore the middle link as the real destination is different… We (and you) want Google to follow those internal links – we just want them to ignore that they flow through us."
If you have less than 10k pageviews a month, Contextly's free plugin might be worth a look. Keep in mind that it does display the Contextly logo with your recommendations, and white-labeling is not allowed. (If you have more views than that and are looking for a solid plugin for a price, they have a monthly pricing structure.) Finally, Ryan from Contextly assures me, "Contextly prides itself on having a privacy policy that respects readers and we do not sell reader or publisher data."
Rating: 6 of 10
Upon activating Shareaholic, you have to agree to Shareaholic's Terms of Service and Privacy Policy. Next you have to wade through options, options, and more options. By default, the Shareaholic plugin turns on Related & Promoted Content, Share Buttons, and Monetization. If you're using another social share plugin, you'll want to uncheck all the Share Buttons options. And unless you want to give Shareaholic a share in your blogging income, you'll want to change the Monetization settings from their defaults which let Shareaholic show ads after someone shares your post (they keep the revenue on that), insert affiliate links into your posts (presumably you get the revenue and they do not overwrite your current affiliate links), and promote other posts in your related posts section (this is touted as another way for you to receive income but you have no control over the links that appear). While a Shareaholic account is not required to use the plugin, you can access additional settings and features by signing up and linking your blog to an account at shareaholic.com. One of the features available through a Shareaholic account is a Cookie Consent Banner to notify your site visitors if your site uses cookies (what is not clear is if the Shareaholic plugin automatically places cookies on your visitor's computers regardless).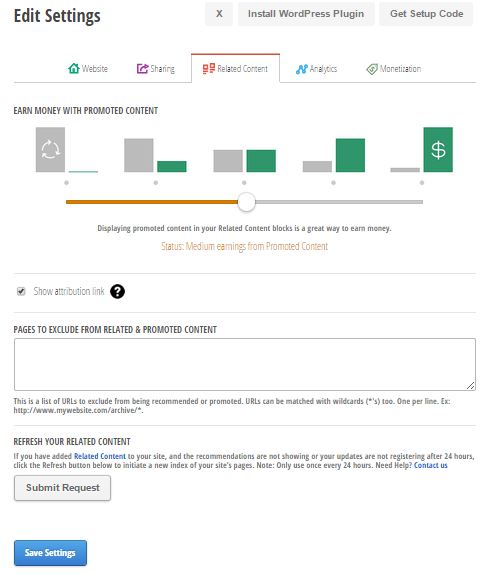 As to the actual Related Content options, there are some nice predefined templates, and a shortcode to place the template you've chosen wherever you like. (If you sign up for a free Shareaholic account, you can create multiple instances of Related Content with different layouts/options, using different shortcodes and template tags. Look for "App Locations" in your site settings within your Shareaholic account.) I did not see any spot to specify a default thumbnail image if there was no image in the post (though you can use a custom meta tag to specify an image). Nor can you exclude posts by category–only by specific URL (or by checking the option within the post edit area to exclude the post itself from related posts). By default, there is an icon to Shareaholic appearing with your related posts, but that's easy to uncheck. You can also request a re-index of your site for a refresh of related content. Ostensibly Shareaholic provides analytics through the checkbox "Use trusted third party data services", but I was not able to find stats anywhere in the account.
Though I have a lot of concerns about Shareaholic, at least it provides direct links to your post URLs.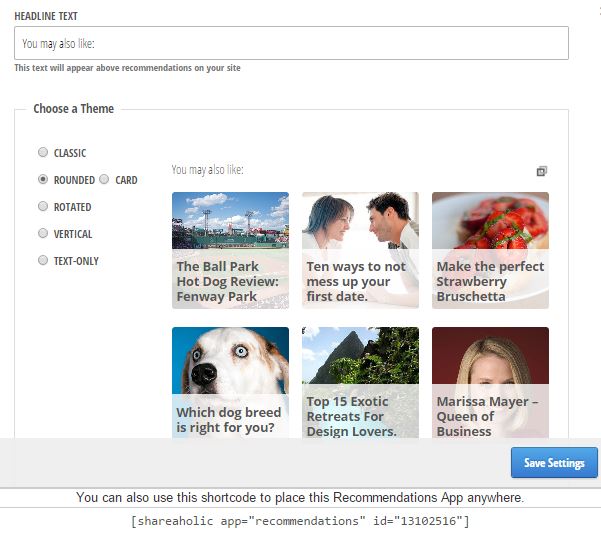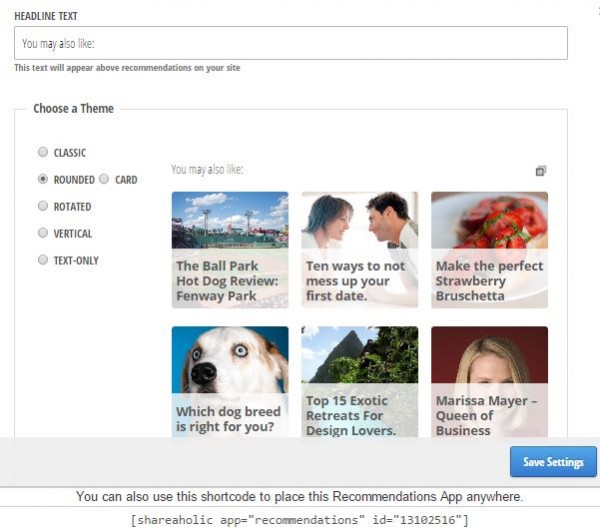 Rating: 4 out of 10
If you're already using the Jetpack Plugin on your blog (and though I haven't always thought Jetpack was a good idea, I'm encouraged by the Jetpack speed reports I've seen lately), the Related Posts module that Jetpack offers may suit your needs. Visit Jetpack Settings to activate the Related Posts module, then click Configure to choose whether to display a "Related" header, and whether you want the "large, visually striking layout" that includes post thumbnails. That's the extent of the admin area options for related posts, but you can customize it further if you are comfortable with editing your theme files.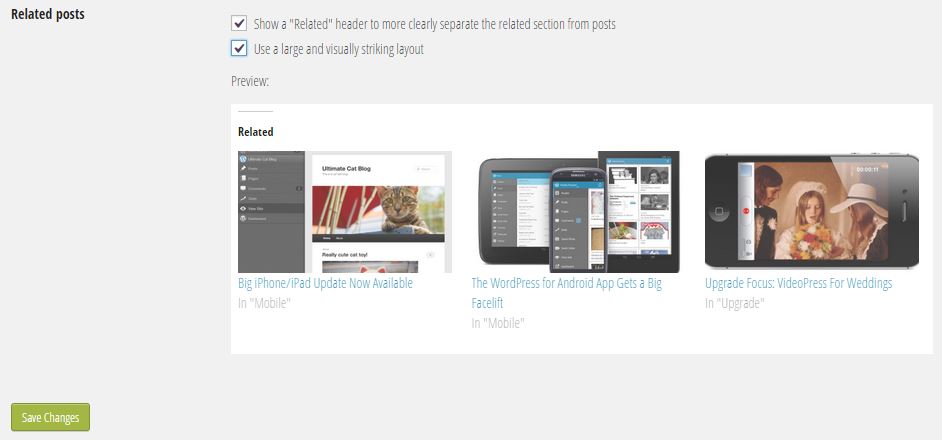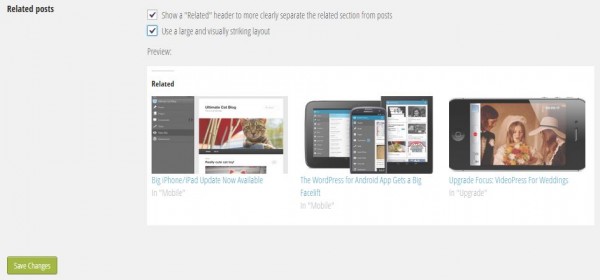 Rating: 8 out of 10
Easy to install, with clear, easy to understand custom options, this plugin works great out of the box–as long as you don't want it to display thumbnails. The layout using thumbnails leaves a lot to be desired, and would require some custom CSS (but there's a box for that, and it allows you to specify additional CSS to surround each related post).
Set caching, choose the number of posts and age of posts, display excerpts with post titles, open links in new window or nofollow links, exclude by post type or category or ID, there are options enough to make anyone happy. You can specify a default thumbnail, ask it to grab the first image in the post, and set image size and crop. Unlike many related posts plugins, you can also display your related posts in your RSS feed. In addition to automatic placements, there are shortcodes, template tags, and a widget available. And you can tell the plugin to display nothing (rather than "no related posts found") if there is no related content.
So with all the options, what's the catch other than an ugly default thumbnail layout? Reports are that Contextual Related Posts is a site resource hog, and some managed WP hosts actually block its use–even though this performance report gave it great marks. Judging by the options in the admin area, you might be okay if you choose to only base the related posts on title without including content. The plugin author notes by the checkbox: "Find related posts based on content as well as title: If unchecked, only posts titles are used. I recommend using a caching plugin or enabling 'Cache output' above if you enable this."
Rating: 7 out of 10
YARPP is easy to install and has a page of basic options to give you fine-tuned control over your related posts. Being able to choose what is considered to consider a post related content (title, post body, category, tag) makes this plugin the most effective at actually choosing related posts. Specify a default thumbnail, heading, and what text to display if there are no related posts (there is not an option to hide it altogether, which is unfortunate since this plugin does such a good job declaring what content is related that there may be times when no related posts are displayed). There are checkboxes for where to display related content (posts, pages, media, feed) as well as a template tag for custom inclusion.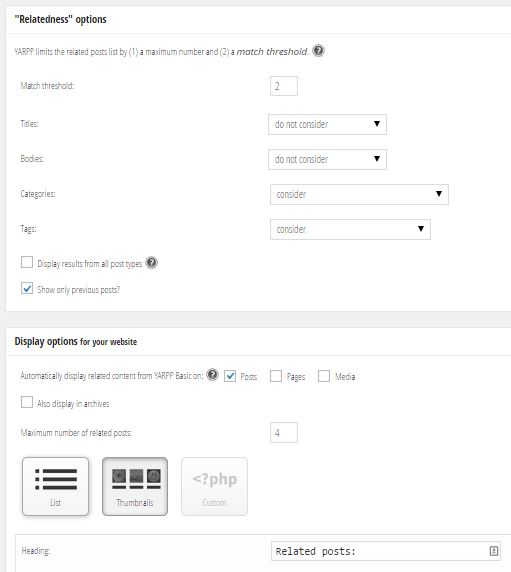 You can also activate the free "YARPP Pro" by signing up for an account, which provides options for recommending content from other sites in your network. However, to use the "Recommendations" widget, you are also required to display at least 25% of YARPP's sponsored content as well. This does allow you to make money from the ads, but may not be an option you're interested in. YARPP Pro also provides a sidebar widget of entirely sponsored content.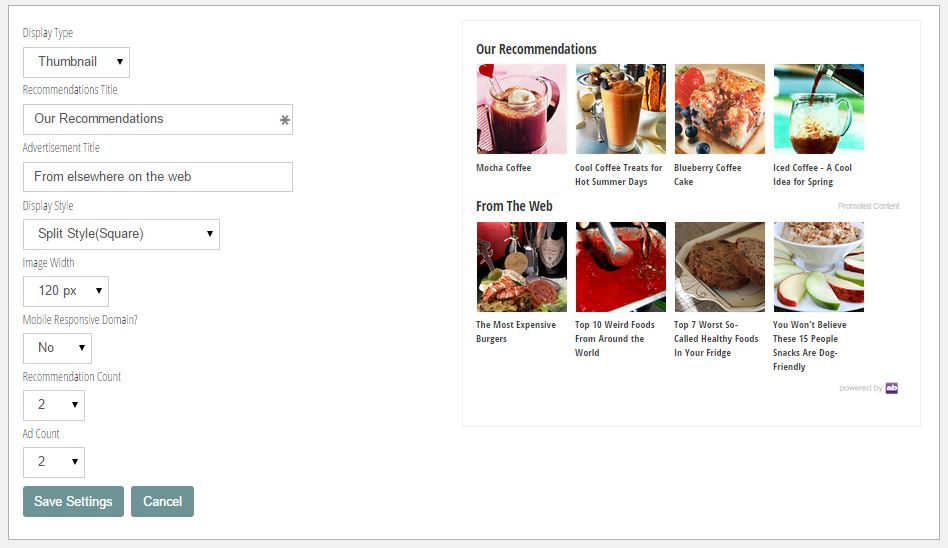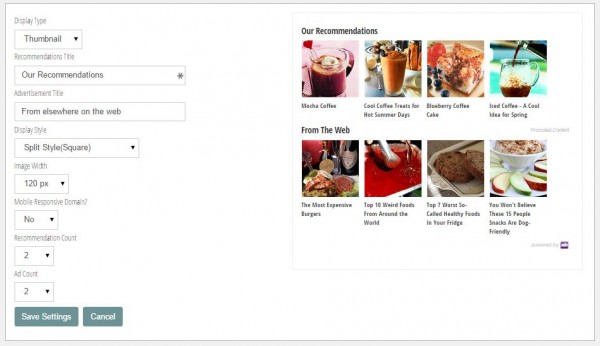 Despite its ease and features, the biggest issue with YARPP is the load it places on the WordPress database with all its searching for related posts. It is another of the plugins banned by managed hosts, unfortunately making it a drain on resources that bloggers with shared hosting should beware of.
Rating: 4.5 out of 10
While easy to install, Related Posts for WordPress doesn't look fabulous out of the box. Checking the box to display images makes it even more clunky–especially because the plugin does not set a size for the image, but uses whatever your Media Settings specify as your thumbnail size. You'll be glad there's a custom CSS box within the plugin settings so you can make it appear how you want it (if you know CSS). There's no option for default thumbnail, and you have to go through the Installed Plugins page to find the Related Posts for WordPress settings. Of course, this plugin has a premium option, which may eliminate some of these issues. The only real advantage I see to this plugin is the fact that you can manually specify related posts, as well as change and reorder related posts on the edit post page. And, as a matter of courtesy, the plugin author provides a check box that removes all plugin data upon uninstallation.
Popular Posts Plugins
If you're missing nRelate's Most Popular plugin, here are a few options to try:
So what do you think? Which plugin are you going to try first? What features are must-haves for you?