Understanding ShareASale Affiliate Links
When you first get started in affiliate marketing, you're hit by a barrage of information that makes little or no sense, especially if you aren't the blogger type. What are cookies? How do affiliate links work? Which link do I use? How can I include an image? What's a disclosure?
Well, I'll start with a disclosure. This post on using affiliate links contains affiliate links. Each time I link to a site below, I have used the opportunity to include my own affiliate links. This means that–at no extra cost to you–I can make a commission on a purchase you make–or if you sign up as an affiliate yourself–after clicking on my affiliate links. For more information, read my full disclosure.
This post will attempt to simplify the use of ShareASale, a program that acts as the host for the affiliate links of a myriad of companies. I'll be using Panstoria as the example affiliate program.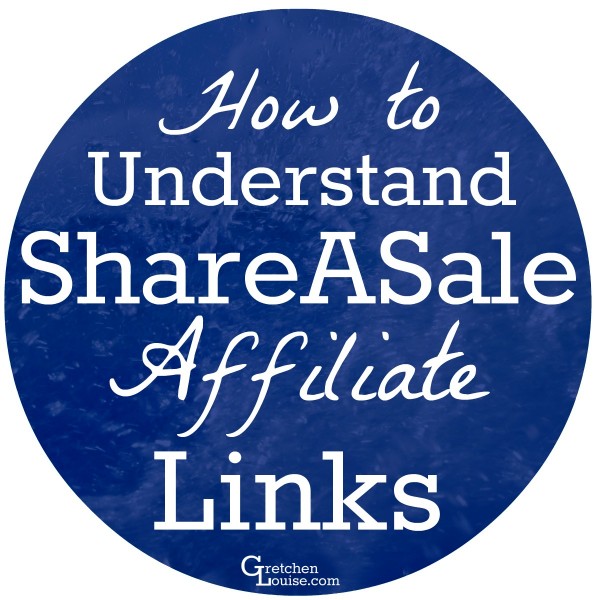 How do I sign up for ShareASale?
Go straight to https://www.shareasale.com/newsignup.cfm and complete the simple signup steps.
If you don't have a website, you can put your Facebook page address in the spot for primary affiliate website in step 2. (Which means you'll choose "NO, THE EMAIL ADDRESS I USE WILL NOT MATCH THE DOMAIN OF THE WEBSITE I ENTERED" in step 3.)
If in doubt, answer no to the website information questions.
Once your application is completed, it may take awhile for your account to be approved. Watch for emails from ShareASale (be sure to check your spam).
How do I sign up as an affiliate for a specific program in ShareASale?
Go to https://www.shareasale.com/ and click "Affiliate Login" if you're not already logged in to your account.
Hover your mouse over "Merchants" and click "Search for Merchants" (or bookmark https://www.shareasale.com/a-programs.cfm).
Enter the name of the merchant you're looking for, and click "Search".
Find the merchant and click "Join Program".
Most merchants request that you describe your promotional plan (i.e. sharing links on my Facebook page) and read and agree to the program agreement before you click "Join this Program".
Now wait for the email notifying you of your approval!
How do I find my affiliate links?
Go to https://www.shareasale.com/ and click "Affiliate Login" if you're not already logged in to your account.
Hover your mouse over "Links" and click "Get a Link/Banner" (or bookmark https://www.shareasale.com/a-links.cfm).
Scroll down to your list of Merchant Programs, find the program, and click "Get Links".
Find the "Default Text" listing and click "Get HTML Code".
Select the address listed as the "shortest code available" and click Control/Command + C to copy the link.
That link is your primary affiliate link!
Which links should I use?
Text Links
The "Default Text" link is always the primary link that goes straight to the home page or primary product of the affiliate website. (In our example case, my default Panstoria affiliate link http://www.shareasale.com/r.cfm?B=489180&U=667741&M=47864&urllink= goes to https://www.panstoria.com/store/detail/artisan_4_software.)
You can choose any of the other text links to get the direct website address to a specific product or page on the affiliate website. (For example, clicking "Get HTML Code" next to "Historian Text Default" gives us my affiliate link http://www.shareasale.com/r.cfm?B=510877&U=667741&M=47864&urllink= which takes us to http://www.panstoria.com/store/detail/historian_4_software.)
When using text links, you'll always want the shortest code available–unless you're embedding a link in an HTML email, blog post, or website page.
Banners
Choose banners if you are able to edit the HTML source of an email, or if you are putting the images in a blog post or website page. The banner links provide the entire code to put the image in your email or blog post, as well as link the image directly to your affiliate link.
Alternatively, you can also use the Banners section to save an image to upload to Facebook or add to your email:
Click "Banners".
Click on your banner of choice so that it brings up the full size banner and related code.
You can simply right click your mouse on the image and click "Save Image As" (or similar command). But for the highest quality image, select the "img src" URL and open that image link in a new browser tab.
Save the image to a spot on your computer that you can find it (for example, a folder under "My Pictures" called "My Affiliate Images")
Create Custom Link (License Plate Links)
If for some reason you have need of linking directly to another page on the affiliate website (i.e. the support page) you could create a custom affiliate link that would actually credit you for any sales that resulted after someone had visited that page.
But the most helpful option in the custom links section is the "License Plate Link". This shortens the long affiliate URL into something a bit shorter for sharing.

For example, I can shorten my affiliate link to https://www.panstoria.com/store/detail/artisan_4_software (normally http://www.shareasale.com/r.cfm?B=489402&U=667741&M=47864&urllink=) down to http://shrsl.com/?~7na7.
And yes, that means that the "shortest link available" really isn't the shortest link available–it can be shortened again! But please be careful with this feature–it's easy to add too many https:// and end up with a broken link. It's probably best to only use the custom links section if you're familiar with ShareASale and HTML links.
Please note: there are other URL shorteners available (bit.ly and goo.gl to name a few), and while some use them to shorten long affiliate links, it's rarely wise to do so. You may end up with a big warning about potentially malicious code when people click your shortened link, because of the fact that the URL shortener recognizes an affiliate link. When in doubt, it's always safest to stick to the URL shortening options provided by the affiliate program itself. The exception to this rule is when you own your own domain name (yoursite.com)–you can create redirect rules and cloaked affiliate links (yoursite.com/affiliate/) using the .htaccess file, WordPress plugins, etc.
Two Tier Text Links and Banners
These links are the ones you want to use when you're recommending that someone else sign up as an affiliate. Because that way, you could get additional commission from the signup and sales of those affiliates.
It's important to note that not all affiliate programs give credit for two tier referrals, so check with your affiliate program before you assume you're making an income on affiliate sign-ups.
Other Link Options
Depending on the affiliate program, ShareASale may display additional link options, such as "Product Showcase" and "Make-a-Page". Check ShareASale Support for more details on these features.
How do I include a link or image in a social media post?
For social media posts, you will want to use that "shortest link available" (or the "License Plate Link") for any affiliate link you're sharing.
If you want to add an image to your social media post, upload an image you've saved (see above) directly to Facebook, and then caption it with whatever text you'd like (including a disclosure) followed by your "shortest link available" affiliate link.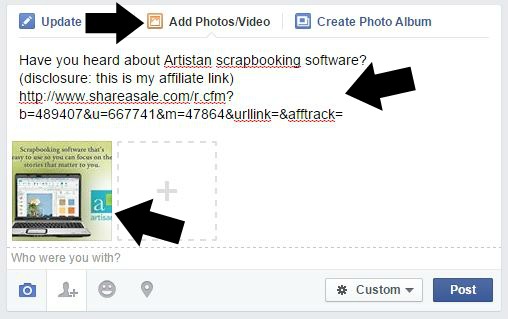 How do I include a link or image in a blog post, website page, or sidebar widget?
You'll want to find directions for editing the HTML source of your post/page/widget that is specific to your website's platform. But when you're pasting a link or image link in the HTML source (it's the "Text" tab or widget in WordPress), you'll want to grab the entire code that starts with <a and ends with </a>.

If you're linking to an image, the code will include "img src" within it.

(For more on using code, check out my 5 minute guide to HTML.)
Do I have to disclose that my links are affiliate links?
Every time and place you use an affiliate link, you are required by law to disclose your affiliate relationship with the company. The Federal Trade Commission (FTC) guidelines state that any time there is "a connection between the endorser and the seller of the advertised product" that connection must be "fully disclosed". In addition, most affiliate program agreements state that your affiliate relationship could be terminated if you are found not to be disclosing the material connection between you and the affiliate company.
The disclosure can be as legal sounding or as personalized as you like, but it needs to come before any affiliate links, and appear in the same general font size and color as the rest of the text around it (i.e. you can't hide the disclosure in tiny pale text).
If you have your own blog or website, it's easy to create a disclosure page with all the details, and then link to that in a brief disclosure on every page you use affiliate links–as long as that brief disclosure provides enough detail in a close proximity to the affiliate link. Click here for more details on FTC guidelines for affiliate links as they relate to bloggers. (If you're a WordPress blogger, there are many ways to make disclosure easy and nearly automatic.)
How does a ShareASale affiliate link work?
When you join ShareASale and get the code for an affiliate link, it is a link that appears to be to shareasale.com. That's because the link briefly visits ShareASale to obtain a tracking cookie (you may see the link redirecting in your browser address bar, but you won't see another page load between the affiliate link being clicked and the final destination being reached).
Affiliate link is clicked.
Browser visits shareasale.com.
Shareasale.com installs a tracking cookie on the web browser, associating any sales at the final destination with the affiliate identified in the affiliate link
Browser redirects to the final destination, where, thanks to the tracking cookie, any sales that visitor makes at the affiliate site will result in a commission to you, the affiliate.
What do all the numbers and characters mean in a ShareASale affiliate link?
Every single character in that crazy looking affiliate link is completely crucial to the tracking of your affiliate ID and the ability to credit you for the resulting sales. The anatomy of the link will vary depending on the type of link chosen, but every variable is important. Here's why:
u = user: the numerical ID of the affiliate or "user" (your affiliate ID)
m = merchant: the numerical ID of the merchant (example, Panstoria's merchant ID is 47864)
b = banner: the numerical ID identifying the kind of link you've chosen (whether it's text, banner, or two tier)
d = deal: the numerical ID used when a coupon or deal is involved (not available with all affiliate programs)
How long does a ShareASale affiliate cookie last?
Panstoria affiliate links create a tracking cookie that lasts 90 days after the initial click-through using your affiliate link. Different affiliate programs will have different tracking cookie expirations, so be sure to check the details of your affiliate program (you can click to "View Program Description and Affiliate Agreement" under each merchant on the "Get Links/Banners" page).
Cookies are usually browser specific, which means that you could click an affiliate link in the Internet Explorer browser, but it would not apply to a purchase made in the Chrome browser or FireFox browser unless you'd first clicked the affiliate link in those browsers. By the same token, cookies don't often sync between devices. That means purchases made on a device like a phone or tablet need to be initiated by clicking on the affiliate link, as well.
How can I make sure my affiliate link is being used?
To be sure it is your affiliate link being used, each online "shopping trip" should begin by clicking on your affiliate link. Rather than visiting a browser bookmark, Google search result, or saved link to the site (for example, Panstoria.com), the customer needs to click on your affiliate link before they proceed to make their purchase. That pre-purchase click-through can come a week or month before they make the final purchase (depending on the length of the tracking cookie), as long as tracking cookies are in place and they are using the same browser they used to make the initial click through–and assuming the browser's cookies have not been cleared since the original click.
Since your affiliate link instantly redirects to the final URL, it is not easy to bookmark your affiliate link (except by manually adding a browser bookmark). Thus, if you want to suggest your customers bookmark a link to use at the beginning of each online "shopping trip", have them bookmark the about section of your Facebook page (https://www.facebook.com/yourpageusername/info) or your own website–anywhere you have a disclosed list of the appropriate affiliate links.
To ascertain that they are not using anyone else's affiliate links, a technically savvy customer could clear their browser cookies or selectively delete any cookies in their browser settings relating to the affiliate website, and then re-click your affiliate link.
When and how do I get paid?
ShareASale makes payment via direct deposit or check. (Check your payment settings by clicking Account, Edit Settings.) Payments are made on the 20th of every month for the previous month's commissions (i.e. January's commissions would be paid on February 20th). Default payment threshhold is $50, meaning that you will not receive any payments of less than $50. If you make $20 in January and $30 in February, you will receive $50 in March. And then you won't receive payment again until your commissions have again totaled $50.
There are no guarantees in affiliate marketing. That's why it should be just one of many income streams. But the more you understand about how it works, the more you can help your prospective customers understand how to use your affiliate links. Be sure that you give them every opportunity to use your affiliate links, and any explanation they require; but don't make them feel bad if their purchase did not result in a commission to you. By making sure your affiliate links are easily accessible and properly disclosed, you'll go a long way toward ensuring that your customers use your affiliate links when they make a purchase.
P.S. If you felt like this post was helpful and you want to say thanks, I'd be honored if you'd use my affiliate links within this post to sign up for ShareASale. And of course, I always accept contributions to my coffee fund.